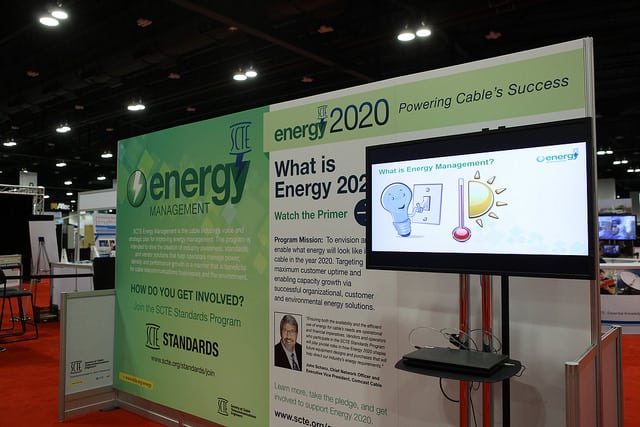 SCTE held its Energy 2020 plenary meeting in Herndon, VA, last month, where the results of an analysis of energy usage across major network operators was presented. The initiative, which aims to help cable optimize technology for maximum energy efficiency, was launched last year and is picking up speed, the group's pres/CEO Mark Dzuban told us in an interview. "We went from 'Why are we doing this?' to 'How quickly can you move the ball?'" The urgency stems from a forecast that the cable industry's energy costs will quadruple to $4 billion per year by 2020 if it continues operating at its current state, Dzuban said.
So far, SCTE has streamlined projects to increase program efficiency, created benchmarks to measure effectiveness and has been working on standards for equipment design and purchase. It has launched 9 operator-led working groups tackling different standards and operational practices. For example, Cox is leading the access network efficiency working group, while Time Warner Cable heads the facility classification working group. Comcast is in charge of 3 working groups looking at areas such as alternative energy, energy in operations, and density and consolidation.
In addition, SCTE's standards sustainability management subcommittee has evolved to a broader, better-resourced energy management subcommittee, Dzuban said. "This is the beginning of… a snowball going downhill." Over the next couple months, the goal is to get major equipment vendors such as Arris, Intel and Cisco, as well as cable operators aligned. Hopefully by 2017 or early 2018, "we will start to see very notable impact" on the industry's energy consumption, Dzuban said. "We are looking at all facilities and energy consuming elements within our business."
Some specs covering energy management and common environmental and sustainability requirements for equipment already have been adopted. These standards have been distributed to cable operators as components that should be put in their purchase agreements to make sure companies are constantly using the most energy-efficient equipment, Dzuban said. As the name implies, Energy 2020 is a 5-year project. That doesn't mean the industry has plenty of time to execute the plan. It takes time for standards to be finalized and implemented. According to Dzuban, it will probably take 4 years for the impact of many efforts being made today to be felt in the equipment market so the need for acceleration is critical.
And equally important is industry-wide adoption of Energy 2020 standards to ensure future cable network equipment is energy efficient, he said. The next Energy 2020 status meeting will be in May. And as expected, the initiative will be a big part of the SCTE Cable-Tec Expo in Oct, which will also tackle cybersecurity, DOCSIS 3.1 and other issues.