Sundance Channel's 'Quirky'—A Community of Inventors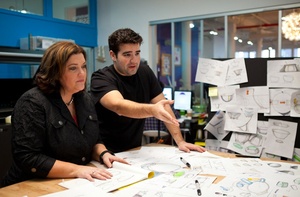 Product "ideator" Andrea Zabinski with Ben Kaufman,
Founder and CEO of Quirky, in the Sundance Channel
original series "Quirky."

Ever had an idea for a product that you just know would be a hit, if only someone would fast track you through the process? If so, you'll like Sundance Channel's new show "Quirky," premiering Tuesday August 30. The nonfiction series follows Quirky, an online consumer products business that allows everyday people to submit invention ideas through the Internet. The site's online community members vote on the most promising concepts and make suggestions throughout the development process—essentially influencing the product's design every step of the way. The original idea guy (or gal) gets a cut of the profits, as does the online community.
The show stars the company's 24-year-old CEO Ben Kaufman, his team of designers and engineers and the lucky "ideators" who've crafted the winning concepts. It's community-developed product design. And though the team of experts ultimately have the final say, the process is decidedly democratic. CableFAX spoke with the visionary behind Quirky—his entrepreneurial insights, precocious beginnings, the company's social component to product development and what makes great reality TV.
How did you get started as an entrepreneur?
It started way back in high school. I had an idea for an iPod accessory, and actually my parents remortgaged their house [for it]. I flew to China, got it made, and started my first company. It was called "Mophie" at the time and it made all sorts of Apple accessories—cases, clips, battery packs…it's still around today.
From there I started a company called Kluster, which sort of paved the way for this company here. It created a technology platform that would allow people to collaborate on the Internet.
Tell me about this online community with whom you collaborate.
They're all sorts of people, from all around the world, most of which I've never met. And they're just creative people. Creative people haven't had an outlet, seeing their ideas come to life, in actually, forever. So we give them a chance to bring their ideas out into the world.
How do they find the site?
Mostly it's word of mouth. We have everyone from retirees to school teachers and sort of everything in between. It's a very diverse community of people who are involved mainly because they want to help bring ideas to life.
Traditionally, inventions have been created in a bubble, with eureka moments. Why did you feel like inventions should have a social component?
We go through the product development process with people all around the world—everything from the design, to the engineering to the manufacturing, picking the colors and the materials, the finishes—all of that is sort of aided by this worldwide community. So not only are we able to create product faster, but every product we create is sort of a product of what the world wants at any given time.
Did you always want this to be a TV show?
Definitely not. That's not why we started this thing. We started it just genuinely because we wanted to create a cool company where people were able to pursue their ideas and we were lucky enough to get in touch with the folks at the Sundance Channel, and they seemed to think it would make a good TV show. And so it became.
Did you approach them?
It was a little bit of both. We're managed by Brillstein Entertainment Partners and they hooked us up.
What were some of the challenges translating the company's process and vision into a TV production?
I would say that our greatest challenge was striking just the right balance between the design and development of our products, while capturing the real emotional story that chronicles all of our inventors.
How does the current state of the economy relate to your approach—the democratization of product design?
The fact that people can actually capitalize on their intellectual ability and the idea they've had locked in their heads for centuries—it's hopefully going to help them make some dough, and help them find alternatives sources of income.
How much money actually goes to the inventor?
Some of our inventors are going to make upwards of a $100,000 a year. We share 30% of our direct revenue with the community on Quirky.com. That encompasses the inventor, as well as all the people that help us make a good decision, name the product, color, all that fun stuff. And we share 10% of our indirect revenue—that's revenue that happens back at retail stores—and give back to the community. It's a really sizable reward and revenue structure comparative to the norm in the consumer product industry.
How do you choose the inventions that are featured on the show?
The community has a part in it, and then we as a Quirky staff have the ultimate say.
What is the normal cycle for one of these ideas, and how quick is your process in comparison?
We take as little as 39 days and as much as close to a year to develop the product, depending on the complexity. So it really varies. We go through a standard product development cycle—it just happens a little bit faster because of the real-time feedback we get from the community.
What's one of the strangest ideas that was ever been submitted to Quirky.com?
An edible frisbee.
That's hilarious. Did your team ever consider bringing the idea to fruition?
No. We never considered making it. Although it has sort of become iconic in our Quirky history as one of the worst ideas we have seen. And for that, it gets a lot of buzz.
Are you in constant contact with the person that had the original idea every step of the way?
For the most part, it is their idea, so we do take their opinions to heart. But very often we'll go against what they are asking for just because we want to do right by them. Let's say they want it to be microwaveable and it shouldn't be microwaveable. We're going to tell them that and have that conversation with them. We're the product development experts.
Tell me about the bracelet/wallet idea. A solution for girls who don't want to be weighed down by a purse when going out dancing. Because I think that's kind of genius.
Oh really, you like it? It's a great inventor. That's the first thing. Sometimes our team is a little on the fence with the idea, but the inventor is amazing and charismatic, and you sort of want to help them out. That was the case with Tanya and her bracelet/wallet thing. And the product actually turned out pretty good.
So you take the inventor's personality into account as well?
Sometimes, not always. When someone stands out a lot, and is very charismatic and passionate, you sort of want to help them out.
And I'm sure it makes for good TV.
It does, for sure. That's one of my favorite episodes, and I haven't even seen the full thing.
Are you guys planning on integrating viewers at all into this process?
Yeah. We have a really cool model. Never before has someone been able to watch a process on television and then be a part of it. Literally people can go on our website after watching the show and buy these products—and help us make them better, and so on.
Do you believe more businesses will be using input from consumers for developing ideas and inventions in the future?
Yeah. In reality what we've done is create a process and flow in an environment where this sort of constant battering of creativity and feedback is sustainable. And we can digest it as a business. I think that model is going to disseminate itself throughout other industries and product companies.