Q&A With Amdocs Division President of Communications, Media and Technology, Pablo Cella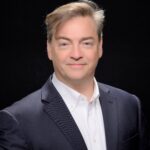 SPONSORED CONTENT
As part of the Amdocs team for over a decade and with over 30 years in communications, media, and technology, Pablo Cella has a unique vantage point of knowing where the industry is headed and where the company fits that landscape. His specialization in cable leaves him well-versed in how TV and Communications have adapted and will continue to do so. By focusing on business growth and customer success, Cella was able to help the company navigate its transformation, which focuses on "Making It Amazing." As part of this journey, Amdocs has also pivoted to be more agile in both its mindset and technology, allowing it to work with companies of all sizes on more values-based projects.
What should readers think of when they think of Amdocs?
We constantly evolve and reinvent to be ahead of the market to address what will be needed; I would like us to be seen as an innovative company beyond billing. We started with billing, then customer care, and now, we made huge inroads into media, network, digital experience, and cloud.
What do you consider your big pivot?
A few years ago, we realized the industry needed a drastic change, requiring a more flexible, agile environment to keep pace with native digital players. We revamped our workforce, products, and services to be cloud-first, microservices, and DevOps. We also have evolved to enable transformational agility for faster time to value for our customers and our customer's customers.
How does "Make It Amazing" come in?
"Make It Amazing" is not saying we at Amdocs are amazing. It's about ensuring our customers can provide their customers with an amazing experience. It does not matter the size of the customer, large or small; we support large global and smaller local operators. Our job is not just to do the day-to-day work to do the project but also to be a trusted advisor to our customers. When we talk about our success, it Is about what we mean to our customers and our customers' customers. Like, we enable our customer's customers to have a better experience or to have connectivity in underserved areas. That completely changed the way we think, the way we interact.
What industry trends are you seeing?
Because we're a global company, we have a pulse on global trends. One of the key things we're seeing now is the lifestyle concept, an opportunity cable providers can succeed in if they prepare for it. You're no longer going to buy a bundle of internet and mobile or internet and TV; you will get a package that will fit your, or your family's, specific day-to-day needs and wants. Cable companies have all the elements to make an amazing experience—10G, media, technology, and hyperconnectivity. With Amdocs' expertise and partnerships with hundreds of content and experience providers, our broadband customers have an amazing competitive advantage when you combine all that.
What do you see as some of the biggest opportunities today?
Cable and fiber broadband have more competition, and they must be more creative to see continued success. While there is a lot of emphasis on speed, it's not the only area that should be considered. Going back to the lifestyle concept, I think differentiation will become more sophisticated and focus on personas versus a "one size fits all" experience. Some personas want to be connected everywhere; others want to work from home for part of the week, have an ultra-reliable network for console and cloud gaming, or when creating content for social channels. There is an opportunity because broadband providers will need applications that will support all these dynamic scenarios in a way that will enable their customers to buy differently, access different services and care differently, to receive the bills and invoices and pay differently. You cannot do that with the legacy, old-school cycle base and systems. You need to be future-ready, and we can help.
My last question is a bit of a pivot, but you've been mentoring. Why is this important to you?
I spent time thinking about how to give back. During the pandemic, I started giving sessions to students that are about to graduate from my hometown university in Argentina. I even went to Argentina and did a face-to-face. I'm available to all of them. They have my email, my phone number. There were a few kids that were about to give up, and because of the lectures, they decided to graduate. I also do mentoring through the HITEC group for emerging mid-career and early career Hispanic professionals that are trying to get to the next level, trying to get promoted, want to try different things. I also learn a lot along the way. I get exposed to younger professionals that are doing very interesting things. In retrospect, I should have started mentoring earlier. We always believe that we have to reach a certain level to start mentoring and that's not the case. The moment that you have a job, you can mentor someone that doesn't have a job.