Live From The Cable Show: Cable Is How We Connect
BOSTON – It's not your father's cable anymore. And it's not just video. Just prior to the start of this week's Cable Show, the National Cable & Telecommunications Association debuted a new tagline with a new message: "Cable: It's More Than TV. It's How We Connect."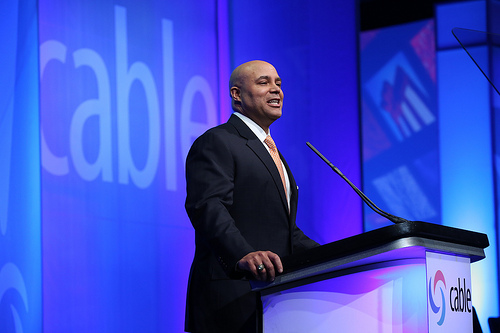 And that is the message NCTA President and former FCC Chairman Michael K. Powell, who's been on the job for about a year, sought to convey in his comments kicking off the opening of this year's exposition: "Cable is how we connect to the world and to one another. "
But he had to start with cable's core competency: video. "Americans adore television. We watch about 147 hours of TV per month, which may not be entirely healthy, but there is no escaping the immense pleasure we get from the tube," he said, but then he detailed how cable has become a broadband contender. The following narrative captures the essence of his remarks:
"The Internet may be the most extraordinary advance in the history of information, ushering in a new age of infinite possibilities. Leaders take risks, and the cable industry chose to bet big on the promise of delivering broadband. It was an ambitious and risky play, but one that is now paying off for consumers.
"Over the doubts of many, cable got the job done. Our industry has invested nearly $200 billion of private capital to build the infrastructure to get America online. The men and women who serve our industry painstakingly dug, pulled, and connected homes to the Internet across the nation. And they did it without shovel-ready stimulus funds from the government.
"Cable broadband now reaches 93 percent of homes — rich, poor, urban and rural. But the industry has never stopped pushing forward. We have increased broadband speeds over 900 percent in a decade. And we are on the verge of deploying additional technology to reach speeds so fast, the Internet itself may be unable to deliver content fast enough to match cable's last mile.
"Many Americans still are not online and that needs to change. Cable is working to increase adoption by partnering with the FCC to launch a low cost broadband service to low-income families across America. This is critical because a child without access to the Internet will find life increasingly difficult in the Information Age.
"For all cable has proudly done so far, we owe the consumer more. Consumers want an imaginative future that blends the power of the web with the magic of television. Too many incumbent industries have failed to keep pace with consumer preferences and disruptive technologies, but cable will not be one of them.
"We all know the challenges consumers face in today's dizzying digital marketplace. The consumer experience should be simpler — easier to find the content we want, easier interfaces to control our experience and less reliance on clunky set-top boxes. We want the ability to get the content that we have paid for here, there and everywhere.
"We have embarked upon an exciting period of intense innovation. There will be adjustments along the way. We face competition and that is healthy. Wireless broadband is enjoying astronomical growth. Telcos remain in the thick of the fight. And satellite companies continue to battle, convinced that you will end up in a ditch, sell your hair to a wig shop or have a grandkid with a nose ring if you don't 'get rid of cable.'
"There is also a place for Internet video providers to compete and complement the cable model and some consumers may even cut the cord. At the end of the day, cable benefits from the competition, and will work even harder to compete fairly and effectively on value and consumer experience."