Building a TV Everywhere Strategy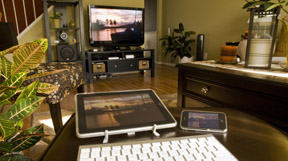 For the contemporary cable operator, the work of extending video services beyond the television is both familiar and confusing. On the one hand, aggregating video content for the purposes of making it available on multiple televisions in the home is the industry's core business and has been for more than 60 years. The "Everywhere" part of "TV Everywhere" just means getting a signal to those other video-capable tablets, phones and laptops, right?
Right. But building a way to get pay-television services to consumer-purchased hardware gets complicated quickly, especially when considering the different devices on which and the different locations where subscribers will want to access their video. How should a cable operator go about getting its branded "button" everywhere?
The 'TV Anywhere' Checklist – What You'll Need

Client Devices
• List of devices on which to install a "button" – PC, connected TV, mobile, etc.
• Understand what content is available for which devices – today and in the future
• Encoding/transcoding solution for those devices
• Studio/network approved security (digital rights management)
Content Delivery
• Evaluate your network – can it support more OTT CDN delivery (like Netflix)?
• If not, how can you deliver from within your network?
Authentication and Business Rules
• Understand the business rules you'll have to enforce (on-net, concurrent streams, activated devices, etc.)
• Evaluate your authentication options – do enough subscribers use their email logins?
• Does authentication support transactional VoD and real-time "upsell?"
Business Model
• Is "TV Everywhere" a new cost or a new revenue opportunity?
Why Bother?
U.S. consumers now own hundreds of millions of Internet-connected devices that can stream video. These devices not only can access video throughout the home, but also outside of the home — anywhere there is a wired, Wi-Fi or wireless Internet connection. According to recent research, in the next five years, the volume of these "connected devices" is expected to grow further by hundreds of millions — in the form of smartphones, tablet PCs, connected TVs, Blu-ray players, gaming consoles and other video-enabled devices.
Devices attract services, especially when the device is outfitted with a broadband connection. Predictably, services have emerged to provide consumers access to video on all these devices. These over-the-top (OTT) services run over broadband networks built by others. Netflix leads the OTT video marketplace, with more than 20 million U.S. subscribers. The popularity of Netflix streaming cannot be understated. Some estimate Netflix bits can occupy 20 percent or more of total consumer ISP bandwidth during peak viewing hours.
Why is the Netflix "Watch Instantly" feature so popular? The content quality is average, and the video quality fluctuates in proportion to network congestion.
The answer is ease of access. With Netflix, customers can access their subscriptions wherever they are as long as they have an Internet connection. Netflix is so ubiquitous that it soon will be difficult to purchase a video-capable, Internet-connected screen without the Netflix button built in. From that perspective, Netflix has done a better job of realizing the goals of "TV Everywhere" than any cable operator.
Combine this with the persistent drumbeat of other OTT video services — Amazon.com, Apple, Wal-Mart, BestBuy, Microsoft, Sony, Blockbuster, Redbox and others that either are rumored to be or already are active with OTT video storefronts and subscription services — and one truth becomes painfully clear: If cable operators don't extend their video services to those other screens, someone else will.
Why Is It So Hard?
To date, a small group of operators have conducted tests of the "TV Everywhere" concept, using Web portals to link viewers with video streams. In the process, a short list of core challenges emerged:
• Third-party CDNs are expensive — in the short and the long term: Content Delivery Networks (CDNs) like Akamai or Limelight have become essential parts of the delivery of content around the Internet. They charge Netflix and other OTT services by the gigabyte to stream video to consumers. By the nature of their category — OTT — Netflix and its ilk ride the network. They didn't build it, and they don't operate it or maintain it — their only choice is to rent transit. Cable operators own their networks and, as such, they should have a choice. Even if a CDN is a good option at the outset, cablecos ultimately will want and need a long-term plan to avoid CDN dependence.
• Bandwidth bottlenecks abound: Using the Internet to deliver video works great…when there is sufficient bandwidth. For systems lacking a significant backhaul connection to the Internet, streaming video from the Internet can overwhelm the network, forcing costly expansions; this is another "hidden" cost of delivering from a CDN. Operators should be able to seed high-demand content on "their side" of the network, enabling high-quality video delivery without requiring a constant upgrade of their backhaul connections.
• Real subscriber authentication is harder than it seems: At its most basic, authentication — the process that helps ensure video consumption is confined to paying customers — relies on an email address or a customer portal login. This works, but it lacks flexibility and important functionality. From a flexibility standpoint, operators have many subscriber data points that they should be able to use to establish identity. From a functionality standpoint, two key functionalities are location verification (especially whether subscribers are on or off network) and billing integration (a critical feature to enable revenue via transactional video on demand [VoD] and live "upselling" of other services).
• Your place or theirs?: A strategic issue emerging with "TV Everywhere" is whether an operator should offer its own branded solution or rely on its programmer partners to provide the video portal. On the PC, the use of embedded third-party video players ( e.g., Hulu) and linking to third-party sites ( e.g., HBO Go) enables operators to deliver an operator-branded portal that provides relatively seamless access to video on a programmer's site. In the world of "apps," it becomes much more difficult to be the subscriber's point of access while using a programmer's video solution. As the app model currently is dominant on new video-enabled devices, it is critical to consider how an operator's "TV Everywhere" strategy will evolve beyond the PC.
• Show me the money: "TV Everywhere" involves costs. How does an operator make money? Transactional VoD and the upselling of premium channels provide some revenue. Eventually, dynamic ad insertion will enable the splicing of new/refreshed ads into stored VoD assets on the fly. At the core, however, is this decision point: Should customers be charged to access content on new devices in the same way they're charged for access via a set-top box today? This can be a simple "additional outlet" charge, akin to how consumers pay for access to Netflix today, or marketed in such other ways as bundling it into higher-priced data-service tiers.
Content, Fraud Prevention Still Evolving For 'TV Everywhere'
A recent report from ABI Research says operators are investing "significantly" in equipment to deliver video efficiently to iPads and other streaming devices like PCs, smartphones and connected TVs. As part of this, video-on-demand (VoD) hardware, historically used primarily for pay-per-view content, is being repurposed to serve "N-Screen" or "TV Everywhere" platforms, while operators invest in content delivery networks (CDNs) to help ensure quality of delivery and efficient network utilization.
The report notes the worldwide market for VoD equipment is forecast to grow at more than 3 percent annually, from $493 million in 2010 to $591 million in 2016, while the CDN server market is expected to grow at 4.3 percent from $600 million to $774 million during the same time period. The remainder of the total market is comprised of video servers and ad servers, ABI says.
"The rapidly rising amount of video content is creating challenges for service providers," says ABI Research Practice Director Jason Blackwell. "CDNs have historically focused on delivery between operator networks. However, to facilitate the rapid growth of video, operators are installing CDNs within the footprint of their own networks. Operators used to plan for very low concurrency rates of about 3 percent on their VoD systems, but increased content and use of these systems on new connected devices is leading concurrency rates to more than 20 percent."
Adds ABI Research Senior Analyst Sam Rosen, "Operators face a challenge when introducing new services. Time Warner Cable recently saw unprecedented demand for its TWCable TV in-home streaming iPad App and had to scale back from 30 channels to 15 due to inadequate server capacity (see "Time Warner Cable iPad App Streams Live TV" at www.cable360.net/ct/news/ctreports/commentary/Time-Warner-Cable-iPad-App-Streams-Live-TV_45513.html). Some forward-looking vendors have developed time-based licensing models to prevent this type of problem and to allow for peak-demand periods, such as sporting events, that would otherwise overwhelm the servers."
Making It Work
But all this needs authentication, and Adobe Systems has stepped up to the plate with a new offering dubbed the "Adobe Pass" service, which it says enables pay-TV subscribers to access premium content from virtually any Internet-connected device.
Adobe Pass reportedly enables content providers and programmers to allow subscribers to watch pay TV outside of their living room while staying committed to a single provider. Initial users include Turner Broadcasting System Inc., MTV Networks, Comcast and Synacor (on behalf of DISH Network's DISHOnline.com and others).
Users only need one sign-in to watch video on multiple Web sites, and Adobe Pass doesn't require any additional downloads. "This eliminates one of the biggest barriers to TV Everywhere adoption – a complicated validation process that requires many registrations and downloads," the company adds. "Adobe Pass validates a user's right to pay-TV content behind the scenes, requiring no additional user action, while continuing to ensure that access to the content remains protected and secure." The product uses HTML5 for devices on which Adobe Flash technology is not yet available.
Flexible business rules in Adobe Pass also allow complete control for content owners. Its "Flash Access" client-side security for Flash Player 10.1 and higher enables fraud prevention by binding the user to his or her device so limits can be set on the number of devices per household account.
Evaluating Solutions
Today, new technologies are emerging that are enabling cable operators to transition on-demand video to multiple screen types via IP. The best of them are complete solutions that offer all the functionality required for operators to put a branded "button" on IP-based video consumption devices. When evaluating these "TV Everywhere" solutions, it's important to consider the following:
• Does the solution recognize that you own the network? Existing OTT services were built by companies that don't own the network and, as a result, they rely on CDNs to deliver all of their content. How do you deliver the highest-quality video experience to your subscribers without driving your CDN and backhaul costs through the roof? The right solution leverages your ownership of the network for content delivery from your servers instead of from a CDN.
• Does its subscriber authentication take advantage of your customer and network data? Using the same login as a ".net" portal is simple, but very basic. Moreover, most cable subscribers have not created or do not remember their login information. You have other customer data like subscriber account numbers, and you can determine whether the subscriber is on your network or even in his or her home behind the HSD. The ideal partner supports email-based authentication, but it also supports more flexible authentication that can be combined with network data for added security.
• Does it enable you to offer transactional VoD or to "up-sell" new services or features? In this day and age, telling a subscriber to phone in an order is quaint, at best. People expect ways to purchase services and content online — and on TV. The right "button" partner is integrated directly into the cable billing platform, so that subscribers can rent or purchase content and click to upgrade or change service levels in real time. These actions would be posted directly into an operator's billing system to generate new revenue.
• Does it enable you to maintain your brand with subscribers? Ultimately, this is a strategic decision. When considering whether to leverage programmer video solutions, think about the customer experience not only on the PC but on every device on which your customers will want video.
• Does it support all the business rules programmers will require? Content providers may limit everything from the number of active video sessions (to prevent, for example, college dorms from using one account) to the number of provisioned devices (not unlike how Apple limits the number of devices connected to iTunes) to the type of devices to which an operator can deliver video (the connected TV versus the PC versus the smartphone). The ability to apply these and other business rules is critical to a "TV Everywhere" solution passing muster with programmers.
• Does it support an operator's business model? The right "TV Everywhere" solution will allow a carrier to craft a service bundle that is compelling to consumers. Content providers should be able to sell bundles with different types and numbers of devices as well as a set number of concurrent streams — many of the same requirements programming partners will want to assert.
Transitioning from a single-screen, TV-centric video consumption model to a multi-screen paradigm may seem like a daunting task to cable operators but, with the right "TV Everywhere" strategy, it can be an evolution rather than a revolution.
Conrad Clemson is CEO and director at BNI Video. Contact him at [email protected]