AT&T's Hello Lab as Incubator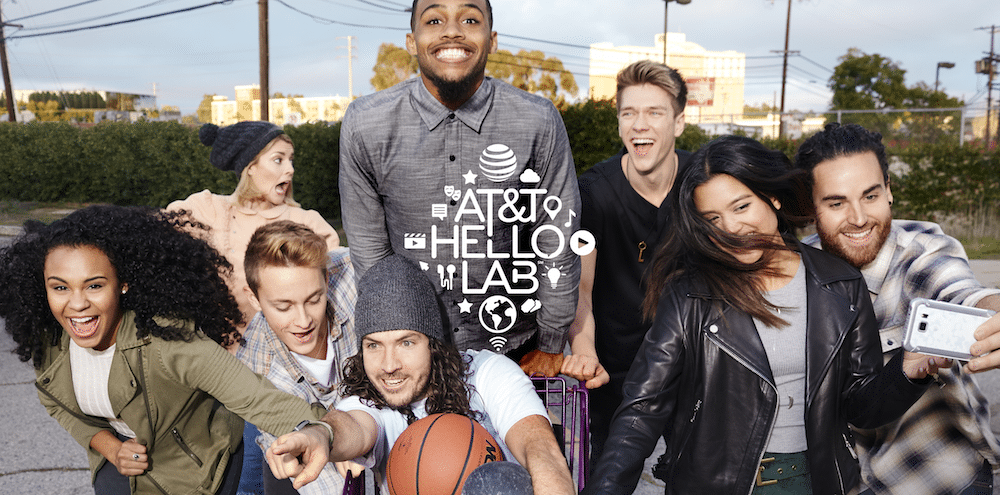 In regards to courting millennial audiences, it has become increasingly attractive for companies to work with talent and creators who have built-in fan bases. Popular YouTubers, such as PewDiePie, bring with them massive audiences, redefining what it means to have scale and reach—not to mention a sense of loyalty often missing within other demographics.
Such is the case now with AT&T's Hello Lab, a year-long initiative in partnership with Fullscreen's Strategic Content Group featuring 10 digital influencers who will create mobile content for and with their communities through series on YouTube, live experiences, albums, giveaways and podcasts—all on digital and social platforms. It's calling the talent "ambassadors" and has so far signed Grace Helbig, the travel duo Damon and Jo, musicians Us The Duo, magician Collins Key, former professional basketball player turned Instagram comedian Brandon Armstrong, and Snapchat's Shaun McBride (known as Shonduras).
Creators will primarily use AT&T phones as "mobile production studios" and the AT&T network to broadcast their stories. But other equipment is allowed. "The point is to empower, not restrict them," said AT&T's Director, Emerging and Social Media Marketing Liz Nixon. "Content will be shot with mobile viewership in mind, knowing our target consumes the majority of YouTube and social content from their mobile devices." AT&T is also providing the company's latest products and devices, such as smartphones, tablets, VR goggles and selfie sticks. "Additionally, each YouTube series will have the support of a full-scale production team who will create TV quality programming for the creator's channel and fans."
The idea is co-creation. "Each series will be different, but they will all engage influencers' fans to help drive the direction of the content and immerse them into the creation of the series," said Fullscreen Strategic Content Group svp Bryan Thoensen. It's also about getting the demo to associate this talent with the brand. "AT&T views these programs as a method of driving longer-term business impact and brand affinity by speaking to the next generation of decision-makers on their terms," Nixon said. "That being said, AT&T has a variety of tools in place to track the impact of programs like this over time, but we are not able to share more information publicly."