A Chat With FuboTV CEO David Gandler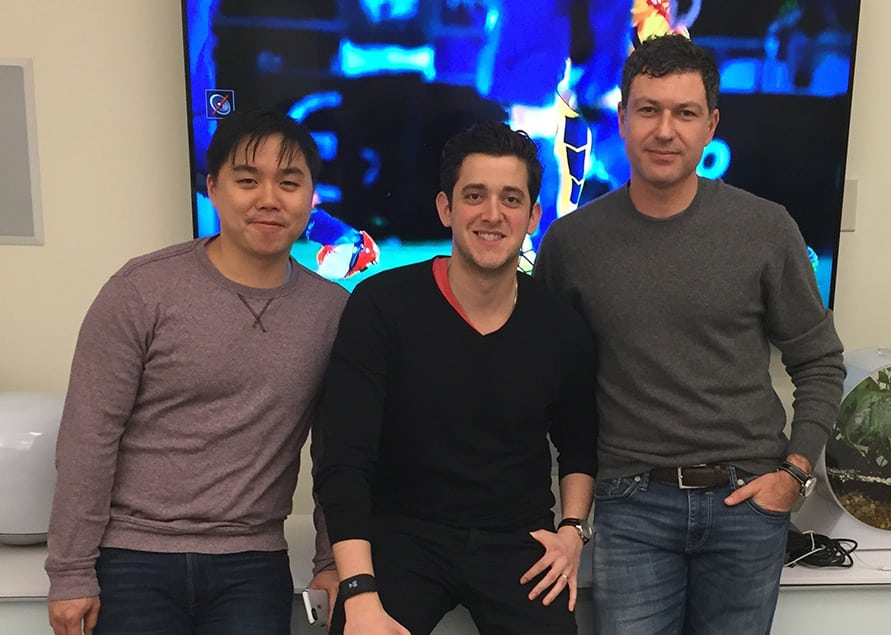 Virtual MVPD fuboTV added additional networks to its service this week, including carriage agreements with Univision Communications, Pivot and Revolt. The result is 15 more networks—both cable and broadcast—on its slate. It launched in January 2015 as a soccer-centric service, but with these additions it's expanded into millennial-focused entertainment.
Co-founder and CEO David Gandler started his career in broadcast at Telemundo, followed by Time Warner Cable Media sales and on to the OTT space as VP of monetization for Korean drama service DramaFever. We spoke with him about fuboTV's build-out strategy (now at 40K subs) and what traditional media companies can learn from the online game.
It's been said that being niche is important with OTT services. You were focused on soccer first. Why expand and move into general entertainment content as well?
Our goal was always to expand from soccer into major sports. The reason why soccer was critical was because we thought, like Netflix, a service like this should be global. It's the number 1 sport in the world outside of the US, and we thought that that would give us strong positioning as we go talk to content owners, rights holders abroad. That was the first piece. The reason why we're getting into entertainment is for a couple reasons. One is, it complements sports programming. But we are clearly a sports-first platform. So all the networks that we're picking up currently have some form of sports programming. Univision has the U.S. National team, the Mexican National team, they carry the Mexican soccer league, they carry MLS on Friday nights. They will also be the home of the Copa América Centenario this summer.
Going forward you'll see a la carte services like SeeSo, but you'll also see skinny bundles. We're skewing towards a sports package, but also we will require some networks. For an online subscription service it's interesting: we're roughly around 20% of overlap with cable households. Our audience is 18-34 (75% of it) and it's 93% male. So it's a very unique audience. And you can see from the network groups chosen so far that it's a very interesting mix. The goal here is to continue to build out—we're talking to all the major media companies today. Signing that retransmission deal was very important because now it potentially gets us in to the broadcast space and ultimately into local sports.
So the broadcaster component is important.
Broadcasters have local sports and also in many cases they have regional sports networks… There are restrictions around sports content from the leagues and where that could be viewed, in terms of in market versus out of market. We have to build out the platform in a way that we can get these kinds of networks and this type of programming.
How much of the content is in Spanish?
We carry beIN Sports, in English and Spanish. GolTV is in English and Spanish. The Mexican league is obviously in Spanish. MLS on Friday nights on Univision has an English feed as well as a Spanish feed. It's 50/50… It takes more time. Unlike Sling, who's had it easy to build a service, when you have Charlie Ergen and Dish behind you. What's hard for us as a startup is getting into the game and getting major media companies to see us as a valued partner in the near future.
What's your pitch to those players?
We said we were going to deliver against subscriber numbers. Basically if you look at what the market looks like today, whether it's startups or traditional public companies that have launched… What I think you're going to see is something very similar to the music space, where you're going to see a graveyard of these services coming out—AT&T Music, Sony Music, Microsoft… you're going to see the same thing happen in video.
So my pitch is, we've done this before and understand subscription businesses. We've got a very efficient team and we're willing to pay media companies more than the traditional distributors because we think that they deserve the value for their content, and we think we can do this without actually pushing the cost back to the consumer. The margins will be taken on our side. That's why it's critical for a company like us to go global, to be able to leverage that type of scale. This is all about passing the value onto the stakeholders, and becoming part of the ecosystem.
Your service is $9.99 a month. How do you strike a balance between the number of networks offered and what you charge? How do you decide what consumers will pay for while still being profitable?
In terms of pricing, we run numerous tests, between surveys and tests we're talking maybe 40 or 50 experiments a week to really gauge the right way to price things out. If you can't price things correctly you're obviously out of the market. So for us, it was really about doing something that was different from the way distributors do it. Today, if you were, say, 50 years old and you got cable when you were 30, and the only channel you watch is CNN, you still get a price hike every year, for no reason—it's 4 percent. What people don't understand is that there's a reason why prices go up—programming costs are higher, all the media companies are public and they have to deliver growth… Someone's got to pay for it. It's not really the distributor, it's just a lot of things that are at play here.
The way we look at it is, we can't play that game—because that's what people don't like, so our goal is to increase pricing as we increase the content. So we've said, we have limited content, so you pay this. Our price was $6.99 last year, it's now $9.99. Folks are transitioning from those packages into the $9.99 package. We're trying to teach people that we're not just raising prices—we're raising prices because we're providing value—and that value is in the form of new content. And that I think is the major difference between what they get on our platform versus the traditional.
So how do you communicate those price hikes?
Initially we say there is more content on the way, and we send out surveys on what kind of content would you like, would you pay more if we added more content. That's the first step. The second thing we do is, the $6.99 user gets to stay on that plan for 6 months. So they have a chance to test that out and see if they like the new content. It's not like tomorrow morning it's $9.99 and you have to pay. We're giving people a chance to stay on their old plan for 6 months, really test it out, and if they like it, they can upgrade to $9.99. That's one way. Another way is we have another sample of users who we tend to keep on that plan and say hey, you paid for this, so you can have your $6.99 plan but you can't access all that new content.
The one major takeaway thing that I have is that packaging should be dynamic. The big problem with traditional cable is that they have this basic package, and once you're in, you're in for life. We're looking at it as, as long as content and television networks are performing, they should stay in a certain bundle. If they're not performing then obviously when that contract is up we should sit down and discuss a way to better monetize for them or some type of way to mitigate the pain on the subscription side.
Since you've worked in the traditional media space for many years, what would be your advice to distributors?
It's tough for them. One major lesson I learned in my career was about VOD. When I was at Time Warner Cable Media we had VOD. And I was selling ads against VOD and at the time they had a bunch of technologies that Canoe Ventures had built out—RFIs, ordering coupons from your screen… I think what cable companies failed to do was that they weren't very good marketing their service. They're so busy making a lot of money on stuff that's low-hanging fruit, which is just selling video, Internet and telephone services, that they're not very good at marketing other services.
If you remember, VOD was on something like channel 2450. But the reason why Netflix won was because they were really good at showing the value of VOD. And I think in the future, with all these technologies that a lot of these distributors have built—Comcast is really phenomenal in that sense. They've got some great tech and they're very forward thinking. The problem is that you have to market these things properly to consumers. And I don't think that any of these guys do a very good job of marketing their capabilities.
On the back end, the advertising side—advertising really drives a lot of technology and product build outs—the media networks also didn't do a good job promoting to their advertisers. So you have a two-sided situation where the distributors didn't push it to the consumers and the media companies really didn't talk up the value of VOD to their advertisers.
How do you see the future of content distribution shaping up?
You're going to see a very interesting 12-24 months. We're in the first inning of a very long game. I look at television as a BMW. It has the 3 series, the 5 series and the 7 series. What I think is going to happen over time is that you'll see the cable companies will remain strong—they're like the 7 series. You get super HD, a bunch of channels, you get everything—at a very good price. And then you're going to see linear over-the-top, or virtual MVPDs, will be that 5 series—that middle piece. And then what I think you're going to see is SVOD, like Netflix and Hulu, is going to move back a little bit to that third position. Because just based on content costs, it's not sustainable to charge 7, or 8 or 10 dollars for that volume of high-quality content.
And because the OTT guys are going to pay more on a per sub basis to media companies, you're going to see that windowing. You've already heard Time Warner say this. They're starting to understand where the market is and they're going to have to start to window this stuff out in a different way. And that's what the interesting thing will be—where the virtual MVPDs find their place in the market.