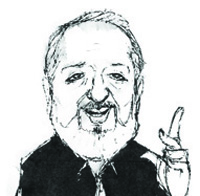 Commentary by Steve Effros
A comprehensive study entitled "Reinvesting in America: An analysis of the Cable Industry's Impact on the U.S. Economy" was published in July, 2003. It methodically went through the history of the industry, its massive investment rebuilding its infrastructure and the significant impact that had on the U.S. economy, and on anticipated employment and the effects our technology would have on the country. It was a very impressive study. It was financed by Daniels and Associates.
For those not familiar with Bill Daniels, he was one of the founders of our business. He helped finance many, if not most of the initial deals to build cable in localities across the country, and also was a major player in the consolidation of the industry so it could move forward. He was also a major contributor to the Republican Party. He had a large sculpture of an elephant in the front hall of his house. I mention that because Bill was truly concerned with fair, free and informed voting. He promoted the idea that the cable industry should offer free time to major political candidates of all parties so that we could get away from the massive political fundraising that he thought was warping the system. He felt that cable could make a major contribution by opening our channels to free, open debate, ending the political advertising wars.
I was one of the supporters of that idea, and promoted it in my column, calling it "Daniels Time" as a take-off of the notion of "equal time" that was part of the regulatory requirements for cable and broadcast outlets. The effort never got legs for several reasons. The first was the regulatory problem, but the second, regrettably, was that too many folks saw a financial windfall in election advertising, and they didn't want to give it up. But it was a really good idea. It didn't "favor" any party, it didn't encourage any improper activity, and it clearly would have been a civic good.
Well, I have another idea that I think Bill would be a big supporter of. We should start the ball rolling on giving our employees the day off on election day. The whole idea that we have an extremely short, primarily daytime-only period to vote on a weekday workday is absurd to me, but at the very least we can ameliorate the impediment it imposes on those who want to vote. As we all know, voting by mail is going to be a focus this year because of the pandemic. But some are fighting that idea. Well, let's make it easier to vote in person. That should be supportable by everyone. It doesn't "favor" anyone. It allows everyone to do their civic duty, which is what Bill would have wanted.
Sure, Congress should declare election day a national holiday. Sure, it should be an entire weekend, or week! But that's not going to happen anytime soon. However major corporations can make decisions like this almost instantly. It's been happening with the long-overdue recognition of Juneteenth. Why not the elections?
If a couple of major companies announce, or even better jointly announce that they are going to do this it could start the "domino effect" of many if not most big employers doing the same. Just think of it; Comcast, Charter, Walmart, Apple, Google, Amazon and the like all empowering their employees to cast their votes for whomever they choose. It could be a major exercise in civic involvement and pride. That's something we all need. Brian, you listening?
---
Steve Effros was President of CATA for 23 years and is now an advisor and consultant to the cable industry. His views do not necessarily reflect the views of Cablefax.