'You Me Her's' Greg Poehler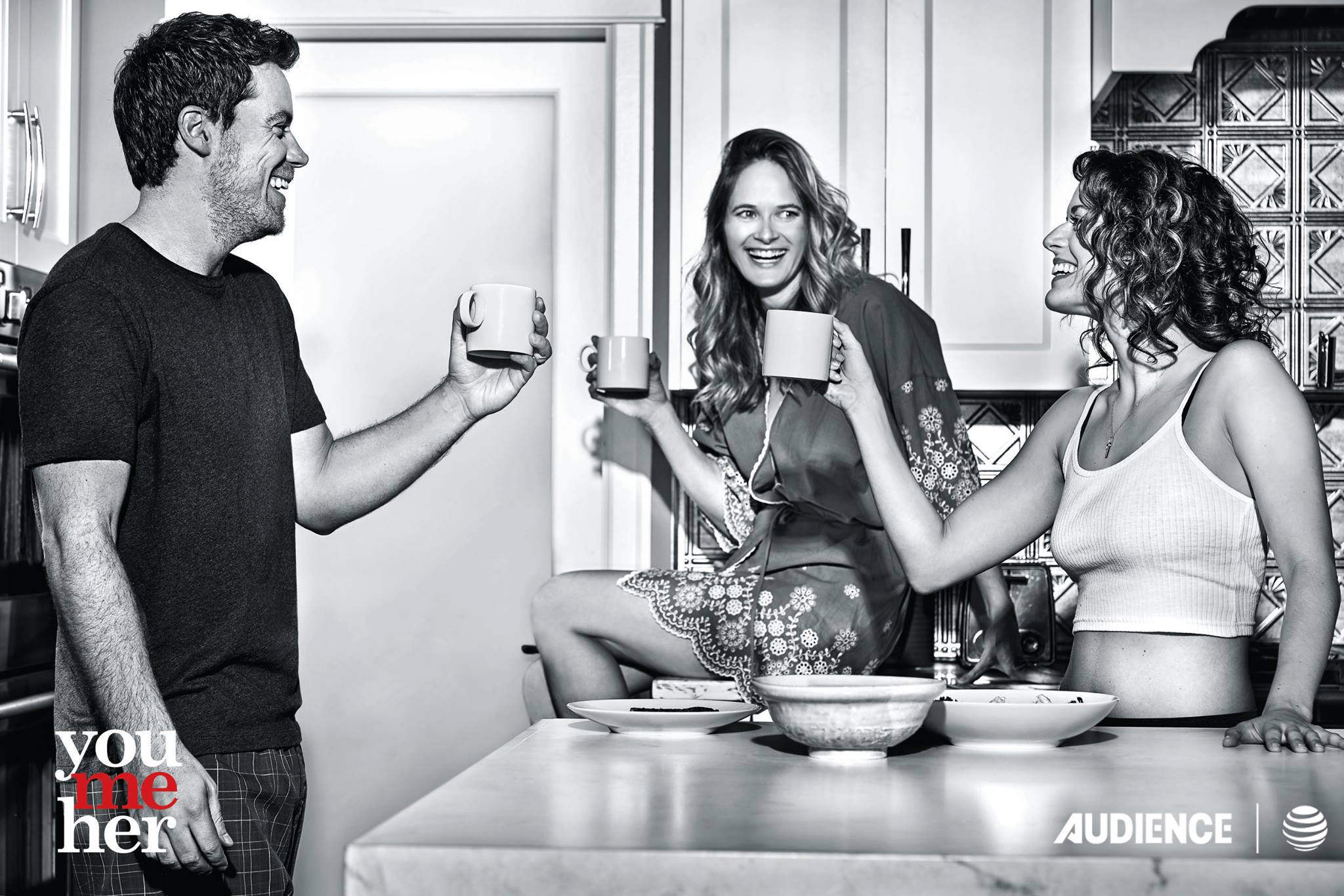 Playing the one guy in Audience Network's polyromantic series "You Me Her" is a dream role for Greg Poehler. But not for the reasons you're thinking. Cablefax talked with Poehler—brother of Amy and multi-hyphenate on former NBC series "Welcome To Sweden"—about being in an onscreen thrupple and other liaisons.
Aside from the prospect of being in a threesome, what drew you to the part?
It's a dream role, right from the get-go there are so many emotions running through this guy's head. It's a titillating subject matter done in a really grounded way. I felt like, it could be me, it could be the guy next door. It's also the reason why I keep my body in such bad shape, to try to make it more relatable to people. What's interesting about Jack and Emma is that they're in love but just in this kind of stale portion of their relationship. I think a lot of people can relate to that kind of lull. I don't think I would recommend bringing another woman into the relationship to spice it up, but it's certainly something to think about. We're just posing the question of whether that's possible.
What's this we hear about a nudity rider?
It's a basically a contract where you sign away your, well for me, my penis rights. I just got it and signed it, and when I showed up on set I said to Rachel and Priscella, How about that nudity rider? And they said, What? You signed that?! We went through it and itemized it line by line. So for season 1, there were no restrictions on my nudity, I could be nude in every scene from every angle. I reworked it for season 2, not so much because I care so much about being nude on set, but it's the down time between scenes when you're just standing there flopping around while they're changing a camera lens, trying to have small talk while you're naked… it's not the best.
Things aren't working out quite as planned for Jack in season 1…
What's interesting to me about my character is that when you think of it conceptually—one man, two women—it would be every man's dream. But really, nothing seems to work out for him, especially when talking about the relationship and not just the sex aspect of it. Trying to make a three-person relationship work if you're the only man is emasculating. You'd think it would be the opposite, but especially when you see the two women having their own relationship and getting closer than expected, you wonder if you're really necessary. Season 2 is interesting for Jack. He goes through a metamorphosis in that sense and rediscovers who he is and wants to me. And another woman is introduced in season 2; his ex-girlfriend comes back. As if the show didn't have enough women. And that helps him rediscover his swagger a bit.
Do you talk to your wife much about the role?
Not so much. To be honest, she's not a huge fan of watching me frolic with multiple women. She can take one, but two is above limit [laughs]. When I watch with her I fast forward through parts, or else distract her when the more raunchier parts are on. Otherwise she's super supportive.
Do you ever want to jump on other side of the camera?
That's the hardest thing for me. I have a lot of ideas, and then I realized nobody wants to hear them, I learned that early on in Season 1. I kept being, why don't we do this, and they were like, you're just the actor. Stand there and deliver the —-ing lines. I improvise quite a bit, which they either use or don't. That's how I try to put my stamp on every scene I'm in. I say what I would have written, and I never get yelled at, and sometimes they like it.
What was your biggest takeaway from Welcome to Sweden?
Everything I know is from that show. It was like an Adam Sandler movie where he takes over his dad's company and doesn't know anything. I was the head writer, and the show writer and the lead actor and producer. The learning curve was off the charts. Ultimately I learned there are so man people involved in these shows it's literally a miracle anything works. When you see something that works, its crazy. Part of the reason [You Me Her] works is there are less voices trying to control it.
Have any other projects in the works?
I've written three shows and two movies in the past year. They are wildly different. There's a period piece about a woman on a horse in the 1920s. It's a true story, her granddaughter wrote a book and came to me and asked me to write it. So that's not funny at all. Then there are comedies that seem to be Ashton Kutcher vehicles, a show about the Innocence Project where I'm drawing on my previous experience as a lawyer. When I take meetings they're always amazed at the breadth of things I'm working on.
How often do you and Amy give each other advice?
In life, quite a bit. In this business, never really. The great thing about my relatively recent foray into this business is that both my family and friends were not surprised by it, which on one hand gave me great confidence in that they thought I could do it, but on the other hand it was like, why didn't you guys —-ing say something 15 years ago. She's been very good about just trusting my instincts. I do ask her advice about certain roles or people I'm thinking of working with but otherwise, we just have so much other stuff to talk about. I'm seeing her kids tomorrow, so I'm more like just Uncle Greg.