World Cup Chatter: 'Inside: U.S. Soccer's March to Brazil'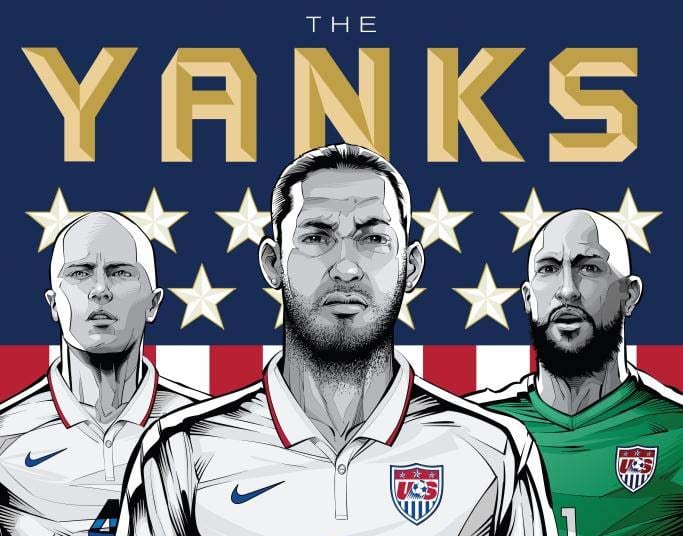 Twitter was abuzz today about the news of the U.S. Mens National team announcing its 23-man roster for the World Cup, particularly because arguably the team's biggest star—Landon Donovan—was left off of it. But ESPN had to be happy about the news. The network has been promoting and airing a ton of programming surrounding the mega event, anchored by the 6-episode docu-series chronicling (among other things) U.S. coach Jurgen Klinsmann's roster selection, "Inside: U.S. Soccer's March to Brazil." At ESPN's World Cup media day prior to the series' May 13 premiere, we caught up with the show's producers Roger Bennett and Jonathan Hock to chat about its production.
How long will you be shooting the series?
Roger Bennett: Exactly 100 days out was the day we started. That was the arc—how do you prepare for the World Cup in 100 days.
What are some of the major story lines shaping up?
Jonathan Hock: One of the major storylines is how Joze Altidore, Clint Dempsey—the established, great players on the team—haven't been in great form when we started filming. Clint, now, is a very important in MLS [Major League Soccer], but how is the team going to come in with confidence into this difficult group when they're not playing their best football. They were playing their best a year ago. So seeing them together, trying to get into the spirit when they have their self doubt is very interesting. They're very encouraging towards one another and great teammates, but internally…
Is there anything that surprised you so far during production?
RB: The main storyline is a surprise. I mean, Jurgen has said since 2011: Go to Europe, everyone to Europe, push to the next level and out of your comfort zone. And even while he's been saying that, the key spines of the team have all come back to MLS. They've almost done the opposite. He's a man who wants the team out of the comfort zone. So you bring in Julien Green, this wildcard, who's not been through qualifying. He just suddenly turns up; he's an 18-year-old kid. [It's] shuffling the personnel, and also sending a signal to the team. One of the storylines we're most interested in is what signal Jurgen is trying to send to rest of the squad by bringing this kid in. It's not just about his talent.
So bringing in Green, a German-American brought up in the European system, was a strategic move?
RB: It's a question we've been asking them all. We asked Landon [Donovan], what signal does it send to you? We've been asking the goal scorers, the gentlemen who Hocky mentioned who were not performing in a way that you'd want them to going into the World Cup. We're watching Jurgen transcend different signals to his squad—trying to understand what they might be and how they felt and whether they're bringing that team together and really focusing around a clear goal for Brazil.
It sounds as if you deal a lot with psychological issues, as opposed to just being in the locker room and at training.
JH: We're not part of the 24-hour news cycle. We are telling a story about human beings… Every four years we're shown this clunky collective that is the sum of the parts are greater than the individual. What we're out to show—and what is really probably more the truth at this point—is that these are individual stories that matter. When you turn on the World Cup this summer, and you turn on a U.S. game, you're going to know those individuals that you've watched.
Do you feel like it's a part of your job to present these people to the world?
RB: That's the reason why we're making this… Because every single World Cup cycle, whether the teams do well or they don't do well, America sees this collective, and when they're finished, there's always that 'who was that masked man?' We kind of knew the shirt, but we don't really know the personalities behind. We don't know their struggles, we don't know their human conflict—and we don't really develop emotional connections to these gentlemen in the same way we do to Lionel Messi, Ronaldo, Wayne Rooney… I mean, football's matured since 1994 when I first came here. One of the things we're trying to do is show them as human beings, show their life arc, show what's lead them to Brazil and what the stakes are for each and every one of them, so that American audiences can develop emotional connections to them whether they win or lose. And it will last beyond the 2014 World Cup and way beyond '18 and '22.
In Europe, fans stay with their teams through thick and thin—even relegation from a league.
JH: In every sport–ever since Babe Ruth, probably–in America, it's a star culture. It's one of the challenges that U.S. Soccer has had—that it doesn't have a transcendent, breakthrough personality. It doesn't have a Wilt Chamberlain, or a Larry, Magic or Michael. It doesn't have a Wayne Gretzky. But maybe it does, and we just haven't been presented with it in that way. So I guess the most important job that we have is revealing the humanity of these individuals. And they are an amazing group. They're very humble but very determined…I think people are going to be really compelled to stick with the team once they see this.