Who will win Best Cable Program at the CableFAX Program Awards?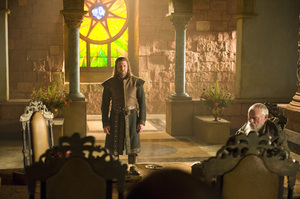 2011 Platinum Winner, Best Cable Program
Game of Thrones – HBO
Last year's Program Awards Platinum Winner for Best Cable Program was HBO's "Game of Thrones," for its incredible acting and rich, character-driven plot. It's a finalist again this year. Who will take the title? Here's a look at why we offered it the crown. For a look at its competition,
check out our finalists here
.
It was an embarrassment of riches this year as we tried to pick the best show in all of cable. But with elaborate set pieces, incredible acting performances and a deliciously rich and character-driven plot, HBO's "Game of Thrones" simply outmaneuvered the competition to steal the crown. Perhaps most impressive was HBO's success in translating George R. R. Martin's densely complex novels into a coherent Season One to what we hope will be a long run on the premium net. Sure, purists have pointed out that the series drew from at least two books rather than one, fusing a couple of storylines and altering some chronology to bring Martin's vision to the small screen. But we say, good. Adapting a novel is hard enough. Adapting a series of them is even harder. And HBO is off to an excellent start as it goes forward, continuing to paint an alternate medieval universe in which winters last for years and political gamesmanship involves life-and-death decisions. And while dragons and mystical forest creatures make appearances from time to time, it never feels like otherworldly fantasy. Game of Thrones, at its core, is grounded in the reality of the human condition—and perhaps that's why it's so hard to stop watching.

Want to see it live?
Register for our Oct 30 awards here.