VH1's 'Pop Up Video'—The Snarkfest Returns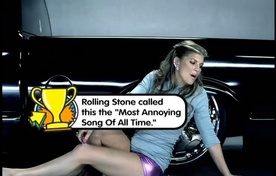 The Black Eyed Peas' "My Humps" Video
Photo Credit: VH1/Eyeboogie
VH1's classic "Pop Up Video" series is back, after a decade-long hiatus. To create some buzz surrounding its second-coming (the first of 60 eps premieres Oct 3), the net has created an online user-generated pop-up video experience that incorporates Facebook and Twitter. Fans can choose a video from the VH1.com show site, add their own pop-up comments and then share them with friends. Not a bad way to create some pre-show dialogue.
According to MTV and VH1 Digital gm Kristin Frank, it "allows fans to customize videos to showcase their own music knowledge or share their own personal stories and memories related to a specific song to their social graph." The channel will engage fans during the actual show, too, by directing viewers to online poll questions. Some of the more creative submissions will be featured during the broadcast.
CableFAX spoke with Woody Thompson, Executive Producer of Eyeboogie, Inc. and the show's original co-creator, about "Pop Up Video's" revival.
CableFAX: Why is the show coming back now?

Music videos are back. People are talking about them again, due in large part to Lady Gaga, so the time is right to bring back the show that gives context and voice to them. VH1 wants to get back to its music roots, and this is the perfect show to lure people back into watching music on TV again. I created a web cam dance show for VH1 last year called "Dance Cam Slam"—it was the first show I had produced for VH1 since "Pop Up" was canceled in 2001, so I was able to rekindle a relationship with the channel. It came up during our meetings that "Behind The Music" was back on the channel and MTV was bringing "Beavis and Butt-Head" back, so logically we discussed whether the time was right to bring back PUV. I accepted without pause.

CableFAX: How will the show be different this time around?


The beauty of "Pop Up" is that it is a show that changes with what it's popping on top of. So '80s videos back in the day were nostalgic and silly. [They] were filled with current pop culture references to things like "Seinfeld" and "Titanic," Monica Lewinsky and the OJ chase. The new shows will incorporate the same tone and format (everything on the show is true/triple-checked and is a mix of artists' info, behind-the-scenes info and random facts) as the original, but with an updated theme song and graphic look. We have to be realistic that a majority of our audience has never seen the original, so the show feels like it lives in the now. And hopefully our old audience will want to come back to visit an old friend who's had some "work done."
CableFAX: What kinds of videos can we expect?


We will follow a similar format to the original where we "pop" a current hit, then a video that was big, say, a year ago, then one that was big 3 to 5 years ago. Then something big from the last decade and then an older rap or hip-hop video from the '90s. VH1 didn't play rap 15 years ago, so we are drooling at the chance to go back to some early rap videos and give 'em a little pop.