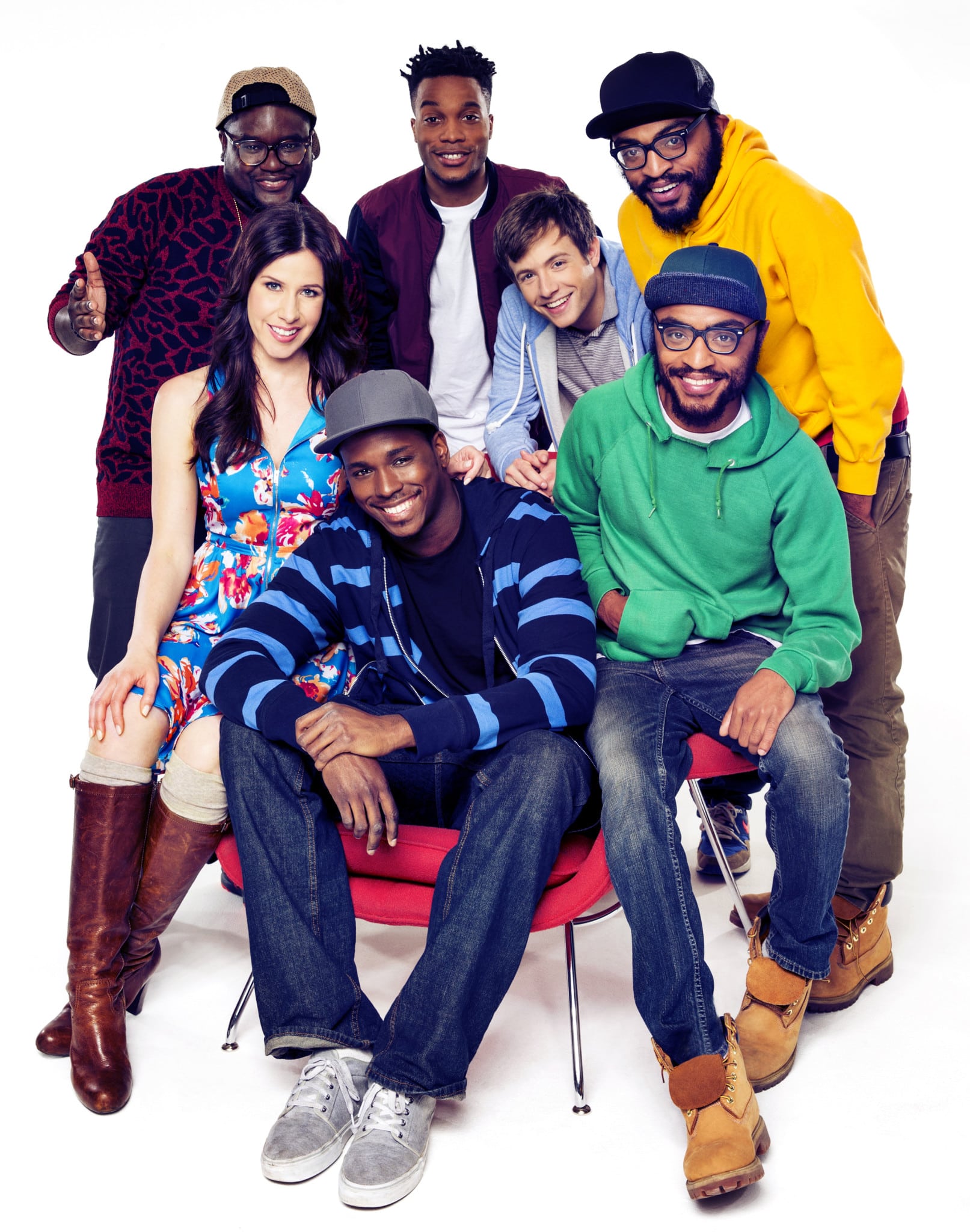 As part of a recent shift in programming strategy, truTV is debuting its first sketch comedy show, "Friends of the People," on Tues Oct 28, 10:30pm. The cast is a group of seven comedians–Kevin Barnett, Jermaine Fowler, Lil Rel Howery, Jennifer Bartels, The Lucas Bros. and Josh Rabinowitz–all of whom take part in the writing process. We spoke with director and showrunner Neil Punsalan about working with truTV, his hands-off directing style and unique social strategy, and the comedic influence of "In Living Color."
How did you get involved with the show?
I had worked with a number of the cast on different projects outside of this. I worked with the Lucas Brothers on a project for Comedy Central, and I had written with Josh Rabinowitz on an MTV pilot… I have just sort of known them all as individuals. When they got together, it was posed in the end, would you want to be a part of it… it seemed to me, yeah, if I can sort of bring this together and sort of stay out of their way and be who they are… it seemed like a great opportunity to me.
So the cast members came together first and then you came on afterwards?
They also had a pilot with the same cast, before this. They had worked together as a crew. They wanted a change; they wanted a different direction. I think because I have the inside track—because I'd known them all—I had the advantage of getting their attention—at least being considered. But it never felt like I was joining a team and had to figure out how to work with them. They're all young and hungry, and they want it.
They were looking for a little bit of direction. But again, my direction was, you guys are all talented—we just need to find something that puts you all in the position to succeed and not make mistakes. There wasn't much of a period where I had to get up to speed with them because they were together and already had a vibe and a rhythm and a chemistry—I sort of saw that as a benefit. They knew what worked and what didn't work, and I was able to join them and lightly nudge them in the right direction and stay out of their way and let them be funny.
It's the first sketch comedy for truTV. How do you feel being the first showrunner for this new territory?
Truthfully, I haven't much thought about it. I've just been focused on making the show as good as I can make it. Now that you mention it, I'm glad to have done it, I hope that people like it and that I will be the first and the last comedy showrunner at truTV. In terms of the network, it's very clear that they want the change. They're eager to do new things. And to that end, they were very easy to work with. So when I came on, you could argue that they gave me too much rope, quite honestly. I'm a relative unknown. But they trusted me, and that felt nice. Maybe more so than necessarily feeling like it's some sort of honor to have been the first comedy showrunner on the network… it was that they gave me the trust and latitude to make a lot of the decisions on the show.
How did this experience compare to working on "The Pete Holmes Show" at TBS?
Working on Pete was great. He's a super talented guy. To a certain extent they're both sort of traditional television constructs. Late Night has been around for 50-60 years… and sketch shows have been around a long time. What was interesting about the sketch show is, from a production point of view, we made the decision to speed it up—to do more things and have them all be shorter… We wanted to keep the pace high and maintain across the season. It really impacted our schedule in terms of [the fact that] it wasn't built up to provide us the time to do more, smaller pieces. We had to just get them all done within the same amount of time that we were set up for. It was a challenge to make sure every episode maintained the pace that we had in our pilot and second episode.
Did any other sketch or comedy shows influence the format?
The influence [in format] was probably YouTube more than anything else. Everybody's watching stuff on it and they're watching short pieces. You're seeing things like Vines that are very funny and are 6 seconds long. [We said] let's make each piece something you can sink your teeth into and enjoy and have fun with, but as soon as it's done let's not be precious about it.
In terms of comedy, I'd say something like "In Living Color." I grew up in a small town in Ohio and culturally, relatively homogenous. And when I watched In Living Color as a kid it didn't come off as an "urban show." It was just funny. That's very much the way the cast members and writers are. They weren't looking to come out and do and urban show. They just wanted to be funny. You can do a show with a predominantly African-American cast and just be funny comedians, and not necessarily have to take a hardline stance on things like race. We have over 100 sketches in our first season and our man-on-the-street pieces, I think it's 150 individual joke pieces across our 10 episodes. So sometimes we do touch on race, but it's not something that we planned for.
Talk about the writing process. Was it fully collaborative?
It was really fun. We had seven cast members who were also writers and producers. And we had two staff writers and myself, and a writer's assistant. There was a lot of workshopping and table reading. One of the challenges was making sure that each person's voice was pure and that we weren't necessarily going, 'well I'm going to write for all seven of you, and I'm going to try and write it for the way you say it.' We wanted to make sure everyone stayed invested and their voice came across. So it was very collaborative. We wanted to make sure that they had their own individual ideas they were passionate about, but also when Jen is in Josh's sketch, she also has her voice and can do her comedy.
The show uses hashtags frequently. Is that a concerted effort to get people involved on social?
It's really sort of a cheat. We wanted to do man-on-the-street bits. We didn't necessarily want to go talk to people—we wanted to just do comedy bits outside the city. And comedy bits sometimes need setup. But we wanted to keep things moving. I wanted you to see these people you just saw in a sketch really interacting with people, so you know who they actually are. And I wanted you to see them interacting with each other, to see what their chemistry is hanging out together. I wanted to keep the focus on that.
So, I didn't want to spend time setting up this joke and what they're doing. How can I tell people what the setup is to this joke? We put the text up on the screen, and I thought, this makes sense if you hashtag it. So if someone likes it, it's a quick way to talk about it online. Something we're hoping for with the show is that you remember the interstitials—not just the sketches. To that end, I was sort of imagining how you'd discuss it the next day. It does the setup work for the some of the bits and gives a term, that phrase. And then you can speak to it.
Bobcat Goldthwait comes on as a guest director for one of the episodes. Do you plan to have more guest directors if the show gets another season?
I would love it. We have seven different cast members so we have seven different opinions. As opposed to trying to trying to nail them all into the same hole, I sort of like that from sketch to sketch it feels slightly different. I hope that there's a unity and uniformity between the tone and the voice … but having guest directors would help to that end.
Working with someone like Bobcat was really exciting to me. It was really more of a byproduct of, it's a new show—and we're going fast. We were shooting three, sometimes four sketches in a day. It felt a little difficult to bring on someone as talented as Bobcat—the gravitas and resume that he has—and then to drive him—and ride that horse as fast as we possibly could in a day. So I directed a lot of it, purely because I thought this was the quickest route between two points is that straight line…Instead of that being something that's a drag or not the pace that someone's used to working, I can do it because I know how important it could be to our show—to maintain that pace. I would love to entertain people as talented and eager to work with us as Bobcat was.