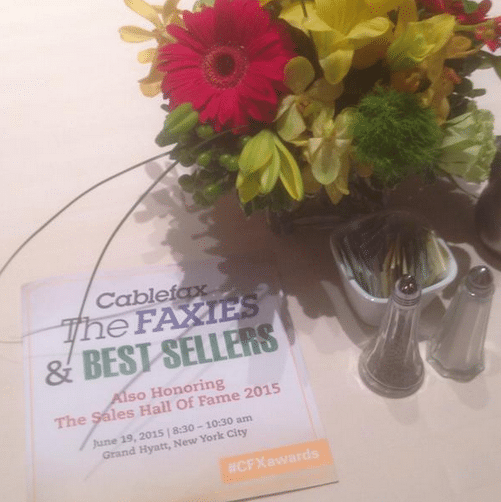 We've heard the phrase "there's no I in team" enough when referring to successful PR, marketing and sales teams, but it really hit home at the Cablefax Best Sellers and Faxies Awards breakfast in NYC Fri morning. Taking home the marketer of the year award, svp, marketing & creative services for HGTV, DIY Network & GAC Shannon Driver said that "when we win, we all win," and when the team does not it's her responsibility. "This is for you guys." Bravo and Oxygen communications svp Jennifer Geisser, whose colleagues took home PR Team of the Year, praised her crew for handling "high crisis" moments and was elated that they were recognized for their work. "I tell them all the time, but it's great when someone else does." Sales Hall of Famer and Cablevision Media Sales COO Ed Renicker said, "this award is about individuals, but frankly it's about the team." It's important to be "flexible, never be complacent and, most importantly, to take risks." And though he's worked at Cablevision since 1987, easily the best thing about his experience is the fact that he met his wife there. "Thank you for putting up with me for so long. Please stick around."
Another theme was staying on top of what your audience requires, and truly listening—a thought echoed by PR exec of the year Catherine Frymark, Discovery Comm svp, communications, and Pop TV's svp, communications, media & talent relations Leslie Furuta, who works for a network that puts fans of pop culture first. Science Channel's communications director Joanne Schioppi advised, "never forget the consumer. That's why you're doing this." Sales Hall of Famer Brad Samuels, Ovation evp, content distribution, said that working at independent networks is challenging and more difficult in today's landscape, but it's a rewarding endeavor, and he's proud to be working at a network that's carving out a place for artists.
What makes a successful sales meeting? When it's a win-win for both you and your clients, said dir, distribution at Crown Media Family Nets Raquel Williams. A&E Networks distribution vp Sara Hinzman called the Best Seller award "an embarrassment of riches," given the people she works with and how amazing the job is. You know you have it good when your young son says he wants your job someday—"or David Zagin's," she said. Meanwhile, Ovation evp, network strategy Liz Janneman asks one question after a sales meeting to gauge success: "Did you get the order?"
When asked what their best advice was for marketers, winners had various gems of wisdom. Nat Geo Channels svp, communications worldwide & talent relations Chris Albert advised marketers to "always listen to your communications team," drawing laughter from the marketing set. Revolt TV advertising sales svp Michael Roche said that aside from having a healthy liver (a necessity to have in this industry), from a management perspective what's needed is an eye for hiring the right people. And Sarah Jensen, associate account exec at Crown Media Family Nets and our Rookie Salesperson of the Year, said that a sales meeting is a success when you walk away with real "concrete next steps."
Go here for the full list of winners and campaign descriptions.