Television Holds Court in Ad Spend and Time Spent Viewing
According to Nielsen's Advertising & Audiences Report released this week, television ad spend in the U.S. increased 4.5% in 2011, raking in $72 billion—more ad dollars than all other platforms combined. Ad spend on cable TV has increased over the years, showing a climb of 42% since 2007, and it also leads in time spent consuming media.
Moreover, Nielsen's Q4 2011 Cross-Platform Report suggests that traditional TV continues to be the center of consumer viewing habits. The average American watches about 5 hours of video a day, and though consumer habits are shifting toward non-linear TV viewing options, they're not turning off the tube: 98% of video is watched on the television.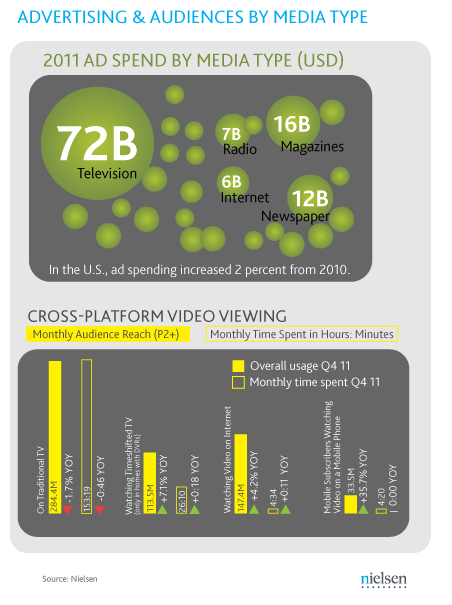 Additional highlights of the Advertising & Audiences Report include:

Network Growth

Spanish-language cable and network TV has shown double digit growth in ad spend over the past year-particularly cable, which is up 24% from 2010, compared to network TV, which is up 16%.

Categories

Automotive holds the majority of ad spend across all media, with quick-service restaurants holding a distant 2nd. A total of $10.2 billion was spent by automotive brands in 2011, nearly double that of the latter category's spend.
Top Spenders

The big spenders in TV advertising were AT&T, which spent $1.1 billion on its AT&T Wireless Web Access brand, and Verizon, with $702.2 million for Verizon Wireless Web Access.
Go here to access the full report.