Talking USA Network's 'Dig' With Co-creator Tim Kring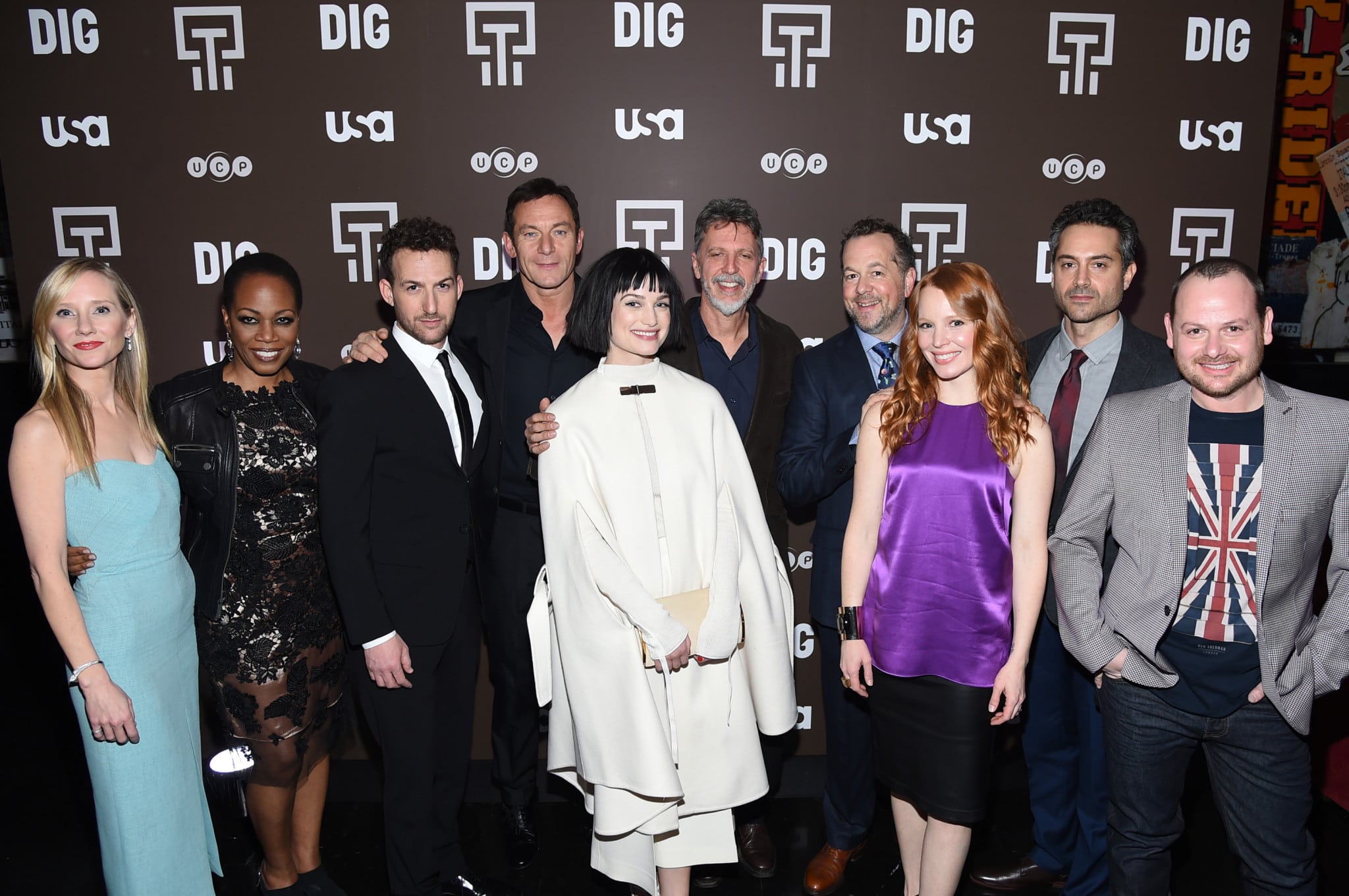 With USA's event series "Dig" premiering tonight, the network delves into religious fanaticism and prophecy as an FBI agent investigates a suspicious murder of an American in Jerusalem. We sat down with co-creator Tim Kring whose collaboration with Gideon Raff has resulted in a paranoid thriller for the modern cable audience. And it involves a red cow. Don't ask. Just watch.
How do you set the right tone for a series like this—especially if this goes more than one season?
We were very true to the idea that this was a one-off idea. The whole idea of whether it could go on after this, it's kind of a construct of people asking, "Is there anything you else can do?" The original idea from Gideon was setting up a murder mystery in and around Jerusalem, which is his home town, and uncovering the layers of conspiracy underneath this ancient city. So it really was designed with that story in mind. That said, the franchise character of having someone who is a legal attaché—you know, an FBI agent who can be stationed in any consulate on the planet—does give you the opportunity to create a franchisable series not unlike the Borne series or the Bond series with those kind of characters. You can move from case to case in different locales. I think what we wanted the hallmark of this to be is that it's a single case that uncovers something much deeper that the character can get embroiled in a paranoid thriller way. To the extent that we thought of things going forward, we kind of liked the idea of uncovering fanatical ideas that have a conspiracy element attached to them. In the world as it is today, it gives a pretty broad landscape.
So there would always be a conspiracy element?
Yeah, I think that's the idea. Both Gideon and I were really in love with the '70s paranoid thrillers like Three Days of the Condor and Parallax View—that idea of a little guy against a very big story where no matter where he turns he isn't sure who to trust. So I guess if there's a kind of stamp to the franchise it's that. It's kind of one man against the world.
Is there a trick to combining that slow-burning conspiracy aspect with other genre elements such as the action?
I don't know if there's really a trick. The interesting thing is that Gideon and my sensibilities really blended really well together. We see stories in the same way. We have a natural inclination to do a very aggressive storytelling where you try to put a lot of story into that one episode of television by having things move fairly quickly. There is a bit of sleight-of-hand quality to that when you have a few different storylines to cut back and forth—you always have one story that can be in a more hyped up, cranked up mode, and that can allow you to intercut between a slower character-based scene because when you cut back to the other person, he might be chained to a basement and trying to scratch his way out with his fingernails. Or he might be hanging from a cliff with the rope about to break. So it does allow you those different tonal shifts when you do multiple stories. And I think sometimes when you're breaking the story, you do say "You know, it feels like we need a set-piece action thing somewhere here"—to insert a moment that gives you an adrenaline rush. There's no formula to it. You just feel your way through it.
Gideon is most known for "Homeland," a premium cable show. And you're most well known for "Heroes," which was a broadcast show. And now you're both meeting in the middle at an ad-supported cable network. What's the dynamic there?
You know, it's funny. It's sort of an odd one to ask. Even though "Heroes" was a broadcast show, it did try to push the boundaries of what was on broadcast, with the casting and the pacing and the aggressive storytelling. I remember the network saying "You can't tell this much story. You need to slow it down. You need to slow it down. That's not what our audience can handle. It's too much serialization, and people won't come back." So it was breaking ground in that way any way. And you're right: The two worlds have merged, and you're starting to see broadcast television trying to emulate the kind of quality and tone of cable. And clearly in a world where it's now in the viewers' hands what they choose, and when they choose, and how they choose how they're going to watch their content, it means cable channels can narrowcast a little bit more and target a specific audience where broadcast still needs to be all things to all people. And when you're all things to all people in a world in which people can find exactly what they want, people are choosing to watch shows that more closely fit their particular tastes. It is a conundrum for the broadcasters to figure out how to capture that same kind of passionate fanbase that a lot of these cable shows have. But there's a sensibility to both Gideon and myself that I feel is fairly broad. I like to appeal to a lot of people.
As we all know, you were forced to leave Jerusalem because of the turmoil there and finish shooting in other locations. How did that affect the story if at all?
It did change a few things, definitely… It's kind of amazing how well it all worked out, and how seamless it was. We ended up shooting in Croatia… they have these very ancient, old cobblestone-walled cities, so we shot that for Jerusalem, and I really defy you to see the difference. It's really amazing what you can do with production design and a little bit of movie magic. It's really kind of incredible. We did have a storyline that took place in New Mexico, and we were planning to shoot that entire storyline in Israel. And to be honest, we were having a lot of difficulty finding locations. There's a kind specificity to the American Southwest that even though Israel has lots of open desert areas—there is a look to the American Southwest… We needed diners and gas stations and hotels, and those sorts of things are incredibly hard to duplicate in Israel. And we were to be honest having a lot of trouble with that. And just as we were scratching our heads about how we were going to do it was when we ended up having to move, and moving to New Mexico was just hugely easier for that part. So in an odd way, that part worked out really well.
Overall, any specific lessons you learned from working with Gideon on this?
I've done several series, and they all have their own set of joys and disappointments. But I will say that I have never developed a series with a partner before. I found that to be so rewarding and so much easier in so many ways to not only split duties—but there's almost a sort of therapeutic quality to it. When you have a meeting, and you leave a meeting and get in your car to drive home and think about what just happened in the meeting, you actually have someone to talk about it with and say "What do you think he meant when he said that? Should we actually do this instead of that?" It was really just having that partner and that sounding board. It was incredibly rewarding. It was also my first project done outside the country, and what I see now is how possible that is to do in this modern day and age when communication is so much easier. Just to give you an example, I would sometimes be in the editing room in Los Angeles, and I would need Gideon to take a look at something I just cut, and I'd just take my phone and take a video of the monitor and send it to him, and three seconds later he responds back to me with a text. "I liked that cut. Let's take 18 frames off the end of it. That kind of thing." It's kind of amazing. The lesson of that is that it's so doable now, to have a big international feel to a show and go shoot on location. It's not only doable, but there are places that are rolling out the red carpet for you to do it. When we were in Croatia, they were actually filming "Game of Thrones" there. I like to say that the whole country looks like the backlot of a major movie set.