Talking Media With a Mission: Hiring Veterans in Cable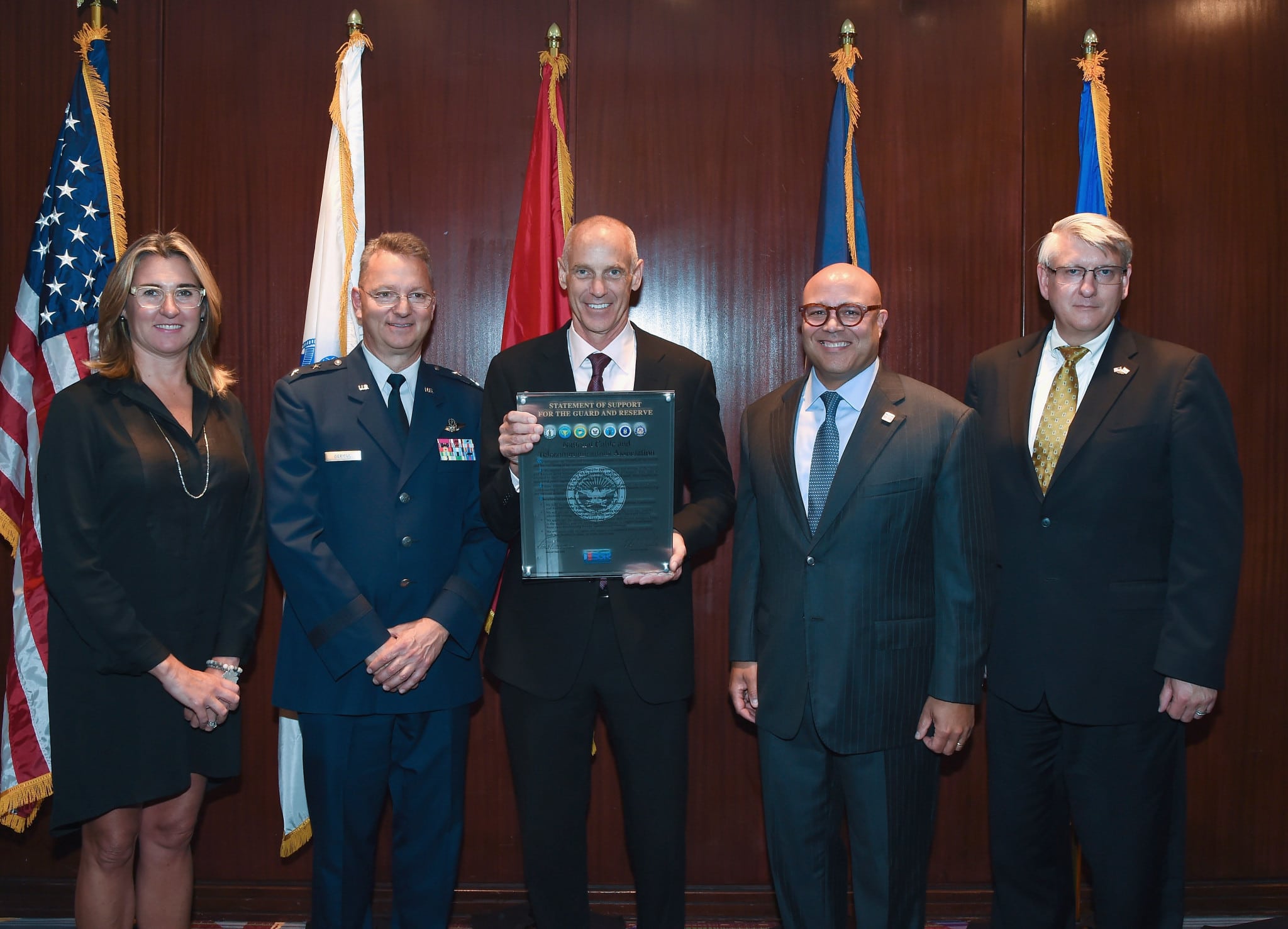 Mission Media is a cable industry initiative dedicated to encouraging the hiring of military veterans and creating best practices on how to do so. Formed on September 30 of this year, it is led by a 21-member Veterans Industry Council comprised of human resource and industry leaders. CTHRA Executive Director Pamela Williams discusses Mission Media in Cablefax Daily, but we spoke to her in more depth about the initiative below. We also turned to the perspective of one of the Council members who is a veteran himself, Comcast Center VP of Talent Acquisition Will Baas.
Where did the idea of Mission Media come from and how did CTHRA go about rounding up executives for the Veteran's Council?
WILLIAMS: A small group of folks—some HR and some not—who had a passion around this kind of got together and took it farther. Michael Powell agreed to be our honorary chair (clearly an area of great interest to him). And about 18-months ago, actually almost 2 years ago—beginning of 2014—we started a task force, a small group of folks, and started to build this.
Mission Media is now run by the Veteran's Advisory Council, and that is really a collaborative of industry reps from different companies; we have 21 folks right now, and then CTHRA is managing this and leading this effort. The folks that were in that task force are now what are called the "steering committee," so they're still very involved and we've just been able to add additional people.
Since launch, what results has Comcast seen in the hiring and the retention of veterans?
BAAS: We've actually been working with Mission Media for over a year, building the foundation out for the initiative…We gathered some of the folks that were passionate about this and involved in military recruiting across the industry, and started to think about how we can do things more systematically. One of them was to film some of our veterans in the industry, doing their jobs and talking about how their military background was such a great fit with the media and telecommunications industry. So [Comcast] sponsored a series of vignettes that were shown at the INTX event the following year, which again raised excitement because it became very tangible on what success looks like. And so based on these visible events, more companies in the CTHRA membership and NCTA membership expressed interest.
We can say that after the 3rd quarter we've hired 5,100 veterans since we launched our "Hiring Our Heroes" initiative. So we've continued to hire and support vets during our entire time with Mission Media, and we see it as an opportunity not only to showcase our efforts but also help the industry by showing the success that we've had and inspiring other companies to do the same.
What growth do you anticipate for Mission Media and what plans do you have for the future?
WILLIAMS: We met during diversity week as a full 21-person council for the first time. And we plan to have at least quarterly meetings in 2016, and 2016 and 2017 are the implementation years for our work. So we'll start to really rollout those things that we've planned—kind of post launch, during Diversity Week.
We definitely want to be providing resources, best practices and training for all our industry companies. And again, that meets that need that we found where some companies—particularly smaller or medium-sized companies—haven't gotten into this as much as say, a Comcast, which has the resources and a great passion around this.
We're also looking at virtual job fairs, another project we'll be rolling out. We are going to be doing a training program for the industry based on the Disney Institute's "Heroes Work Here" program. And we're looking forward to that—that will be a major training effort to bring in HR folks and give everyone a great, intense training course on hiring.
And then continuing to bring awareness to it. We're looking at an industry mentoring program. So we have quite a few things in the pipeline, coming in in 2016-2017.
How exactly has Comcast benefitted from Mission Media and the "Hiring Our Heroes" initiative? What specific results have you seen?
BAAS: It's been a great opportunity for us to showcase our veterans. So the vignettes would be an example of that. We worked closely with A+E on the development of the creative for Mission Media, in terms of the brand and created lapel pins to brand the initiative. And we're able to take advantage of some of the advertising and marketing that's resident in our industry to help push it forward. We've been able to collaborate with companies like Disney, who are also working in this space. We've been able to share best practices, which has benefited—I think—both organizations.
But a lot of the potential of Mission Media is really to come over the next several months. We've just significantly added to our advisory board. We now have engaged the president of the NCTA member organization to gain additional commitment. We're looking at creating best practice guides. We're looking at doing more job fairs—both physical and virtual job fairs. And we're looking potentially for ways that we can work with member organizations like the Kite Foundation to potentially look at veteran mentorship programs and development programs. So I think a lot of the benefit we've achieved now has been to help develop the structure and the platform and the buy-in and the commitment to now really launch some of these initiatives.
Where do you think the best opportunities for veteran employment lie?
BAAS: We try to call out the fact that we have veterans working at all levels of our organization. I mean, we hire up from the front lines up to the leadership level. We've got great examples of veterans thriving in any of those roles. So we're striving to make the entire company veteran-friendly—put our brand out there, whose committed to hire 10,000 veterans and spouses over the next three years. We have examples of them doing well out in our field roles, in our theme parks, as project managers, as supervisors and managers—both on the cable side and the NBCUniversal side.
We look at the military skillset as very much having the general trait that we just accept in the organization, no matter what the job or the level: the ability to work in teams, to be leaders, to be quick learners, to be able to cope with stress, ambiguity and change. All of these are basic value propositions that veterans bring to the table that are applicable to jobs across the organization.
Why exactly is now the right time for the initiative?
I think it's becoming a talent imperative. You know, there was a big focus on veteran employment when the unemployment levels were higher for transitioning veterans than they were for the population at large. And there really was a national dialogue going on about, "What can corporate America do to try to ensure that there are career opportunities for these soldiers, sailors, airmen and marines who have served the country and are now coming back?" Through a lot of different efforts—Mission Media being one of them—that leading companies have done, the unemployment rate has now reached equilibrium, and the dialogue is shifting.
Now it's a talent argument for our industry. A lot of the leading companies in the country are out there looking for veteran talent, and we want to ensure that we as an industry can have access to this and have our fair share of these transitioning veterans. It's a diverse population. The attributes that I mentioned around teamwork and leadership; we think they bring an ethos to our industry that's going to help us continue to compete broadly. So the timing is right because companies that are good at attracting and engaging and attaining veterans have a talent advantage, and we'd love to help support that in our industry.
What does this initiative mean to you personally?
BAAS: As a currently serving Navy Reservist, who has been at Comcast a little over 7 years, I've been able to balance my navy reserve career along with my Comcast career. I'm very grateful to our company for allowing me to do that and for continuing to up our game in terms of what we're offering reservists so that they can continue to succeed.
So to the extent that we can join with other companies in this industry and make it easier for reservists at other companies in the telecommunications and media industry, I would love to see that happen for the sake of my fellow reservists and those that have yet to join.
Allowing a military and civilian career in media and entertainment to thrive, I think, is personally rewarding. I hope to be able to take my experience in recruiting veterans, in being a veteran, in being a reservist and work with the other passionate people across the industry to help make this the finest industry for veterans and reservists in the country.