Taking Penalty Kicks With beIN Sports' Christian Vieri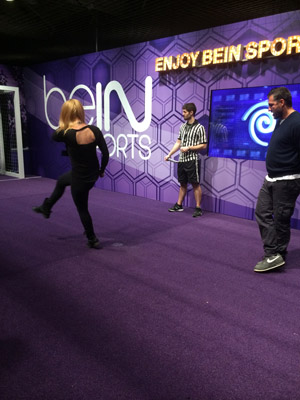 I was told, "Don't lean back" … and then I did.
During my adventures at Time Warner Cable Studios this past weekend, I had the opportunity to chat with Italian soccer legend Christian Vieri at beIN Sports' "Soccer Experience." He was on hand to discuss his new gig at the network as a sports broadcaster on the show "The Locker Room." And as a bonus (because I asked), I got a few tips on how to take a penalty kick from one of Italy's best-ever strikers.
Vieri is known for his career in Italy's Serie A league, particularly his feat of scoring 103 goals in 143 appearances at Inter Milan. He's also played with some of the best in the world, including Frenchman Zinedine Zidane, Brazilian superstar Ronaldo and Italy's Roberto Baggio, famous for ll Divin' Codino (The Divine Ponytail). And Pelé put him on FIFA's 100 greatest living players. Suffice to say, I'd be properly coached on my task.
His advice was simple and designed for a true beginner: "First you have to kick the ball." Okay then! Noted. This prompted me to inquire whether anyone that day had managed to make contact with a soccer ball. It was, after all, Super Bowl week in New York City, so this was going against the grain. "For some people, their shoes fly away," he said. But I had come prepared. Sort of. I was sporting boots, but I knew they'd at least stay on my feet.
Given the recent calamities that have occurred during penalty shoot-outs on the European stage, seemingly brought on by nerves in an incredibly high-pressure situation, I asked Vieri if he ever got nervous. A shrug. And then, "Eh, I get nervous when I fly a plane." Whether he meant flying in a plane or actually flying it I'm not sure. Either way, as one bystander noted, it was an answer worthy of The Most Interesting Man in the World.
With the World Cup in Brazil kicking off in June, many networks are getting involved in additional soccer coverage. Vieri will be reporting out of Rio for beIN Sports for a month. ESPN is launching a 30 for 30: Soccer Stories in April and Fusion's "The Soccer Gods" will likely ramp up its coverage.
Vieri told me that while he's here in the US he hopes to get his soccer coaching license. As for where he ends up—in Europe or here in America—that's still up in the air. He's already been offered two positions in Europe as a coach, but he wanted to have his license first, he said. Who knows, with David Beckham making it official today that he will own a new Major League Soccer team in Miami, perhaps we'll continue to see more European soccer greats sticking around.