Q&A with Tony Goldwyn and Richard LaGravenese of WE tv's "The Divide"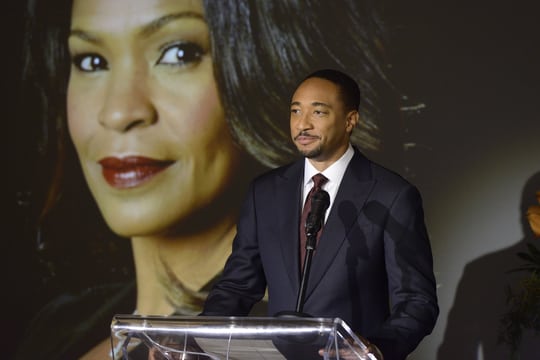 With "The Divide," WE tv's first leap into scripted programming has been a bold one as the drama series tackles touchy subjects ranging from capital punishment to the racial undercurrents that shape local politics and the legal system at large. We sat down with executive producers Richard LaGravenese and Tony Goldwyn to talk about how they jointly created the show and why. LaGravenese is an accomplished screenwriter, and Goldwyn is an actor, producer and director most known for his current portrayal of the President Fitzgerald Grant on ABC's soapy political thriller "Scandal." Scandal this is not, as "The Divide" takes a sobering look at the imperfections of the legal system and how they are only amplified when the state can put people to death. The Divide premiered on July 16.

What was the genesis of this project, and how did you guys get hooked up for it?
Tony Goldwyn: I was doing a movie called Conviction, which was a story of an Innocence Project case in which a man had spent 18 years in prison for a murder he didn't commit. His sister, who was uneducated and poor and never finished 10th grade, became an attorney to try to help and get him out. And with the help of the Innocence Project and DNA evidence, she eventually got him exonerated, and it took her 18 years. While I was working on it, I asked Richard to do a rewrite of the script, and he and I became fast friends and loved working together and always wanted to find something else to do together. So when the movie came out, I was so compelled by the themes that the movie explored and the questions it raised for me about our criminal justice system. And I saw that all of the stories surrounding these cons were so rich just from a human point of view and a relationship-family point of view… but I didn't know how to do a TV show about the Innocence Project. So we had a drink one night just to catch up… He wanted to get into TV. And he didn't know how to do it, so this conversation came out… what if we focus it on a prosecutor who gets it wrong? And maybe he's responsible for putting someone to death wrongfully. That could be very interesting.
Richard LaGravenese: We just jammed for four months on the characters, the story and the world, and we came up with the pitch. The great thing about TV is that it's this living, breathing thing that keeps evolving as you're working on it. And what fascinated me is that it's such a fertile ground for exploring one of my favorite ideas: that everybody has their reasons. Whether you agree with them or not, at least you understand why. You give them their due. They had a right to feel that way. Every character has that sort of internal moral divide, a sense of personal justice. And as I began to learn about this world, I always thought as a bystander that well, we have laws. But laws are executed by people. And people have biases and intentions and sometimes just incompetence. So there's all this ambiguity going on that reflects our humanity. I was a little intimidated at first by the world of law and DNA and those details. For me, I have to reduce it to people, to the human story. That's my common denominator, that I can learn the details of the world around it. But it was really about finding the people. And that's really got us excited more than anything else. It's not a procedural. It's not a law show. It's a story with compelling characters set in the world of justice, the death penalty and the Innocence Project.
TG: And setting it in that [world] makes the stakes so high because it is life and death. And these things threaten these people's very identity, their livelihood, their public identity. So that's what's so great about setting it in the world. Why does "Scandal" work? Because it's essentially a relationship drama set in the White House. So if you have something that's in a really high-stakes environment of marriage and families and people. [laughs] Our tone is very different than Scandal though.
Death row is so in the news now with botched executions, DNA evidence exonerating people, etc. Has that influenced the direction of the show?
RL: It was insane because right after we shot this, there was the execution in Oklahoma that took 45 minutes. So we actually have a reference to the drugs, to the cocktails that they use. Something's in the air. There's something synergistic about what's going on.
TG: Well, with the Innocence Project, which I've been involved with for over 10 years, they've gained so much momentum… They really caught a wave, and they're really gaining traction. The National Academy of Sciences study that just came out a couple months ago estimated that 4% of every person on death row is innocent. That's one in 25 people on death row. And in the general [prison] population, it's much higher.
The pilot is interesting in that you think the person on death row she's trying to save will somehow live and become central to the show. But he dies in the middle, which creates the obvious conundrum for the D.A. who now knows he may have put an innocent man to death. How do you see the story continuing to develop throughout the season?
TG: This case will continue through the first season and become more complex.
RL: It's really the unraveling of a conspiracy.
TG: It's the way it unravels the lives of all the people it involved and how it challenges them. Part of it is a whodunit. What happened? But the other part of it is a whydunit. That's what we really get into. Early in the writing process, we said "It's a whydunit'."
How did this end up on WE tv, by the way. You pitched it to AMC first, right?
TG: We actually pitched it to HBO, Showtime, AMC and FX. Those were the four we thought were right for it. Both HBO and AMC both wanted it, and we felt that AMC was really the right home for it, and they kind of got it. And Joel Stillerman, who is head of production… We made a pilot for AMC, and then to be honest—we felt like the pilot we made was really good, but we hadn't quite cracked it. So AMC correctly said, "We love this, but we're not quite sure what we want to do with it yet." We thought we were dead. Then a few months later, we got a call saying "Guys, we love this show, and here's what we want to do. We have this other network we own, and we're transforming that network, we're bringing in scripted programming, and we want to do with that network what 'Mad Men' did for AMC. We want to replicate that on this thing called the WE Network." And we said, "The WE Network? What's that?" But we just felt their enthusiasm, and we met the woman they had brought in to do this job, [SVP, Scripted Programming] Cheryl Bloch, who was amazing and had great notes for us and allowed us to open up our thinking about what we had done… It gave us a chance to kind of re-do it, which was amazing. It was a very rare opportunity. Very rare.
RL: We could keep the best of it but then make it better. So we took the first one, and we filleted it and then rewrote and re-shot stuff to give it more breadth and depth, added characters, took out some stuff we didn't want. It was really great.
TG: What you saw [in the premiere episode] was basically about 70% of our original pilot spread out. We took about 30% and chucked it, and then took the remaining 70% and spread it over 2 hours—and then wrote a whole bunch of new stuff.
That actually segues to my next question: Why a two-hour premiere? That's quite unusual.
RL: It's a slow burn. And to really get the motor going and to make it less conventional—
TG: I think it was your idea. I think you asked for it. And Cheryl said, "I love that idea. I'm going to go fight for it."
RL: Seeing her dad and that reveal just felt like such a on-the-nose ending of a pilot, and it bothered us. We thought it would be better if it was just part of a story, and then we could get further into it. Because I think people's interest really perks up when the execution happens, and they think, "Oh, wait a minute. I really didn't think that was going to happen." So it's really important that they see that as part of the whole.
TG: And really, that second hour is the punch of the show because of the way it ends, with Paul [Schneider] saying to Damon [Gupton] that "You need to consider the possibility that the real killer is still out there."
(Michael Grebb is executive editor of CableFAX. You can follow him on Twitter at @michaelgrebb).