Q&A With 'Hollywood Girls Night' Producer Ellen Rakieten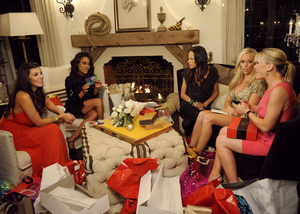 It's the "best girl talk on the planet," says exec producer Ellen Rakieten about her new series "Hollywood Girls Night," which premiered March 4 on TV Guide Net. Sold! In the first ep of this weekly celebrity girl party, hosted by reality stars Alison Sweeney and Ali Landry, red carpet hair secrets are revealed and Tinseltown starlets get real about acting in love scenes. And the show's second episode, airing this Sunday, promises to reveal even juicier tidbits, from the likes of Robin Givens and Kendra Wilkinson. Here's a hint: the theme is "passion party." Think secret crushes and aphrodisiacs. CableFAX chatted with Rakieten about the series, its myriad jaw-dropping moments and what it's like launching a show in the Twitter age.
What was the inspiration for the show?
Ali and Ali started doing these dinner parties a couple years ago. They felt there was a community of women in Hollywood who see each other at these events—you do the wave and the "hi"—and you never really get to know people. They started these dinners, I heard about it, and we all met and thought this would be something so fun for TV.
You ran 'Oprah' for more than 20 years. How does this compare?
It's very different. I did "Oprah" for 23 years—I created Dr. Phil and Dr. Oz, and worked on helping Rachel Ray. One of the things I love about this show is, for famous people, they absolutely forget the cameras are there. When I [first] went to one of their dinners to watch, I said "ok, this has to be on TV." They were really already doing it—having this supper club. It's funny, too, [the idea] started on Twitter. They became friends on Twitter. Sweeney and Landry met because they did Fear Factor together years ago. And they became really good friends. Then one started a Twitter relationship… It kind of evolved that way, into a little group. Everyone brings something [to the dinners] and there's a theme to every episode.

What's the demo you're trying to appeal to?
I have to tell you, it's from 18-80. I got some Facebook messages from men saying, "Oh gosh, all men should watch this, we could learn something." It's reminiscent of when you have girlfriends over and you watch "Sex and the City" together.
What is it like launching a new show now?
It's completely different from anything I've done before. Though we did everything on Oprah in 25 years—we shot dinner parties like this—you get a look at people you know and who you see in the public eye, in a way that I've never seen before. Literally, we're in the truck going, "oh my gosh, did she just say that?" After every show [the girls] call each other [and ask that question]. It's truly fly-on-the-wall, and it's unlike a talk show where there's an audience and a structure to it. This is very much, let the cameras role. And there are definite themes—there's a theme to the food, they answer Twitter questions, they bring a guest….But it's different because you're filming something that's already happening.
How does launching a series today compare to the past?
For all launches, you just want to get awareness out. With Doctor Oz, and even Dr. Phil, there was no such thing as Twitter. [For "Hollywood Girls Night"] there were a million collective people twittering about the show. Social networking is such a big thing now that never existed before. You just had to rely on your on air promos, and obviously the regular [things]—Ali Sweeney was on "Kelly," Ali Landry's on "Wendy Williams"…They did traditional stuff like a media tour, TV Guide did lots of ad buys in magazines… But I wouldn't underestimate the power of social media. Now, it's immediate.
The show is not scripted, so how do producers structure it?
We definitely structure the show. Certainly, you have to have acts. We start with cocktails, and then move into [something else], whether it's dinner, or the food—[in the next episode it's] all aphrodisiacs. We move into a different room and everyone brings their favorite gift, and our surprise guest comes along…. It has more structure than the dinners I saw before, just because it's for TV, but we really don't say "stop, reset"—we just keep going. The conversation is continuing and we're following them. The Ali's know how to move through the night.
Since the women are so frank, are there things you have to cut?
No. In [the first episode] Sheryl Underwood is talking about multiple uses for Vapor Rub. Nobody has called us after the taping, thus far—and we've taped 6 episodes—and said please take that out.
How did you go about presenting the show idea to the network?
This one happened very organically. But there's definitely a pitching process. You'd normally go pitch to all the different networks and hope somebody buys it. For this one, TV Guide made an offer it and we went with them. And Ali Landry is now doing their Fashion Wraps for all their award shows (which is awesome) as a result of this show.
I imagine having celebrity guests makes it easier to have spin-off programming.
My master plan would be, "New York Girls Night," and "Nashville Girls Night." It lends itself to that. This is the best girl talk on the planet.
You've nurtured a lot of talk show talent in your day. What does it take for someone to host their own show?
It obviously takes good topics, but at the end of the day, talent drives TV. People come to me and say, "Can you help me be the next Oprah?" Uh, no. Can I be the next Michael Jordan? The truth of the matter is, if you connect with the audience you connect with the audience. If you don't, you don't. You can have a great format—there are shows that have been on the air forever that have great formats. It all boils down to this: Do you connect with the audience, or do you have something to say that moves the audience?
I used to always say when "Oprah" was on and "American Idol" was at its peak, there were two shows that were on the air that could get people to do something right then—call in and vote, or go buy a book or see a movie. With Dr. Phil, whether you connect with him or not, there's obviously something….with Dr. Oz, it's the same—there's information that people want to hear or that they're relating to.
Ali and Ali are 100 percent who they are, authentic, real. They're both actresses. They do have the job of keeping things moving. They're like Lucy and Ethel. They are so natural.