Pop Upfront: Network Steps Up Content Ambitions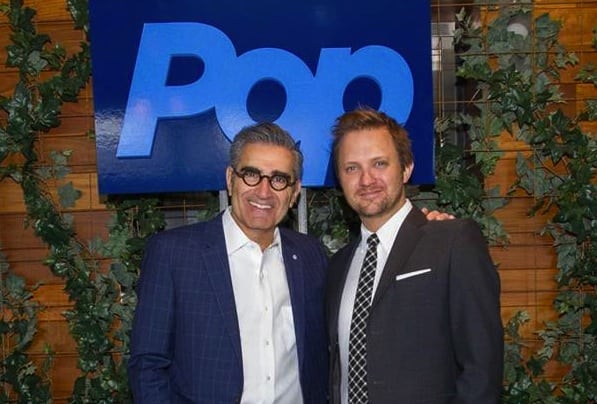 Plenty of networks are rebranding these days, but one of the biggest overhauls in recent years was TV Guide Channel's transformation from a utilitarian network to Pop. And even that makeover continues to be an evolution. When it debuted as Pop in 2015, it was primarily reality programming targeting mega fans—those same viewers who had turned to the channel over the years for Red Carpet coverage at awards shows. But the channel, a jv between CBS and Lionsgate, has since become a deep well for scripted programming—evidenced by Thursday's slate of upfront announcements. The channel has acquired the rights to popular ABC sitcom "The Goldbergs" (to premiere in 4Q) while adding its own scripted fare such as half-hour comedy "Hot Date," based on CollegeHumor's online series of the same name, and "Swedish Dicks, Private Investigators," a comedy about an aging ex-stuntman stuck in the past and an overly optimistic Swedish DJ stuck in the digital world who solve cases together. Part of what helped Pop take the scripted plunge is the success of "Schitt's Creek." "It pushed us into this premium programming place," said Pop pres Brad Schwartz. "We're working with really amazing people in front of and behind the camera." Hot Date has Will Arnett's production company behind it. In development is a series written by Barry Safchikand Michael Platt("Grace and Frankie," "Weeds"). Pop followed Schitt's Creek starring Eugene Levy with Ali Wentworth-led "Nightcap," a comedy poking fun at late night TV that's received positive buzz. The message Pop pushed at is presentation is that Pop has become synonymous with premium programming. It's taking that approach even with acquisitions. No other network or SVOD service has episodes of "ER," and it snagged The Goldbergs in its first window, fresh off network.
The programming push has it gaining momentum in ratings, with the net touting that broadcast season over season viewership among A18-49 is +21% and W25-54 is +13%. "For adults 18-49, full broadcast year, we were the 5th fastest growing network in all of entertainment television (takeaway news, sports and kids)," said Schwartz. Pop hasn't abandoned nonfiction programming. Series in development include "You Take My Point," a pop culture panel hosted from Mary McCormack's living room developed in partnership with Rashida Jones ("Parks and Recreation") and Matador ("Lip Sync Battle"), and "Get in my Van," a talk-travel show hosted by Kate Walsh ("Grey's Anatomy") and her best friend as they travel the country in an RV. For this upfront season, it's worth noting the net added 58 new national advertisers in the most recent broadcast season and more than 140 since the rebrand. Pop's message for advertisers is similar to its pitch to distributors: "Because we're still a growing network and because we're still coming off where we were two years ago, you have access to all of this stuff at cheaper prices," Schwartz said.