Polygamy USA—Nat Geo's Intimate Look at a Subculture of Plural Marriages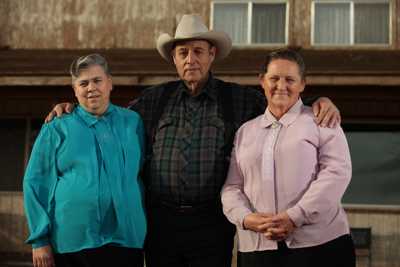 Many Americans' familiarity with polygamist communities begins and ends at the well-publicized child abuse crimes of Warren Jeffs, head of the FLDS [Fundamentalist Church of Jesus Christ of Latter-Day Saints]. Or possibly HBO's popular scripted drama "Big Love." But Nat Geo's new series Polygamy USA (premieres Tuesday May 7, 9pm) aims to paint a far different picture of polygamist practice, as it exists in the Arizonan community of Centennial Park.
The series, produced by
Part2 Pictures
, gives an unprecedented look at the subculture of a polygamist community. That kind of access—and the ability to tell stories that are genuine, honest and accurate—initially attracted Nat Geo to the project. "[Part2 Pictures] are amazing at creating relationships and gaining access to all different kinds of communities," said Lynn Sadofsky, vp, production and development for National Geographic Channels. The network had previously worked with company on "Hard Times," an in-depth look at prisons and inmates across the country, which also benefitted from a deep familiarity with and knowledge of the culture. "Polygamy USA's" underground element fit with the network's branding as well. "We have a history of doing shows about subcultures," Sadofsky said. "We have seen that our audience really responds to series like this. Our Amish series did very well in the ratings and we wanted to continue that exploration."
Getting access to a community that harbors a distrust of portrayals by the media was a process developed by Part2 over time. "We'd had some previous work with this community and had been developing a relationship with them for the past couple of years," said Part2 executive producer Amy Bucher. The community itself has two local media liaisons, with whom the producers began to communicate. "They were looking for a production company that they felt would represent the community fairly," she said. "They desperately wanted a fair shake at showing the world who they were and who they are."
The trust took years to build, and entailed "a lot of sitting, conversations, and trying to figure out what was important to the community," said Part2 executive producer Greg Henry. "They always thought it was a bit of a risk to stick their head up, but one that was well worth taking because the national discussion was always about FLDS," he added. According to showrunner/co-executive producer Brian Lovett, who took the series' reins shortly after filming began, gaining their trust involved "simply spending quality time with families, with and without cameras, talking about life, sharing… and having meals at their homes."
The approach to filming was pretty hands-off, Lovett said, which was appropriate for the close-knit community. "In general, people that practice polygamy have—for generations—been secretive and hid their way of life. So instinctively, not all want to share and open up about their lifestyle. Our team wanted to show everyone that we were not judging, just documenting," he said. Given the initial trust developed with the community, the series' producers insist there was hardly a filter between what the families said and what was filmed. Not your standard reality fare. "There's nothing that's coming out of anyone's mouth that's been shoved in there and regurgitated," Bucher explained. For one, they simply wouldn't do it—even if it might help clarify the storyline. "They were very forthright in what they felt comfortable with and what they felt uncomfortable with, in terms of the production process," she said.
Nor did they refrain from articulating the difficulties of living in polygamy, or plural marriages as they refer to them, according to Henry. "It's not easy—women are jealous of each other, men need to support large families. They believe that it's a difficult lifestyle that's worth it because of this incredible faith and belief in their religious doctrine that they have," he said. The degree to which they were open and honest was quite surprising, Lovett admitted. "I kept feeling like I would hit a wall or "find out" something I shouldn't, and it just didn't happen," he said.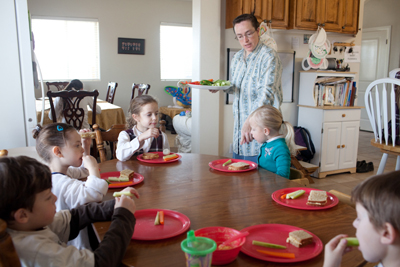 In some ways, the current national conversation surrounding the definition of lawful marriage makes this story opportune. "[The community] sees the global landscape of marriage changing in America and they want to be part of that conversation," said Bucher. Their ultimate goal is to see polygamy decriminalized—and frankly, they feel as if they are the community that exemplified polygamy "done right," said Henry. Though the community's initial founders experienced legal ramifications and the current generation largely does not, they still live in fear of it.
In a house with 18 children, losing a breadwinner could be disastrous. Indeed, economic difficulties faced by plural families is one of the show's main through lines—one that its creators hope will strike a chord of familiarity among more typical American families. Another important motif is the portrayal of various generations within the community. "We wanted a very broad and rich spectrum of the different stages of polygamist families," said Henry. While only 30 years old, Centennial Park's history runs deep. "It's a real community of crossroads, where the first generation has laid down the pavement," Bucher said. "They've created this kind of legacy for their children and now it's the children's choice to stay or to go."
And there is indeed a choice to stay or go. Many children choose not to follow the church and leave the community, while others stay on and do not practice polygamy. But are they pressured to follow in their parents' footsteps? No more than any child, according to Henry. "My take is that the pressures are traditional parental pressures, potentially amplified by the fact that they're in a community that is pretty remote," he said. For instance, in one of the 4 families featured, a founding father (Arthur Hammond) copes with some of his children choosing not to follow his faith. Another character, a female nearing marriageable age, is encouraged by all her parents to make the choice on her own. "In many ways the pressure was more to engage the choice," said Henry. In other words: "You do not make this choice lightly."
It is clear that the community of Centennial Park, along with the show's passionate creators, hope to debunk some of the negative stereotypes about polygamist communities. It may be an uphill battle, but the families portrayed are depicted as spiritual people—and that's certainly something the American public can relate to. "I want viewers to understand that these are deeply religious people who are living a life that of their choosing," said Henry. Bucher believes that while the community is atypical—and fascinating because they are different—what ultimately draws you in is the fact that they're relatable. "This community is a lot more like you than you might think, in terms of what their challenges in life are, what they want for their children, what they want for their husbands, what they want for their wives—it's not all that different than what you might want for your own family."