Outgoing Pac-12 Networks President Lydia Murphy-Stephans Reflects On Tenure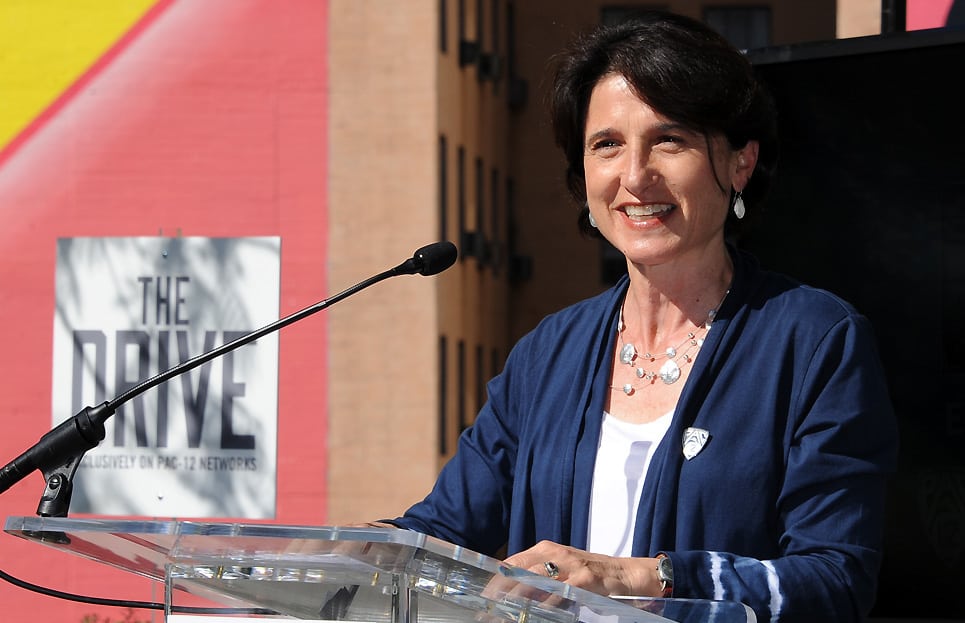 Cable veteran Lydia Murphy-Stephans left her consulting business in 2011 for the chance to help launch Pac-12 Networks, the first college sports net owned and operated by one of the major conferences. Over the next five-and-a-half years, she became the first woman to serve as president of a national sports net and established the seven-network conglomerate – one national, six regional – as one of the most comprehensive sports outlets in the country. Before her departure at the end of June, Murphy-Stephans sat down with Cablefax to reflect on her tenure.
How has Pac-12 Networks evolved and grown since you began the pre-launch process in late 2011?
In five and a half years, the Pac-12 went from having the vision to have its own network to actually operating a world-class multimedia company with seven TV networks, 850 live events, more than 500 hours of shoulder programming, a library with hundreds of thousands of hours of content, 13 websites, distribution in place on every existing platform and positioned for future growth with more than 75 providers worldwide. That's a lot in five and a half years, and we did it all while being profitable in year one. Over the five years, we've have had a compound annual growth rate of 32%. My team — and it really was a team effort — and I have positioned the Pac-12 in a good place for future growth. I'm leaving with everything as good as it can be right now, but definitely with the opportunity for significant future growth.
What is the significance to you today of having been the first female head of a national sports network?
I know I was the first woman, but I was also the first wife and the first mom. For me, the only significance in that is that it creates opportunity, hopefully, for other women. So, it proves that gender is not a factor in success. It's really a skill set, and I'm very thankful to Gary Stevenson, who hired me, who gave me that opportunity and who believed in me. In succeeding, I believe other people like Gary will open the door and keep that door open for other people who haven't had such opportunities.
The seven-network structure has allowed Pac-12 Networks to televise Olympic sports more than other conference networks. What kind of feedback have you received from those programs about the impact that exposure has had?
It levels the playing field a little bit for those sports. Ninety-eight percent of those live sporting events never received TV coverage before Pac-12 Networks existed. Now, they get exposure worldwide. That serves multiple purposes. One, student-athletes have the ability to have their events on TV so their families, their friends and their fans can watch them. From a recruiting point of view, recruits get to know the coaches a little bit better and their programs better. That's not just through live sporting events, but also the shoulder programming we offer. For the universities in general, it's a great recruiting tool. People are more familiar with, perhaps, Washington State University and what UCLA has to offer and what Oregon State has to offer. So, we've gotten a lot of great feedback.
Why haven't you been able to get a distribution deal done with DirecTV, and how significant of a setback is it going forward?
Pac-12 Networks has offered DirecTV the same distribution deal it has offered Comcast, Cox, Charter and others. Why DirecTV hasn't specifically picked up Pac-12 is a question for DirecTV. There's certainly a significant amount of value offered with the 850 live events, and that's across all 32 sports including the revenue-generating sports. Absolutely, there has been frustration from our fans, from our universities, from athletic directors that DirecTV has not yet picked up Pac-12 Networks. I can't predict what will happen in the future, but Pac-12 is positioned for DirecTV and other providers to add it to their lineup.
Several administrators from member schools have criticized the Networks for not meeting profitability expectations relative to the other conference networks. Is that criticism fair?
There is a gap between what Pac-12 Networks delivers and the Big Ten Network and the SEC Network. What has to be factored in is the revenue specifically from Pac-12 Networks is only one part of the overall revenue each university receives from the Pac-12. I understand there is frustration, though no athletic director or administrator was ever told the Pac-12 Networks would deliver the same or more revenue than what its peer conferences are currently getting from their networks.
There are other sources of revenue. There's revenue from the NCAA based on the revenue-generating sports and how well each university performs in the football postseason and men's basketball postseason. That's a significant source of revenue for universities. If the universities are not performing well in postseason play compared to other Power Five conferences or other conferences in general or other schools, there will be a revenue gap. If ticket sales are less than other conferences, there will be a significant gap. Then there's merchandise sales and there's multimedia rights with third-party rightsholders. So, all of those contribute to the gap.
Yes, Pac-12 Networks is one factor. It certainly shouldn't be called out. I don't think it's fair in any way to call out Pac-12 Networks as the source of the deficiency the universities or maybe those particular athletic directors or administrators are citing.
How have you positioned Pac-12 Networks for distribution on emerging platforms?
It's been very important for Pac-12 Networks to be nimble and to position the content for distribution on every existing platform. The beautiful thing is that a provider can choose to carry one network – the Pac-12 Network, which is the national network that offers more than 450 live events – or the national network plus the six regional channels. There's a plethora of content available in multiple ways for a provider to choose and ultimately the consumer to choose. We aggressively pursued new distribution deals with DISH and Sling TV, for one. We have another one that's already in place that hasn't yet been announced, and we're in conversations with others.
What are you most proud of during your tenure at Pac-12 Networks?
We were able to create this media company, and it's the only one owned by 12 different universities. That in itself was quite a feat. A media company needs to be dynamic and it needs to be nimble and it needs to be agile. It's very fast paced. Universities tend to be more fluid, and the management style is through consensus building, and a lot of things go to committees. We bridged the media world with the university world, and the outcome is Pac-12 Networks, which is a successful multimedia company today.
What is the vision for your new consulting venture?
I'm a passion player. I want to utilize my expertise and participate in new projects and ventures out there. I'm entrepreneurial and I've been in the media industry for 30 years. I have experience in local TV, regional cable, national cable, broadcast and international. I've been on the management side, on the acquisition side and in day-to-day operations. So, my plan is just to make myself available for projects as they come along and to be selective. I know what I'm good at and I'm willing take on projects I'm passionate about. If I'm not the right person, I would be happy to network and match people up and companies up with their needs.