NewFront Notebook – Hulu Plus Reaches 6 Million Sub Mark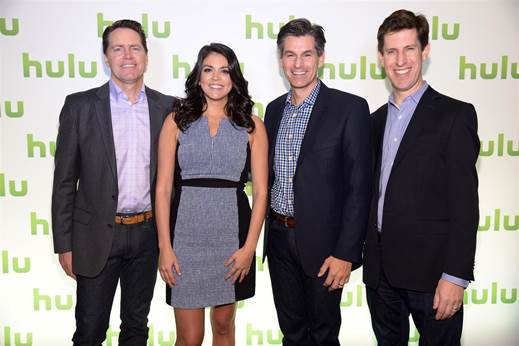 Peter Naylor, SVP of Sales, Hulu, Cecily Strong, "SNL" and "The Awesomes," Mike Hopkins, CEO, Hulu, Craig Erwich, SVP Head of Content, at the Hulu Upfront, April 30, 2014, in NYC
At Hulu's NewFront Wednesday morning, host and comedienne Cecily Strong outlined what's so great about the service: "It finally lets us watch TV as it was meant to be watched: at work." Of course her show, "Saturday Night Live," gets a lot of play from Hulu—at work or otherwise. NBC shows are, in fact, some of the most-watched on Hulu. So people do actually watch NBC shows, she mused. "Just not on NBC."
Strong's stand-up had the audience chuckling, while talent such as the band "Capital Cities" and "Community" stars playfully acting out Hulu's "was this ad relevant to you?" signature ad roll, kept the room upbeat. But beyond showcasing comedic talent, Hulu used its NewFront to announce that Hulu Plus has reached the 6 million subscriber mark on more than 400 million devices and, according to CEO Mike Hopkins, the company is in "active discussions" with TV distributors to offer the service on set-top boxes. Moreover, in late summer the Hulu Plus iPhone app will get a redesign, with "cleaner and more intuitive navigation," and viewers will get some full, ad-supported TV eps on mobile for free, he said.
Hopkins said Hulu's strategy is centered around three things: audience growth, innovation and content, with the intent of becoming "the singular destination to all things TV." Over the next year, the company will quadruple its programming and commence a viewer acquisition and brand campaign—upping its content marketing spend threefold—to increase awareness of its originals.
Peter Naylor, SVP of Sales, talked up the time spent on Hulu, declaring that subs spend an average of 50 minutes per session on desktops, and noted that 82 percent of viewers are in the 18-49 demo. "A light TV viewer is actually a Hulu heavyweight," he said.
Naylor unveiled three new ad experiences. The in-stream purchase unit, with Pizza Hut as launch partner, lets consumers place an order without leaving the Hulu site and includes audience targeting. Cross-platform interactive ads optimize interactive experiences for consumers' specific devices. Corona Extra is the first partner and will kick it off late summer. Lastly, the Hulu 360 ad works on mobile platforms and is powered by design company Immersive Media.
On the content front, Hulu has ordered a second season of the original comedy "Deadbeats" and renewed Seth Meyers' animated series "The Awesomes," "Moone Boy," "Behind the Mask" and "East Los High." Both "The Mindy Project" and "Community" will now air on the platform, while the teen dance drama "The Next Step" will debut May 28. MundoFox programming will get distribution on Hulu, the company's first on demand partner to do so.