Movies and Diversified Streaming Distribution Strategies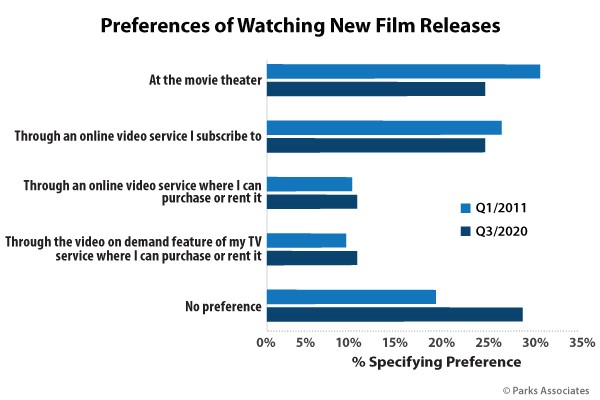 In the past, broadcasters and pay-TV providers controlled the flow of premium content to consumers, even over the internet. This largely dictated consumer behavior, as there were limited sources to get premium video content, and user-generated content did not have the appeal to consumers that it has today. Today, virtually unlimited substitutes exist in the content landscape, making convenience direly important for proper content distribution. Consumers no longer want to be force-fed content that distributors favor and instead want personalized media on-demand on a large variety of devices.
Prior to 2020, the traditional content windowing process for new theatrical releases had remained relatively the same for decades upon decades. Movie theaters were the primary channel for first-run movie titles and consumers' preferred way to view them. Film studios are looking for alternative ways to deliver new titles to consumers while attempting to recoup some of the significant box-office revenue lost and pay down significant production costs.
Parks Associates' latest consumer research indicates interest in watching new films in a movie theater and through subscription OTT services has risen. Thirty-two percent of households surveyed in Q1 2021 prefer to watch new releases in theaters, an increase of 8% since Q3 2020. Interest in subscription OTT services has increased from 25% to 27% during this period.
Theatrical film releases have returned to prominence with recent box office successes, including "Godzilla vs. Kong," "A Quiet Place: Part II," "F9" and "Black Widow." Film studios continue to reevaluate their distribution strategies to reach theatrical audiences without sacrificing their OTT partnerships. Universal Pictures was the first studio to shatter the traditional theatrical window by distributing "Trolls: World Tour" on transactional services for $19.99 rentals in March 2020. The studio has inked another groundbreaking rollout strategy for new releases.
A deal with NBCUniversal's OTT platform Peacock disrupts the traditional pay-one window for theatrical film releases, which traditionally extends to 120 days after theatrical release. The pay-one window is the first exclusive release window following a film's theatrical release and transactional purchase sell-through period. The deal dramatically reduces the traditional pay-one partner-TV window.
Peacock will gain distribution rights for 2022 theatrical releases from Universal Pictures for four months after their theatrical release, including new installments in the "Jurassic Park," "Fast and Furious," and "Despicable Me" franchises. Peacock will have exclusive distribution for these titles during the first four months and last four months of the 18-month pay-one window.
Now that Universal has retained the rights to its theatrical slate for Peacock, the studio can satisfy both markets by retaining a traditional theatrical window for its topline releases and developing new programming specifically for Peacock. NBCUniversal won't diminish the box office potential for these anticipated titles, as many viewers prefer to watch these films in theaters. At the same time, Peacock becoming their exclusive home during the pay-one window will appeal to viewers that prefer subscription OTT services.
A unified distribution plan across multiple platforms will benefit NBCUniversal's overall strategy and develop a more expansive brand identity for Peacock. While Peacock has benefited from the popularity of "The Office," the appeal of these popular franchises drives viewers to the service and exposes them to the service's expansive content library. Peacock has yet to develop flagship titles among its original film and television offerings, and a regular inflow of exclusive titles promote prolonged interactions. The exclusive post-theatrical availability and development of related exclusive content for these highly anticipated films can bolster their appeal on Peacock before they are featured on rival services.
Amazon also sees licensing Universal Pictures films as an opportunity to satisfy multiple streaming arms. While Prime Video already has one of the largest libraries of any OTT service, IMDb TV becomes the first free ad-supported service to gain the television window for film titles. IMDb TV has added exclusive content to rise within the ad-supported market, but free streaming of upcoming blockbuster titles is a unique distinction.
Netflix aims to add incremental viewership through animated titles. Despite leading the OTT market, Netflix's growth is stagnant. Leadership has indicated that mergers and acquisitions of competing content companies aren't likely. Netflix has grown its children's content features, enhanced visual navigation of family content, monitoring features for parents and children's profile pages. While desirable titles, including upcoming titles in the "Despicable Me" and "Puss in Boots" franchises, are only on Netflix for a brief window, they will likely see heavy interactions among families and allows Netflix to showcase its expanded features.
Starz saw significant adoption for its OTT service and linear channel in 2020, as many home viewers trialed the service when looking for supplemental content during COVID-19 related shutdowns. Starz has a loyal niche audience for its television series Power and Outlander, but desirable films have attracted broad users. Starz will lose significant library titles after its current agreement with Sony lapses in 2022, and upcoming Sony Pictures titles head to Netflix. Still, they will fill this content void through Universal Pictures films and its recent acquisition of Spyglass Media's film library.
NBCUniversal explores multiple routes of reaching viewers for highly anticipated film titles as viewing preferences. The segmented windowing allows NBCUniversal to maximize its profits during the 18 months by gaining profits from theatrical ticketing, retail purchases and rentals, advertising, added Peacock subscriptions and ad deals, as well as licensing to other streamers. Universal Pictures has solidified a distribution strategy that meets diversified viewer preferences, and it will be interesting to see how rival film studios attempt to make their films available to the broadest possible audiences.
Companies are making significant changes to their strategies with films. We will continue to watch these developments closely.
Elizabeth Parks is president of Parks Associates. For monthly updates on trends and market activities in the video entertainment space, please visit ParksAssociates.com.