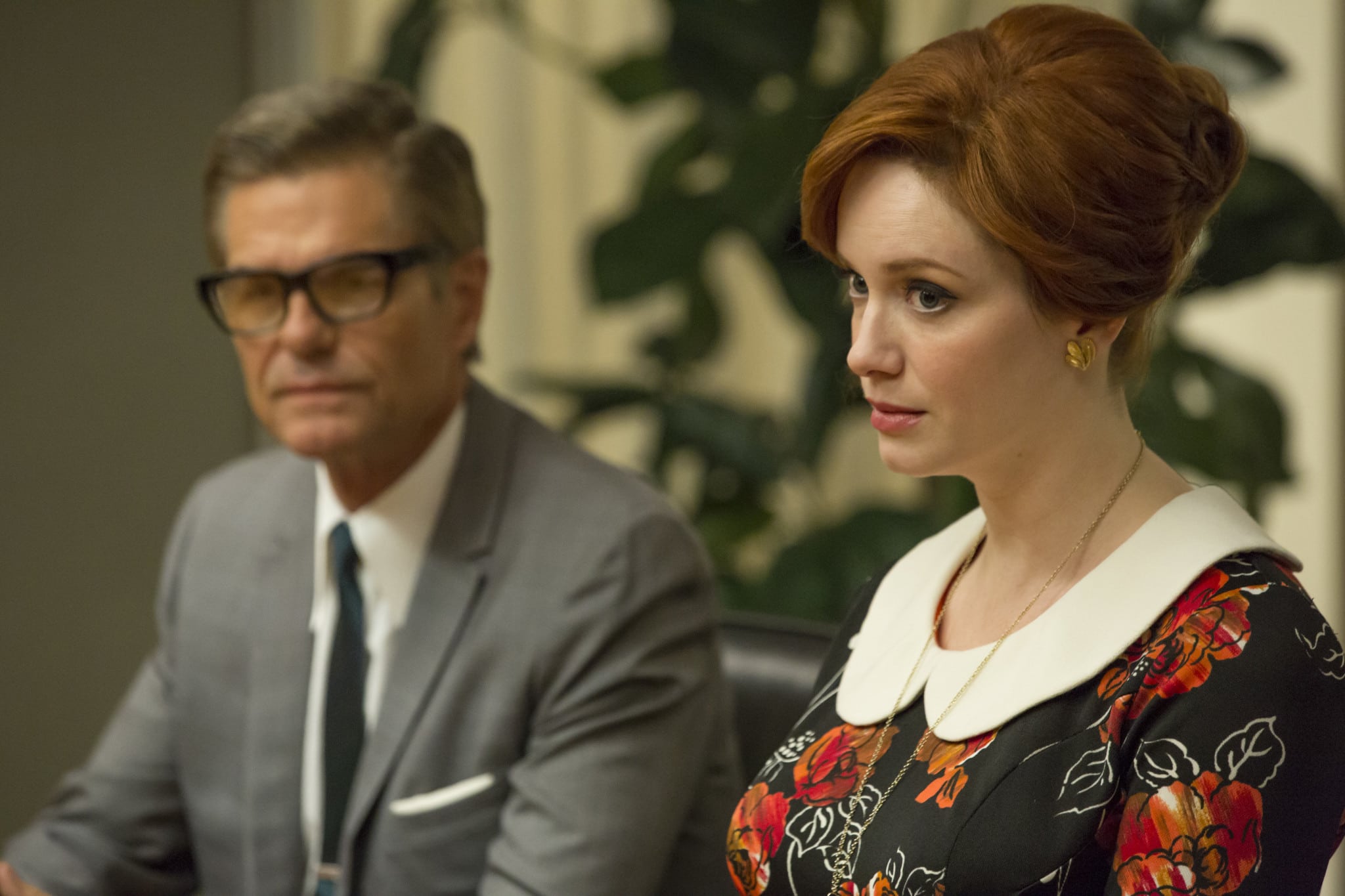 Yes, we were riveted and maybe a bit saddened by the downward trajectory of Megan and Don Draper's marriage, although we saw signs of it coming last week. The heat and intensity of their physical relationship clearly was cooling in ep 2. But doesn't that happen eventually to many couples? [OK, there's plenty of room for you to comment on that thought, readers. Disabuse your never-married blogger of the notion that a secret ingredient in wedding cake and anniversary celebrations eventually results in reduced sexual frequency.]
Joanie, We Hardly Knew Ya
Aside from Megan and Don's situation, more compelling was the attitude of the partners toward Don's re-employment at SC&P. While you could expect empty-suit Jim Cutler to balk at Don's return, the wild card was Joan. And, looking radiant in her black boots, Joan was ready to employ said footwear to give Don the heav-ho. "This," motioning to the collected partners, "is working," she said, as she wondered how a returning Don would "fit in." The partners' professional relationship might be working, Mrs. Harris, although the feud between Cutler and Sterling continues bubbling beneath the surface.
More important, the agency seems to have lost its creative zest without Don. Lou Avery, with his thin, unfashionable ties, old-style glasses dangling from a chain and sweaters that look like they were poached from Mr. Rogers' closet, is only "adequate," according to Jim. Lou is a lump on a log and his few months with SC&P have yielded little buzz in the ad community. In fact, Bert Cooper notes, "I don't like the way people think about this agency," apparently referring to the near-stiff by the Clio nominating committee, which failed to recognize Peggy's Rosemary's Baby work on St. Joseph's and netted only 1 Clio nomination, for upstart Michael Ginsberg [see more in Notes below].
Sterling, Cooper & Plodding
Bert, who's nothing if not omniscient, could also be referring to the fact that SC&P might be falling behind technologically, evidence a newspaper article hailing Grey's "computer," instead of one talking about SC&P's computer. Thing is, as we found out, SC&P has no such animal. Harry Crane, who picked up on the then-new medium of TV and brought the firm kicking and screaming into the modern age, claims he's been asking management for a computer "every Christmas," to no avail.
Jim, who is insulted when the newspaper piece is brought up by his Koss headphones clients also seems completely unaware of computers, lending credence to the Cutler-as-empty-suit concept. Instead of reacting with admiration when Harry engages in enough knowledgable double-talk, and a bit of lying, to get Jim off the hook with Koss, he's indignant. 'Why is an article about Grey being talked about in my meeting?' he shouts. He's even less happy, privately, when he finds out the resourceful Mr. Crane has provided a temporary solution and is getting national ad data analyzed by renting time on "somebody else's" computer.
Last, we get a glimpse of the financial picture at SC&P, with Roger blasting Jim for even mentioning "the long-term." Roger intimates SC&P is struggling financially and says 'we won't be breaking even' until 1973. So, Joan, while "this" is working, the business itself seems flat. In addition, Roger makes the trenchant point that firing Don now would force the partners to buy him out, and that would be an expensive proposition for a firm that's only puttering along.
Wake Up and Smell the Herbs, Joan
Interesting that Joan, whose talent for numbers has been noted more than once, seems to be making a knee-jerk decision on Don, who, after all, was the only partner who protested the idea of Joan sleeping with Herb, the odious Jaguar executive. As we know, Don later blasted Herb and his silly but well-intentioned wife during a dinner, which resulted in Jaguar pulling its business. You'd think this would earn Don the kind of support Bob Bunson, er, Benson gained from Joan when his career at SC&P hung in the balance. Although the series largely is about relationships, creator Matthew Weiner seems to be commenting on business here, noting how 'how quickly they forget' sometimes—Don was the agency's star—and how businesspeople have a tendency to act irrationally.
The Unanswered Questions
Weiner, the master planner, has set up two related and juicy plot devices to entice fans as the series winds down. The first is Megan and Don's marriage, the other is Don's future at SC&P. Is Don's marriage over, or can a tomato-juice-drinking, flirt-resistant, truth-telling Don fix things with Megan? And poor Megan. She's been a mature voice of reason, but now, living alone in LA and, as she said last night, knowing from experience as Don's secretary how Mr. D behaves when left on his own, Megan's become very suspicious. Of course, the fact that she's never able to reach him when she calls, and when she does get through the 'office' environment is strangely quiet, no phones, no typewriters, have fueled her suspicions. Add this to her anxiety about succeeding in Hollywood, which has led her to cross over into The Twilight Zone, or at least to interrupt a lunch with Rod Serling, and you can understand her anxiety.
In a related storyline, Don's professional future also depends on a reformed Draper. The "stipulations" he's agreed to being that his drinking in the office will be curbed, he won't be left alone with clients, he'll be forced to stick to "an approved script," he'll be in Lane's old office and he must report to Mr. Personality, Lou Avery. [I'm actually good with all that, as long as he doesn't have to take Lou's advice on fashion. Loved a line in the Wall St Journal, which said Don reporting to Lou was like Pavarotti reporting to Wayne Newton.]
Deja Vu All Over Again?
On the plus side, Don seems to have turned a corner, although we've seen this story before. We thought Don finally had become monogamous when he married Megan. That didn't last long [see Rosen, Mrs. Sylvia]. In addition, despite Megan's warnings or perhaps in spite of them, his drinking became worse during their brief marriage.
Still, we have hope. Don told the truth in ep 2 to Sally, a momentous event for Don, er Dick. He also eventually came clean with Megan about his employment status last night. And it wasn't Clarence Birdseye who turned down a stewardess and then a comely come-on at the dinner meeting with Wells, Rich, Greene. Also, don't forget the polite rejection of a ride home with the Merry Widow, played by Neve Campbell, last week. The blatant offer last night of a pleasant evening companion might have been a test by his prospective new employers, a bonus from them, or a nod by Weiner, along with the stewardess incident, to the changing sexual mores of 1969.
More to the point, could an unrepentant Don have agreed to the draconian measures laid out by the SC&P board? Or is he desperate and thinks returning to the firm will salvage his marriage—he says that to Megan, linking a return to work with a return to the old Don.
Let Don be Don
Yet is a non-drinking, scripted Don Draper an effective Don Draper? The booze seems to fuel his professional creativity, as do frequent naps. And while some of Don's best work has been scripted—recall the Kodak carousel presentation that Ken referenced last night—Draper's ability to rebound extemporaneously is legendary, too. Sadly, one of Don's best moments, the infamous Hershey presentation last season, when he revealed his squalid whorehouse upbringing while real, resulted in a loss of business and his subsequent 'suspension.' So much for honesty in the advertising business.
Notes
Going, Going Almost Gone: Has Harry Crane been fired? When Jim brought up his name in the partners' meeting, Roger assumed it was to complain and interrupted, saying, "He's gone." Well, is he or was that just Sterling bluster and an effort to stay on point, Don's future being the point? Maybe Jim was about to praise Harry for his foresight on computers. Certainly Jim liked and stole Harry's idea about the firm buying "a computer." Good commentary here by Weiner, as SC&P, with the exception of Harry, appears to have lumbered into the computer age. An added irony, last week the crew couldn't even get a speakerphone to work and now they're talking computers? What's next? Bottled water?
Interiors: Did you notice the club-like decor of Harry's office? It's so unlike anything we've seen in other parts of SC&P. Was Betty Draper his decorator? There's got to be a message here. I'm just saying.
Daddy, Don't Ya Run So Fast: While Don's interaction last week with Sally was, as we said, seminal to the case for his reform, we've yet to see baby Gene and Bobby visiting daddy. Fortunately, Don would have little trouble recognizing Bobby, as he's played by the same actor as last season. Finally, some consistency in the Bobby Draper role.
Mommy Dearest: It's sad to think that the best hope for the Draper kids turning out well is a resurrected Don, which isn't exactly a safe bet. Certainly Betty iced her ice princess reputation last night, dousing little Bobby's enthusiasm by ragging on him well into the evening for his innocent trading of her sandwich during the field trip. Besides her looks, I'm still not sure what the reasonable Henry Francis sees in her. Too bad Betty didn't see Bobby proudly refuse to give up his mom's place on the grass earlier, nor did she fully appreciate how proud he was to see his mom brave the fresh cow's milk. Deftly Weiner coupled this incident with a scene where Betty politely pounces on old Ossining, NY, neighbor Francine at lunch for abandoning her motherly duties and working three days/week in an office. Gasp! Never mind that both Francine and Betty have 'girls' to watch their children.
Headin' West: Apparently Don's claim in ep 2 to Sally the Investigator that he visits Megan regularly was true. (More truth being associated with Don. Is nothing sacred?) Witness his interaction last night with Tricia the stewardess, who knows him by name, is aware of his normal flight schedule and flirts openly with him. After he politely rebuffs her, she truthfully jests, "I hate your wife."
You've Come a Long Way, Baby: Gotta love when Mad Men makes light of its characters, with the the ditzy former SC&P receptionist, who apparently now is on Peggy's desk, speaks for many women in the office and audience when she answers the question 'What is Don doing [in the office again?]' with a dreamy "Who cares?"
Un-sportsman-like Conduct: What's going on with the mouthing off of younger people to senior executives? Earlier this season we had Ken Cosgrove insulting Joan, a partner after all. Last night we had Harry abruptly telling another partner, Jim Cutler, "this conversation is over" and storming off. And we had Dawn last week dissing Joan's warning and rightly dressing down Lou Avery for faulting her for not being in the office when Sally Draper came a callin'. Less surprising yet no Iess offensive are Ginsberg's comments to his superior, Peggy. In earlier seasons these would have been fireable offenses, now they're tolerated. The times they are a changin.' Speaking of which, how about the bouncing boobies on Bobby's young teacher? Both Betty and the other chaperone on the field trip noticed that the farmer's daughter needed a bra.
Dandy Don: A rule of drama is to have characters periodically mix with those they don't normally interact with. This was shown to great result last night when Don awkwardly and then more comfortably spends much of his first day back at SC&P with the young creatives, led by Ginsberg. By the end of his time in their room, he's actively engaged in gossip with the youngsters, something the old Don would never do. Speaking of which, Don even engages in small talk when Ken Cosgrove whips out pictures of his baby, quipping a la Roger Sterling, 'Now I know what you'll look like when you're bald, Ken.' By the way, Jon Hamm's nuanced performance last night was a pleasure and the filming of Don's nervous return to the office was nicely done.
Speaking of drama, another rule is 'show it, don't describe it.' While we saw moments of brilliance during the partners' meeting, with Roger raising his voice to a level we've not seen before as he argued for Don, it might have been rewarding to see more of that meeting. How heated did it get? And what finally led the partners to change their collective mind and allow Don to come back? Was it Roger asserting himself even more? If so, it must have been a brilliant performance. Was there a compromise? Who brokered it? Bert? Again, it would have been rewarding to see.
Misplaced Blame: The Clio situation adds to Peggy's woes—romantic, domestic and professional. Particularly galling for her is that upstart Michael Ginsberg, who's become as caustic as Roger Sterling and grosser, received a nomination for his work on Playtex, an account Peggy ceded to him when she left SCDP for Teddy Chaough's shop. We later learn, though, that the Clio committee never even considered Peggy's work because the agency decided not to enter it, as Lou explains with some double-talk designed to hide the fact that he didn't want to enter anything that didn't have his name on it. And since he worked at SC&P for just 1 month in 1968, very little had his (probably boring) imprimatur on it.
There was plenty of misplaced blame last night. Peggy blaming Don for her woes with Teddy Chaough, who, in fact, left NY to get away from the temptation of Peggy. Don did Teddy a favor ceding the California move to him. Also misplaced is the blame Megan puts on Don for not being in California with her. Again, Don intended to be in Hollywood with Megan but Teddy's plea last season eventually resonated with him, perhaps as a way of saying thanks to Teddy for helping Arnold and Sylvia Rosen's son, Mitchell, get out of serving in Vietnam. Perhaps because Don felt something for Teddy and, by the way, Peggy. Discuss, debate.