Mad Men: There's Gotta Be More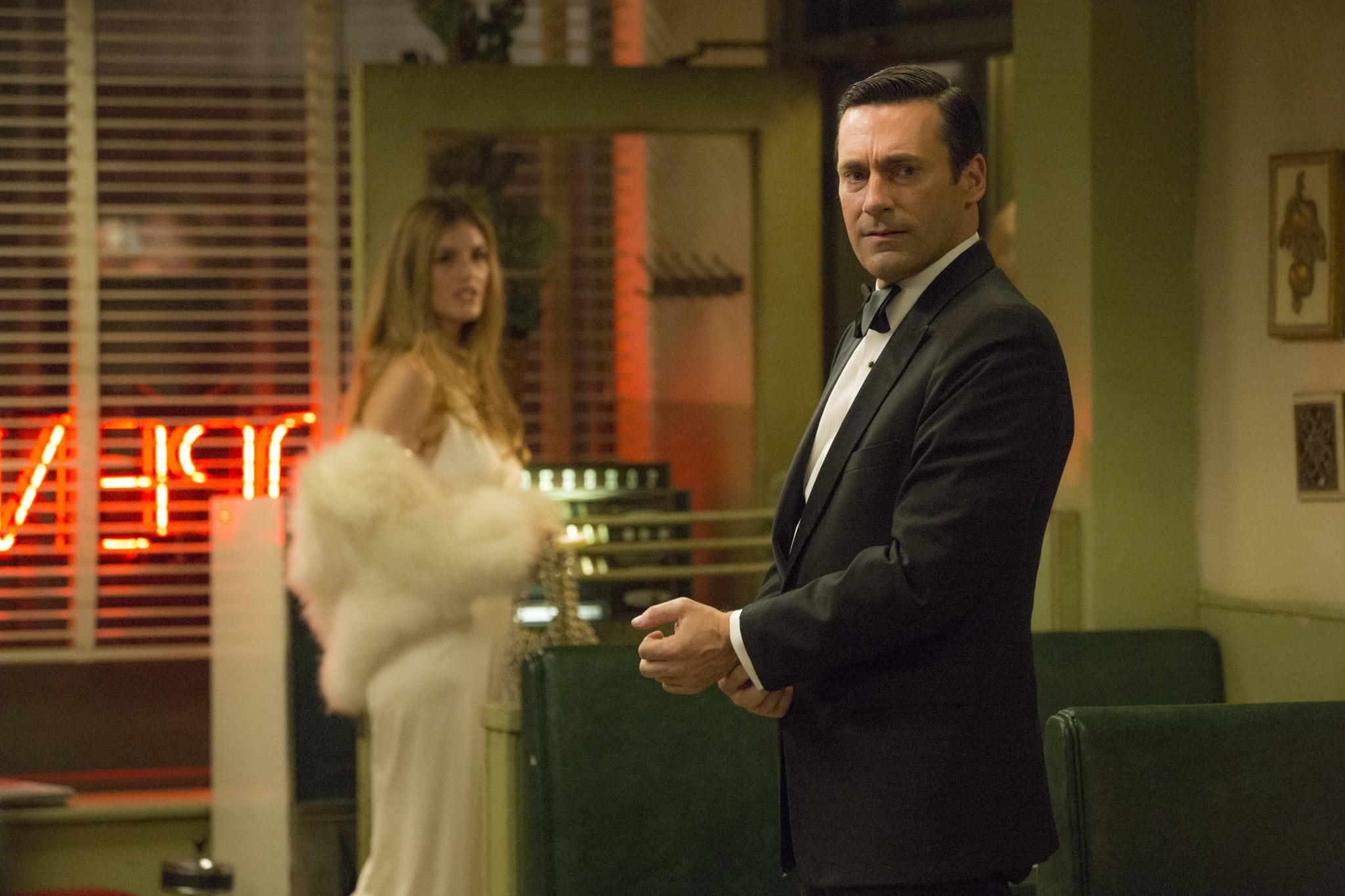 It's wonderful to be back and thank you, loyal readers, for your support and insightful comments. Speaking of wonderful, wasn't it great to have Mad Men back?
They're like old friends. Elegant and lascivious Don, snarky Roger (and that dashing white mustache), elegant Joan (who looked positively radiant in her 70s attire and new 'do), Peggy (also looking well, trim and smiling, at times), Pete (much better hair), Ken (the eye patch indeed would have made him look dashing in a photo on the back page of an adventure novel), hirsute Rizzo (who's now abandoned any pretense of not being a hipster) and Harry (thank goodness he's abandoned the loud duds of his California days) and even Don's new secretary Meredith (Stephanie Drake), a simpleton, maybe, but the possessor of common sense, a backbone and a good heart.
On the face of it, Matthew Weiner and Jon Hamm, who directed this episode, delivered viewers a pleasant reunion with the biggest revelation not really being a revelation: Don, nearly divorced from Megan, is having coitus with every woman in NY, sometimes in sleazy alleyways. On closer inspection—oh, say about the 3rd time you watch it—you realize it might be a classic.
In fact, the episode is so good you could argue that it would have made an excellent ending to the series. Go ahead, AMC, drop the final 6 episodes, this one will be hard to beat. Bracketed by the haunting and suicidal lyrics of Peggy Lee's 1969 rendition of "Is That All There Is?" it contains nearly every basic idea that the series has covered. In addition, most of the important characters are accounted for, too, with only Betty, not-so-little Sally and Megan among those missing.
Finances
This blog writer has made a living arguing that one of the main currents running through Mad Men is the ultimate emptiness of life. Like the happy families show in so much advertising, the object is to appear happy, even if you are not. In this sense, Mad Men characters are living the life that they are paid to create. Their job in advertising is to help make the public ignore the boredom of the quotidian, where most people grow up, work, marry, bear children and die. That's all there is, usually.
In advertising, though, an objective of client relations is making sure the client doesn't think about depressing things. For example, all good ad men and women know never to bring up their depressing issues or the country's problems with a client. Don was suspended for that once.
Despite the financial success of several characters (Don, Roger and now Joan), their lives are empty.  The thrill of hooking a client, making money, winning an account, that can never be replicated in one's life at home. The only saving grace for these three is that they have means, which gives them enormous flexibility. There also is the possibility that they can salvage relationships with their children.  In Joan's case, her child, Kevin, will grow up rich, although without a visible father, unless Joan changes her mind about Roger, the lad's biological dad, being present in his life.
It's Good to Have Money
Childless Peggy, who's done very well in her career and presumably pulls in decent money, has the most-empty personal life and what's more, she still lives modestly, as we see in this ep. She's worked harder than Don, Joan or Roger (I know some corpses who work harder than Roger), but she's not in their league financially and that bothers her.
Remember the time period though—it's the Nixon's era, the early 1970s, when women were making strides but were not being paid like men (in many cases they still aren't). And, as this episode illustrates, women continue to be derided by men in business settings, witness the awful McCann meeting Peggy and Joan endure.
At any rate, the normally staid Peggy loses her cool in the elevator with Joan, whacking her with a financial dig, "You're filthy rich. You don't have to do anything you don't want to do." The question then, for Joan and Don and Roger, too: What do you want to do?
Perhaps the answer is to drink and party, as Peggy Lee suggests in the song. For example, after partying, you take 3 women to an all-night diner as Roger and Don do. And then Roger has the luxury of dropping a $100 bill to pay a $12 tab and apologize to Diana (Elizabeth Reaser), the Rachel Menken/Katz-looking waitress with a literary bent, existing in a dreary, half-empty, roach-filled diner.  And listen closely; you'll hear a snippet of Peggy Lee playing in the background, the ideal soundtrack for this place. Of course, dropping the century also impresses the young women that Roger and Don are with.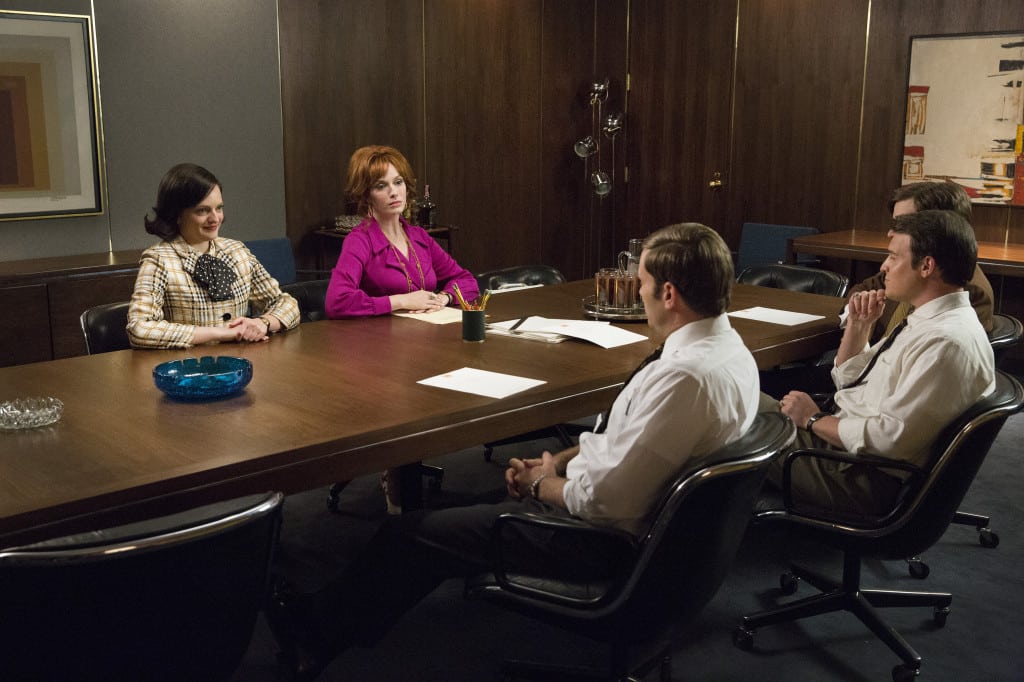 Rachel and Money
And speaking of Rachel, who with some deft plotting and camerawork appears in Don's daydream or dream, it's not clear which, and who, in the words of her sister, "Lived the life she wanted…she had everything." Rachel also had something she didn't want, Leukemia, which ended the life she wanted at an age "younger than" Don is now. Despite her financial success, Rachel was felled and she can no longer do anything for her young children, whom we glimpse in this episode. (We hope Don is taking notes.)
The scene at Rachel's memorial, or shiva, was brilliant. The darkened lighting, a Mad Men staple, complements Don's awkwardness as he looks under the covered mirror. Don is out of his element, failing to recognize a traditional custom in a Jewish house of mourning. Yet later he pretends, another Mad Men staple. He acts like he knows Jewish ritual, halting Rachel's sister's explanation of shiva. "I've lived in NY a long time," he says knowingly, although he's really a bit ignorant as he volunteers to help make a 10-man minyan. Oops, Don, you have to be Jewish to be one of the 10.  He gets points, though, for bringing cake.
Back to the scene, though, which ends with the camera tight on Don's anguished face and watery eyes as he's told of Rachel's fate. The coup de grace is when Rachel's sister coldly realizes who Don is, "I know who you are," and later, "I don't know what you're looking for here," which begs the question, Has Don, who's actually Dick, ever really known what he's looking for? Another moving images comes toward the end of the scene, when the mourners, clad in black their backs facing Don and the camera, begin the evening service, gazing down at their prayer books. To Don, who can't see what they're doing, they appear to be looking into the abyss, a theme known well to him, who essentially buried himself when he 'killed' Dick Whitman and in seasons past looked into an abyss more than once.
Kenny, Pete, Peggy, Joan and Money
The story line of Ken Cosgrove (Aaron Staton) emphasizes the emptiness of life theme well. His wife, Cynthia (Larisa Oleynik), worries that her father, Ed Baxter (veteran character actor Ray Wise), has retired too late. "He's so old," she moans to Ken, who says Ed "is going to have a ball," in part, with the $200 golf clubs Ken and Cynthia have surprised him with as a retirement gift. In reality, the couple's generosity is a sham, another Mad Men constant. In fact, Ken expensed the clubs to Sterling Cooper & Partners (SC&P) since Ray sent the firm a lot of Dow Chemical's ad business. Incidentally, Dow's business at the time was producing napalm to kill North Vietnamese.
But back to Ken and Cynthia, who wants her husband to learn from daddy and get out of SC &P now, live off her family money and write the novel she knows he has inside him. Good ol' Ken refuses, insisting he's not bitter about what he's done with his life and that he believes in SC&P. He's also believes a raise is coming.
That leads to another brilliant scene, where Ken's voice is heard, but he's unseen, as Don walks from the elevator to the doors of SC&P. We hear Ken telling Don he's "gone," fired, but we still don't see him. Eventually, his image is visible, but it's still unclear where he is, although we can see he's down (the abyss?), clearly lower than Don. Finally, we understand—he's sitting in a phone booth (remember those?). Again, the close up on Don's face is brilliant, expressing the emptiness and frustration of his life and perhaps reminding him that he too was nearly fired by SC&P a few years earlier, during a Thanksgiving-morning ambush, only a few feet away from where he's now standing. Oh, and yes, one of the elevator shafts he looked into (again, the abyss) is even closer than the SC&P front door. Perhaps he's envious that Ken will take his severance, the episode's title, and leave to begin his novel, enjoying "the life not led."
Ken's saga, as we know, ends in a turnabout, but before that occurs, we get a bit more of the financial emptiness theme courtesy of his scene with Pete (Vincent Kartheiser). Pete, perhaps to placate the now-fired Ken, complains that all the money he's made from SC&P actually has become a pain, what with the need to park the dough in a tax-friendly investment, like an apartment building, which brings its own worries. Ever the poor little rich kid, Pete says he envies the now-free Ken, who looks at him with a 'if you only knew' expression.
Tidbits
Money Makes the World… Interesting in this financially themed episode to see how Joan and Peggy react to the McCann meeting, where we learn times have changed for women, but not enough for them to avoid being subjected to a barrage of sexist innuendo. The theme is brought home by the casting sessions, including the strong opening scene, where Don, ostensibly doing his job, commands models to pretend – there's that word again – they are naked under a chinchilla coat (Don, who had an early job in the fur business knows the difference), while other men in the room also do their jobs/ogle the merchandise. [Incidentally, the olive-eyed beauty modeling the coat in the effective opening was Rainey Qualley, Andie MacDowell's daughter.] As we said, times had changed, since Meredith can mildly scold Don for these sessions, but it's far less than needs to be said.
Regardless, Joan's escape from the sexist meeting is to head to Bergdorf's for a shopping spree. And although she worked there and could likely still get an employee discount, she, er, pretends that she never did.
Peggy, on the other hand, throws care to the wind in a less expensive way initially, by accepting a set-up from John (not Johnny) Mathis (Trevor Einhorn) with his brother-in-law Stevie (Devon Gummersall). The contrast here is great, Peggy is a successful career woman without a college degree, while Stevie is a college and law school graduate without a job. Peggy, after much wine, suggests an impulsive trip to Paris.  Clearly she has the means to fly to Europe on demand. It's Stevie who balks, implying he's a bit short on the necessary funds to jump the Atlantic.
Lights: The critical role of lights in Mad Men is something we've touched on in previous years and it was apparent in this episode in several scenes, including the darkish hue of the Menken/Katz house of mourning; and the dim lighting of the diner.
The scene where lights are most important occurred early in the ep, when Don, in tux, comes home alone. Upon entering his stylish apartment, he flips on the lights, surveys its furnishings and utter lack of warmth, probably thinks of Megan, and shuts them off. He proceeds inside the darkened apartment and listens, in the dark, as his answering service operator rattles off the names of flight attendants and models who've called. And sly dog that he is, Don even asks the operator what she's doing tonight. Not to fear, Don won't sleep alone tonight. Before long a comely stewardess is in hand, literally. After Don grabs her, she drops red wine on his white shag carpet. Instead of cleaning it, Don grabs the bedspread and covers it up, as he's covered up his true identity and numerous affairs.
Check, please: A more interesting tidbit from the Peggy-Stevie date, though, is the food issue. Stevie orders lasagna but is brought veal and is content to eat, lest he risk acting haughty and sending it back. Peggy orders cannelloni but confesses she loves veal. Both let their guard down, piercing the gamesmanship that often occurs with dating. Still, I'm intrigued. Mathis, Stevie says, described Peggy as a woman who doesn't put up with anything and is "fearless." If so, why did she order cannelloni when she loves veal? If you believe I'm overthinking this, you're probably right.
Good News: Don's at least talking about his humble beginnings, a good first step to taking stock of his life.  Even Roger has made some progress. Look at the subtle expressions of pain on his face as Ferguson "Ferg" Donnelly (Paul Johansson, the bad guy from "One Tree Hill") of McCann dictates that Kenny be fired. Some finely detailed acting there by John Slattery, by the way. On the other hand, while we see Don ruminating on his bed about the route his life has taken—even more wine, women and song than when he was married—did you notice how meticulously he eyed an unnamed long-legged, willowy blonde who was making her way to a couch in the office, awaiting her turn at casting. And this is with Joan, whom Don chides, "Are you auditioning?" sitting right next to her. I can't recall Don doing that in the office before.
Debate Topics
Looks: Who benefits most from the move to 1970s fashion and hair? We think it's Joan, hands down, who's been liberated professionally—she's got clients now—and sartorially, is no longer corseted into long, tight dresses. She actually has legs. And her hairstyle emphasizes a regal forehead. One of the McCann pigs, er, men, calls her "a work of art." He's hitting on her, yes, but it's true.
3 Women: Teddy Chaough (Kevin Rahm) says in this ep every man has three women in his life. Whom do you count as Don's three? Not his mother, of course. Of Betty, Sally, Meaghan and Rachel Menkin, who doesn't make the cut? And do we perhaps add Anna Draper of California, now deceased, who was Don's first wife? That should be enough to debate until Sunday night.
###