Mad Men Season 7: The Haves vs The Have Nots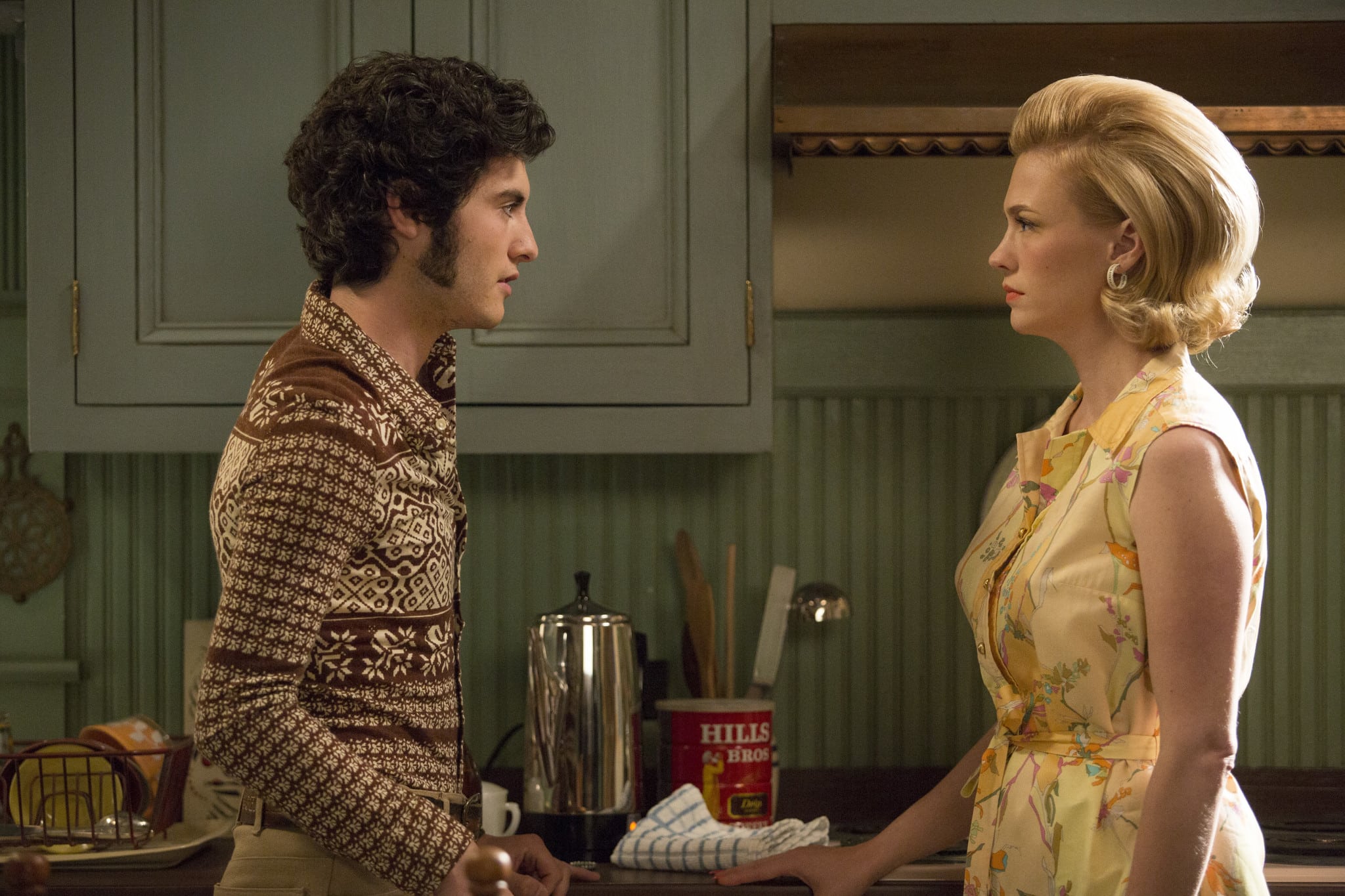 The Twittersphere was much kinder to Mad Men this past week, with far more tweets favorable to the current episode "The Forecast," than the previous Sunday's.
Indeed, this episode had more action, better writing and concentrated on characters and relationships between them that we like more: Betty and Sally, Don and Sally, Don and Teddy Chaough (Kevin Rahm), Joan and just about anyone who's not Roger.
While there was more than usual to digest and a long-awaited reunion (Betty and Glen), I'd like to concentrate on a few key scenes and themes.
Savvy vs. Non Savvy
This episode can be boiled down to 'Some got it, some don't.' Don, despite his faults, has 'it,' however you may define 'it.' Looks, intelligence, grace, class, charisma, money? For our purposes, let's concentrate on being attractive and savvy.
We see the savvy vs. non-savvy theme repeatedly in this ep. Foremost it involves Don and Mathis (Trevor Einhorn), a moderately bright kid who generally means well, but he lacks the looks and savvy tact of Don Draper. Heck, his name's Johnny Mathis—can't he parlay that into something cool or at least romantic? No, largely because he looks like he's a bit of a schlep.  [Another suggestion that he's perceived poorly. Three weeks ago Peggy berated Mathis for offering to get her lunch. 'If you want a raise, don't act like a secretary,' she said with venom.]
Mathis knows enough to seek counsel from Don regarding ways to fix the fiasco with Peter Pan, but he can't read between the lines. On the other hand, Don is relatively unhelpful to Mathis, pulling a deft Draper move that usually works well in sessions with clients. It's when the client isn't happy with the proposal, so Don cons them with an obscure, hard-to-comprehend monologue, wrapping it up in a package that makes it appear as if he's uttered words of wisdom. In fact, his monologue is as obscure, yes, phony, as Don's identity. Then Roger, who's usually in the meeting, or perhaps Pete, would say to the client, 'I don't need to tell you what you've just witnessed,' whereupon the usually befuddled client, not wanting to appear clueless, nods in agreement.
Mathis didn't quite take the bait—when Don asks him if he really needs to explain to him why he didn't apologize to the Lucky Strike folks, Mathis, who wants to appear savvy, exclaims unconvincingly, "Uh…not if you don't want to." Clearly, Mathis wanted to hear the explanation. It might have helped him keep his job.
As we know, the non-savvy Mathis totally blows it with non-apology to the Peter Pan people and then schlub that he is, barges into Don's office in a temper tantrum and utters an important line, "Guys like you don't have to apologize…you're handsome." Ah, there it is.
Mathis then adds fuel by refuting Don's version of the Lucky Strike story, noting that Roger's version of the tale has Lee Garner Jr insisting that Don remain on the account because Lee, a latent homosexual, found him attractive.
[Interesting, too that Don's attractiveness is brought up several other times in this episode. Roger, when he's pawning off the forecast for the Bahamas retreat to Don, comments on Draper's unruly hair. "Do you want me to call my barber?" he asks Don.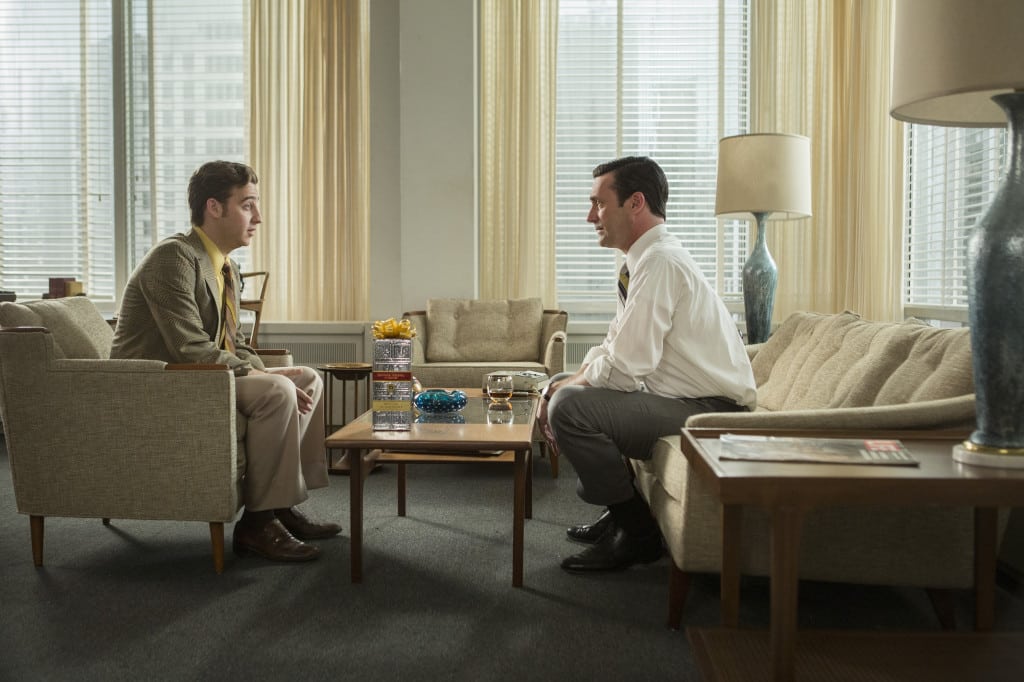 Savvy Joan
The character of Joan also is involved in a series of savvy vs. schleppy incidents. First, her mother, Gail, in a totally un-savvy move calls Joan from NY, failing to calculate that 9am ET is 6am PT, and Joan is in LA, visiting Sterling Cooper West's office.
But the tables get turned on the usually savvy Joan when Lou Avery  (Allan Havey) dismisses her request to review job candidates. Lou says we've both done so already, no need to do it again together. Then he bolts out of the office, leaving Joan on her own and vulnerable to whoever walks in the door (fortunately for Joan, it turns out to be a good-looking, older man).
Dee (Kiva Jump), who, like Mathis, is only somewhat with it, but not nearly as savvy or attractive as Joan, tells Joan that Lou has left the office in an effort to sell his cartoon idea to Hanna-Barbera. Joan asks how long this has been going on and Dee, again clueless, says since WWII. Of course Joan didn't mean how long has Lou been cartooning; she wanted to know how long he's been pitching his cartoon on company time.
The tables get turned again on Joan when dashing older guy Richard Burgoff (Jeff Greenwood) dupes her into thinking he's at the office to interview for a job. The attraction is physical (there's the good-looking theme again)—Joan accepts to meet Richard without knowing him or having engaged in an extended conversation. Once Richard and Joan begin a tryst, it's savvy vs savvy in terms of how much each reveals about their lives.
Savvy Sally, Glen and Betty
Thank goodness Sally's back. The show needs her, although not everybody will appreciate her attempts at usurping Roger's role as the resident smart aleck.
Clearly though, she's got her parents' good looks and her father's savvy. She's already figured out how to outsmart American Express and its Travelers Cheques.  And buying grass at Playland will be easy for her. Naturally, she also knows how to pull her mother's chain—joking about the lateness of Betty's birds-and-bees conversation and her period.
Then there's Glen Bishop (Marten Holden Weiner), who was the epitome of awkward at the series' start. He's developed into such a handsome young man that Betty, his erstwhile babysitter and longtime object of desire, doesn't recognize him. Still, his looks alone can't prevent him from being an object of pity.
First he tells Sally and Betty he's enlisted to serve in Vietnam, which she totally blasts him for doing; then, later, he admits to Betty he flunked out of college and enlisted to impress his stepfather and his objet d'amour, Betty.
Sorry, Glen. Savvy, handsome, savvy guys like Dick Whitman can change their brand, not a relatively normal guy like you, Glen Bishop.
The Apartment
In an episode that dealt with looks extensively, it's interesting that Don's apartment, which his real estate agent Melanie (Rachel Canon) bemoans as sad-looking, eventually is sold, thanks to Don's creative suggestions. Certainly the place, shorn of furniture and containing that awful stain on the carpet, looks glum. Still, it's a penthouse for goodness sake. Like Sally, whether she wants to admit it or not, she's a penthouse. She's Betty and Don's daughter, which gives her a leg up in terms of looks and money. Whatever she does in her life, she'll likely always have those things going for her. As Don, whose attractiveness (and his apartment's) has been criticized multiple times tells her, "You're a very beautiful girl. It's up to you to be more than that."
Notes
Futurama: Certainly the episode's other major theme was the future and the Mad Men characters' perception of its emptiness. We've discussed this many times before, as readers of this blog know.
Creator Matthew Weiner has cleverly woven this prognostication theme into the episode's plot as Roger charges Don with writing a "Gettysburg Address" about the company's future.  Since the series is ending shortly, the future of these characters is on all of our minds, of course.
The assignment morphs into thoughts about Don's aspirations and future, as well as Sally's (she hates when people ask her what she wants to do when she grows up), Peggy's (she wants to be the agency's first female creative director and later to create something of lasting value in advertising), Joan's (even though she's "filthy rich and doesn't need to do anything she doesn't want to do," according to Peggy, Joan tells Richard she "has to work" because she's found the job "that she's always wanted") and even Teddy's (he wants a pharmaceutical). We already know Mathis's future (finding a new job) and poor Glen's seems bleak. As Betty told him, "You're going to make it [through Vietnam], I'm positive."
A fabulous scene: Don on the couch, the camera looking down on him as if he's in a coffin or an operating table, as he muses about the future, speaking into a Dictaphone.  "4 score and 7 years ago…we know where we've been, we know where we are…let's assume that it's gonna get better…its supposed to get better."
Write it Down: Interesting how Don urges Sally to write down her aspirations for adulthood not long after Peggy, Don's corporate daughter, tells him to write down all of his dreams so she can "shit on them."
An Offer He Can't Refuse: As Sally berates Glen for enlisting in the Army I couldn't help but think of a scene in "The Godfather," where Michael Corleone (Al Pacino) surprises his brothers Santino "Sonny" (James Caan) and Fredo (John Cazale) with the news that he's enlisted in the Marines and quit college. As you may recall, Sonny nearly decapitates Michael at the dining room table for his choice, arguing only "saps" enlist in the military because they risk their lives to fight for strangers, who hate them anyway. The only fighting Michael should do, Sonny believes, is for your family and its 'business.' Isn't Sally saying the same thing to Glen when she screams, "You're gonna die, for what?"
Nasty: This episode drives home the point that Don is growing bored with his job and his life, which he tells Peggy are "the same thing."  This boredom comes out in his expression during the scene when Mathis and Ed present the Peter Pan material to him. Peggy and Pete are engaged, perhaps too engaged. Don seems miles away. It's cemented when Don, attempting to get others to write the forecast for him, asks Teddy about the future, but begins with the line, "Do you ever feel like there's less to do and more to think about?" Teddy says no, he's too "hands-on," but Don clearly feels dis-engaged from the 'doing' part of advertising, which is what stimulates him. Still, despite his boredom, does he need to be so nasty to Mathis, who's brought Don a gift of a bottle to thank him for "fighting for me" during the Peter Pan incident? Don's cold and mean, "What do you want?" when Mathis comes into his office is a great indicator of how dis-interested Don has become.
Nasty In a Different Way: Topic for discussion: Did Joan really intend to send her son Kevin off to a boarding school so she could fly solo with Richard?