Mad Men Episode 4—To Have and To Hold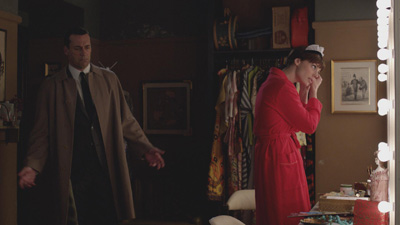 In episode 4 of "Mad Men" season 6, Don visits Megan on set.
—
The social media universe found Sunday's episode of "Mad Men" its favorite so far of this penultimate season. Many tweeters appreciated that there was relatively more action than in the previous three episodes, which they complained were slow. [Should you want to witness genuinely slow pacing, catch Sundance Channel's first original, "Rectify." I'm not saying Rectify isn't a good series, it is, in part because it features Abigail Spencer, who played Don's illicit love Suzanne Farrell in season 4. Still, after watching Rectify, you're unlikely to complain about "Mad Men's" lack of speed.]
For readers of this blog, however, you know we enjoy storyline, but we absolutely crave insights into "Mad Men's" characters and the milieu they inhabit. For that reason, episode 4 was an excellent addition, supplying more emotional material than we've seen in a while (thank you, Mrs. Sylvia Rosen, you're a deep-thinking woman and you really seem to understand Don). More than that, its themes were deftly handled, and woven creatively into compelling story lines.
The Business Deal as Affair
"Mad Men" creator Matthew Weiner is nothing if not clever. Right from the opening shot this week, of Pete Campbell in his Manhattan apartment, which, as we know, is laced with all sorts of connotations, Weiner gives us the evening's main themes of marital infidelity and the ramifications of secrecy.
In the opening seconds we see Pete mixing a drink and hear him speaking to an unseen person about "changing your life." Judging by the surroundings, we jump to the conclusion that he's speaking to a woman, perhaps his blond neighbor Bernadette, whom he seduced in this apartment last week. The scene has all the trappings of an illicit love affair. In fact, though, it's a business deal.
In a clever move the camera pans and we see Pete is speaking to Heinz Ketchup head Timmy, and that Don Draper is in the room, too. As is tradition for "Mad Men," the room is relatively dark (symbolically, one of the few brightly lit settings is the SCDP offices), giving it a somewhat sinister and sleazy look.
As we discussed at length last week, this is another business meeting that "never took place." It gives birth to an arrangement between Timmy and SCDP for secret work to be done on Ketchup. Should the work be bold, Timmy assures Don and Pete that he'll make certain his fellow Heinz colleague Raymond Geiger, who forbids Don to talk further with Timmy, will "fall in line." But it must be kept a secret, all agree. Sure, says Pete. And to keep it secret, the final presentations will not be made at SDCP, "we'll get a hotel room," he says.
Ah, the hotel room, where secret presentations about Heinz Ketchup as well as adulterous relations can take place. Piling on this theme, after Timmy has left, Don tells Pete he likes the apartment, and Campbell sleazily assures Don "it's always available to you," hinting that if Don needs a hideaway, he need only say the word. Don's not interested, though. As we know, Don's carrying on his extramarital doings with Sylvia Rosen in the privacy of a much nicer apartment, and the commute is easier, since it's in his own tony apartment building.
Another clue to Weiner's conception of this scene as a prelude to the adulterous affairs we'll be seeing later is Timmy's exit. As he leaves, Timmy says he's on his way to see a lady, and mentions with a huge smile that he's never at a loss for a reason to come to N.Y. Presumably, he's anxious to enjoy the "pleasures" of N.Y. Don smiles at him knowingly.
Life Imitating Art Imitating Life
As for those adulterous affairs, we had them aplenty here, including a presumed one-nighter by Kate, Joan's married friend, who's in town to meet with Avon, the competitor to Mary Kay, her current employer (so in a way, you could say she's cheating on Mary Kay, too).
Then toward the end of the show, we have Megan's character's affair on the soap opera. Don, in his only visit to the set, watches Megan acting in a love scene depicting the start of the affair. Take notice of Don's facial expression during that scene. If looks could kill, Megan would be dead before she got back to her dressing room. (Of course you're thinking that Don has absolutely no right to be indignant since he's conducted more extramarital affairs than
Silvio Berlusconi
.)
And then, in a beautiful piece of editing and storytelling, Don beds his current amour and neighbor, Sylvia Rosen, and not coincidentally assumes a very similar physical position to Rod, the actor who was playing Megan's lover Rafe in the soap.
Certainly we shouldn't miss commenting on the affair that almost was. As we mentioned in our previous blog, Weiner likely was alluding to the phenomenon of wife swapping in the opening moments of episode three, when Pete and Trudy seemed to be hit upon by their neighbors. There was no allusion this week. We got it full bore, with head writer Mel (a wonderfully disguised Ted McGinley) and his wife Arlene lobbing a none-too-subtle proposition at Don and Megan.
Doors and Don:
While we've noticed Don ended episodes in doorways the past two weeks, he was horizontal, atop Sylvia Rosen, as this week's show ended. On the other hand, he had his share of doorway interactions. He listened in at the door of the Roosevelt Hotel suite that SCDP rented for the Project K pitch, when he overhears Peggy using one of his own lines—"if you don't like what they're saying about you, change the conversation." This was somewhat reminiscent of young Dick Witman lurking outside the door of the bedroom where his father had relations with a prostitute, which was shown as a flashback last week.
There also is a scene with Don framed by the doorway of the elevator in his building. In the scene we see Sylvia taking a bit of initiative in that she refuses to provide specifics to Don about the day of the week when their next tryst will occur. The confused look on Don's face as the elevator doors close on him is proof that Sylvia is in control here.
Far more important, though is that Sylvia provides perhaps the best entry, or doorway, into Don's soul in this episode. During foreplay Don notices she's wearing a cross around her neck. When he asks her if she prays for absolution or for him to come back, she says no, I pray that you find peace. Don then lowers his head in recognition of her excellent point and his own vulnerability. It's a brief moment, but it's one that we've not seen from Don since the aforementioned Miss Farrell, commented that Don was not a happy man during season four.
Also up for discussion, as we mentioned last week, is Don's view of women and love. Ever the hypocrite, the man who's had multiple affairs and isn't even who he claims to be, disapproves of Megan getting paid to kiss another man. "You know what that makes you," he tells her, alluding to prostitution, which, not coincidentally, caused his birth and around which he spent many of his formative years. And as disapproving of Megan's career as he says he is, he moves smoothly from her pretend affair on set to his own real affair right in his apartment building.
Megan and Don: It's Over?
Based on all this we're thinking Don and Megan's marriage probably is over. Recall Don also called Betty a whore shortly before that union collapsed. Well, impulsively marrying your much-younger secretary because she was good to you and good to your kids was hardly a rock-solid foundation. More than that, once they got married Don (and we) learned that Megan has an extremely good head on her very shapely shoulders. She made a lot of good decisions early in the marriage, refused to take a lot of Don's chauvinist nonsense and was extremely good at advertising, despite not liking it much. She also had the guts to leave SCDP and venture forth into acting, although her safety net (Don's considerable income and great apartment) meant her bold move wasn't quite as bold.
Random Thoughts
Smoking:
This week it's Megan's turn to be lectured on the evils of cigarettes. Arlene admonishes her: the weight you'll keep off is not worth the wrinkles you'll get in your face. Megan doesn't seem deterred, however.
Arlene Redux:
Actually, Arlene (Joanna Going) had a number of nice moments in this episode. She had a memorable line about Don, "I'm guessing he's a man who plays many roles." (Oh, Arlene, you have no idea.)
The extremely thorough tongue sandwich she engages in with leading soap actor Rod (Ken Luckey) in Megan's dressing room implies that they're more than merely colleagues. Perhaps Rod's been invited to the home of the head writer and his actress wife. It's possible that Rod and Arlene's heavy kiss led Megan to suggest to Don that her increased visibility in the soap was motivated by Mel and Arlene's prurient interest in the Drapers.

A New Dawn:
Finally we get insight into non-executive life at SCDP and a bit of material about race, courtesy of Don's Dawn. In keeping with the underlying theme of this series, things are not always what they appear to be. Despite the ultra -modern and brightly lit SCDP offices, even the seemingly happy 'little people' are miserable (we already knew Don and Roger, although outwardly content, are unhappy).
As we heard during the episode, things are rocky in Dawn's orbit. At SCDP women cry in the ladies room, men bawl in the stairwell, and what about that poor man [Lane Pryce] who hanged himself in his office, Dawn tells her friend. More than that, "it sounds like New Year's eve" when they empty the trash cans due to the abundance of liquor bottles, Dawn says in evocative language. And Dawn can't go out for lunch since Mr. Draper "always needs me." Then there's Joan, overseeing the secretarial pool with all the warmth of a mother who eats her young. Still, Dawn vows to be more like Joan as she attempts to survive another day in the jungle that is SCDP.
Joan's Arc:
Related to Dawn's suffering, Joan, who has become a partner through 'an arrangement' that can't be discussed in a family setting, also is massively unhappy, we learned this week. She's still treated like a secretary after 15 years at SCDP, she says, although she's actually instrumental to the company's operation, as we learned two seasons ago. Still, there's a dichotomy. To the world—her mother, Gail Holloway, and her out-of-town friend Kate—Joan's doing great. She's an executive on Madison Ave and makes a lot of money. "You have it for the taking," Kate tells Joan, who doesn't seem to think so. This likely is Weiner reminding us that women, despite making significant progress over the course of the series' six seasons, still have a long way to go. It also seems to be a comment on the risks of making secret arrangements in business. While Joan's secret deal worked out better for her than Heinz Ketchup's secret Project K did for SCDP, it's far from ideal.
In a related plot line, the whole Harry Crane feud with Joan stems from the secret arrangement but really is broader. At its roots, the feud shows the start of gender disputes in business in the late 60s, when men and women, for the first time, are on somewhat equal footing. It's a gender issue in part. Harry is mad that Joan, a woman, is a partner and he's not.
Not Talking to You:
We commented on the nastiness shown by older, established people to younger folks last week. Again, this week there were a couple of instances of younger people being ignored, and rudely, by their elders. First we had Stan being cut off in mid-sentence by Ketchup chief Timmy during the creative presentation at the Roosevelt Hotel. Next Don totally ignores an excellent attempt at brown-nosing by eager beaver Bob Benson as Draper heads into the not-so-secret room to work on Project K, and smoke grass with Stan. Gosh, would we ever suspect Don of smoking grass on the clock? And would an establishment guy like Don oppose the Vietnam War?
Burt Digs It:
Apparently we were wrong a few weeks back when we speculated that Burt Cooper still lacks an office. Clearly, the scene with Roger, Burt and Harry Crane took place in Burt's occidental-themed office.
House Keeping: Your blogger will be on vacation for the next two weeks and unable, probably, to see Mad Men. We'll endeavor to be catch up quickly upon returning.

Comments: Please, let us know your thoughts. We welcome your insight. Thank you for reading.