Mad Men Episode 3—The Collaborators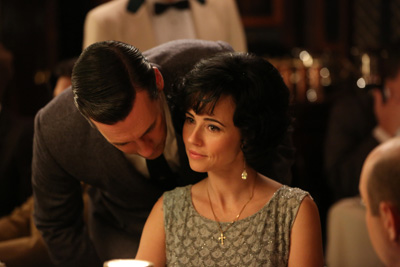 Infidelity is a prominent theme in the third ep of Mad Men's sixth season
On the surface, this third episode of "Mad Men," directed by Jon Hamm, seemed far less dense than last week's two-hour installment. Many of the elements this week—awkwardness, lack of truth, infidelity—seemed obvious. On further inspection, however, this latest installment contained plenty of juicy material to discuss.
This Never Happened
This was the episode of things that "never happened," as Don tells Sylvia Rosen in between sessions of coitus. Don's affair "never happened" as far as Megan knows. Heck, she bares her soul to Sylvia, the woman whom Don is cheating with, about her miscarriage, for goodness sake. While Don is not fooling around with Sylvia, she's not really smoking either. "The maid smokes," is Sylvia's, er, smokescreen, allowing Don and her to sneak a few cigs without Dr. Rosen knowing about either the smoking or the sex.
Juxtaposed rather beautifully with Don's affair is Pete's dalliance, also with a neighbor, Brenda, which "never happened," although Trudy Campbell knows it did. Yet Pete and Trudy, upon Trudy's insistence, won't divorce, and she will schedule the times Pete can cross the 50-mile radius around their home, presumably to visit their child and, perhaps, to host social occasions with Trudy. So, to the outside world, their marriage will continue as before and Pete's affair "never happened." Certainly it's worth noting Trudy consented to Pete having a Manhattan apartment with a knowing eye. "I just wanted you to be discreet," she said. That's another way of saying, "Go ahead, have a good time, but for me, 'it didn't happen.'"
Then we have Herb Rennet, a Jaguar dealer and head of the advertising selection committee for the luxury car maker, who urges Don and Pete to proffer a plan to get Jaguar to reduce its national buy in favor of local radio, a tactic that will "move metal," which will help Herb. On the other hand, it's not Herb's plan, he insists. No, Herb wants Don and Pete to pitch it as their plan when top Jaguar officials visit Sterling Cooper Draper Pryce. So, Herb's first sojourn to SDCP, where he also sleazily re-visits the object of his desire, Joan Harrison, "never happened." That SDCP secured the Jaguar account when Joan was convinced to spend the evening with Herb last season officially "never happened" either, right?
Similarly, the meeting at SCDP where Raymond of Heinz, who runs beans, sauces and vinegar, introduces Timmy, who markets ketchup, "the Coca Cola of condiments," as Ken Cosgrove calls it, also "never happened." After Timmy leaves the room, Raymond pleads with Don and Ken to have no further contact with the "polished Pollack," who, Raymond says, is out to steal the glory by possibly hiring SCDP to increase ketchup sales. Raymond would prefer to retire and die rather than have [Timmy] "screw my girlfriend [SCDP]." You have to enjoy the irony of that line, especially in this episode, where there's more than a bit of screwing occurring.
When Peggy's boss, Teddy Chaough, turns her story about Raymond and Timmy of Heinz into a potential piece of business it's clear Teddy will never admit how "it happened" that he knew Heinz Ketchup was looking for a new advertising firm. That Peggy unwittingly, OK, stupidly, told Teddy about the Heinz incident at SCDP likely will never be admitted. It's easy to imagine Teddy saying, if pressed, that Peggy did not tell him about the incident. "It never happened," Teddy likely would say.
Of course, a lack of truth—things that "didn't happen," more plainly lying, is a trademark of Mad Men. As we know, Don is lying about his identity. He's really Dick Whitman, and the accident that allowed Dick Whitman to become Don Draper "never happened." The myriad women Don has slept with while married to Betty and now Megan, none of that "ever happened" either.
Indeed, Don's business is often seen as a falsehood, or a lie, selling products to Americans that they may or may not really need. Don's job is to create an image of the ideal household, the typical American man, the stylish woman, etc., stereotypes that never really exist.
And we saw how Megan is, in a way, lying, too. She's an actor in a soap opera, portraying a character. When she tells Sylvia about her soap character and then says she's had a miscarriage, the woman thinks Megan is referring to her soap persona not herself. Sylvia, though, has some inkling of the truth. She's upset with Don when she realizes Megan remains devoted to him, something Don had said was no longer the case. Sylvia also is the one who, when she walks into the laundry room where Megan is berating her maid, says, yes, I saw what was happening, I didn't want to pretend [that I did not].
Pete also comments on what seems to be, but is not, reality in this episode. It occurs when the eager sycophant Bob Benson, who represents the young Don Draper, compliments Pete on being the first to arrive and last to leave the office. Pete admits he doesn't know how he does it. Bob responds, "It can't be that bad when you're doing something you love." Pete says with doubt and sarcasm: "I'm glad it looks that way to you…it's all about what it looks like."
What actually happens in this episode, besides the falseness, is Vietnam. The war is creeping into American consciousness as the perception of communism spreading becomes more real. In addition, Americans are forced to confront the country's role as the
free world's policeman
. A report about Vietnam is heard on a radio as Don and Sylvia cavort. The war in Vietnam and the
Pueblo incident
are mentioned by Dr. Rosen in the Italian restaurant. There's also a terrific clip of Johnny Carson announcing the "Tonight Show" will be starting 15 minutes late due to a special report about Vietnam from NBC News. And note when Dr. Rosen mentions Vietnam in the restaurant, Don responds: "You can't tell there's a war going on around here." In other words, "it's not happening."
That Was Awkward
While Mad Men creator Matthew Weiner might be using Don's and Pete's affairs and the many incidents of flirting in this episode as a way of acknowledging the wife swapping phenomenon of the late 60s and early 70s, when even players on the NY Yankees baseball team were
swapping spouses
, it sure makes for awkward moments. Some examples: Don coming home to find Megan in conference with Sylvia, Don's amour of the moment; Brenda, Pete's partner in infidelity, fleeing to Pete and Trudy's home when her husband abuses her (perhaps for sleeping with Pete); Peggy, after being told by her secretary to lighten up on her reports, trying to do so, and being awfully awkward about it; Herb of Jaguar attempting to flirt with Joan, who rebuffs him with what appears to be ease. Still, we find the cool-as-ice Joan isn't really—she beats a quick retreat to Don's office for an adult beverage after her verbal joust with Herb.
Random Thoughts:

Smoking: Several times in the past few weeks we've heard Dr. Rosen urging Don to quit "that nonsense." Is Weiner dropping hints about Don's future? Or is he pointing out that in 1968, as opposed to the show's first season, in 1960, the public and doctors were becoming vocal about the dangers of smoking?
Don Draper on Love: We're hoping to find out more about Don's thoughts on love, marriage and fidelity as the season progresses. Clearly, as we saw Sunday, he has an aversion for the sleazy arrangement that landed SCDP the Jaguar account. Having been raised in a house of ill repute, as this episode's flashbacks remind us, Don seems upset with the mix of commerce and sex. Yet sex in another form, namely marital fidelity, is only a sporadic priority for Mr. Draper. We're guessing Don has trouble when his spouse begins to have a life of her own. Don's fidelity started to slide when Mrs. Draper's acting career began to surge. Similarly, things started to go downhill with the second Draper marriage when the erstwhile Mrs. Draper, Betty Draper, showed a yen to go back to her career in modeling. Perhaps we'll find Don's craving of female attention and his problem with the concept of marriage has something to do with his unusual upbringing. A few meaty flashbacks would be most welcome here.
The Doorway: Last week's episode ended with Don looking out at Dr. Rosen through the storage room doorway as the dedicated and athletic surgeon skied toward a house call. This past Sunday we saw Don slumped just outside his own doorway, unable to muster the energy to go inside. As we said last week, this is not a happy camper. Will doorway endings continue throughout this season? We'll be watching.
Comments: We welcome them, about this blog or items about Mad Men generally. One topic that seems to be relevant this week, how did Trudy Campbell know Pete was cheating and when did she know it?