Logo's Celebration of National Coming Out Day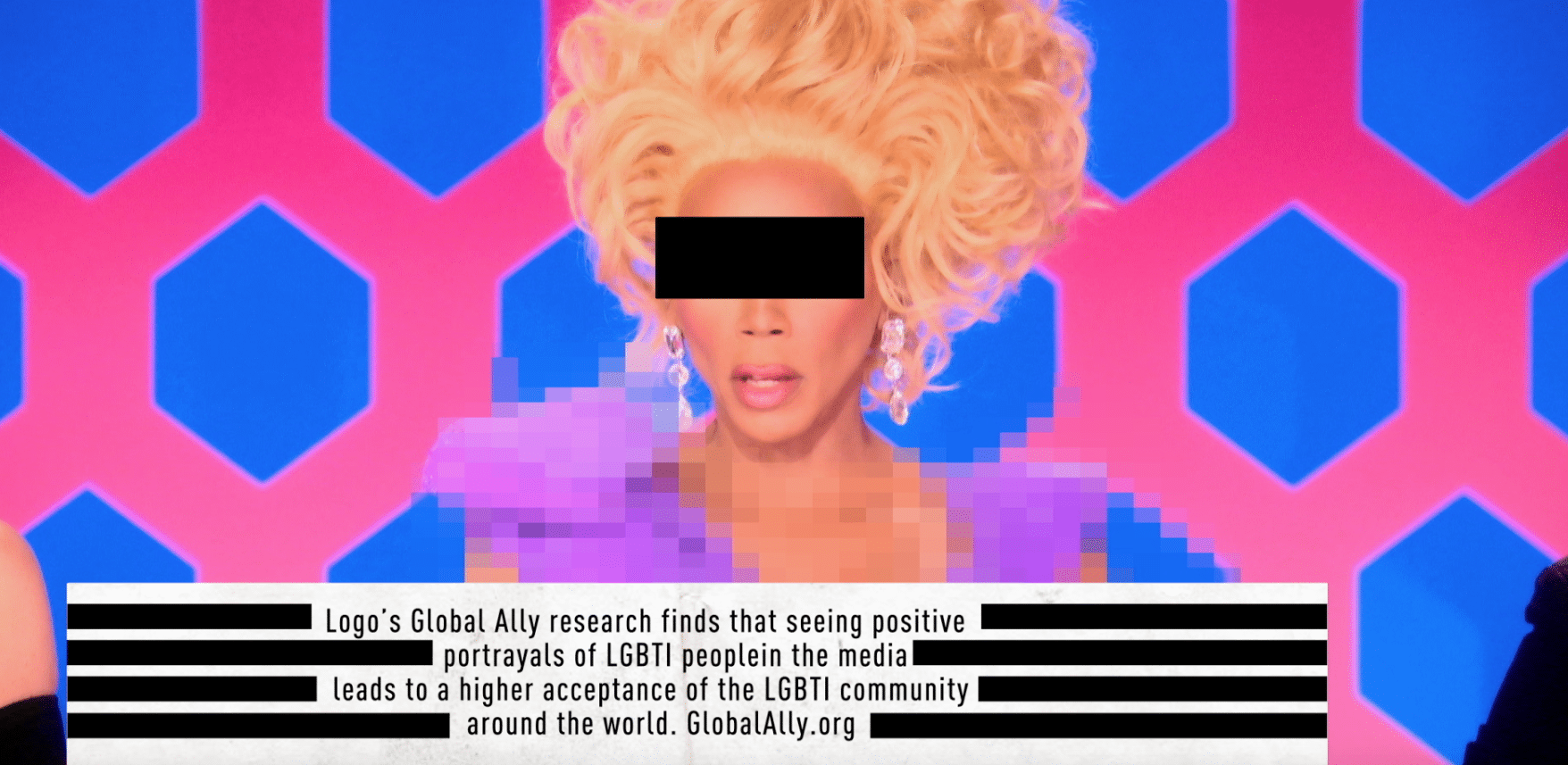 To express solidarity with international LGBT people on National Coming Out Day Tuesday, Logo symbolically censored content on its network and online that would be banned in certain countries. In 72 nations being LGBT has been criminalized, and in 10 it's punished by death, according to the network. The "Day of Disruption" was part of Logo's international LGBT project Global Ally, a year-long initiative dedicated to educating about censorship and sharing stories about the lives of LGBT people across the globe. On Tuesday, Logo aired a marathon of season 8 of "RuPaul's Drag Race," but with content censored. We spoke with Logo original programming svp Pamela Post on Tuesday about the initiative.
How'd you come up with the idea?
Logo launched Global Ally, a campaign dedicated to sharing stories of LGBT people living around the world, earlier this year. As part of the campaign Logo released groundbreaking research on LGBT attitudes in 65 countries, interviewed U.S. Ambassador Samantha Power and hosted a first-of-its-kind screening of Logo Documentary Films' "Out of Iraq" at the United Nations. In conversations with LGBT activists featured in Global Ally videos, one thing that struck our staff was how they couldn't turn to the media or go online and hear relatable stories about LGBT people. Instead, LGBT stories are censored or invisible. It's an issue that we wanted to highlight for our audience here in the U.S.
How much content is censored, and how much isn't?
All of the contestants and openly LGBT people who appear on the marathon of "RuPaul's Drag Race" season 8 have their eyes blocked by a black bar today. Drag outfits and costumes are pixelated and audio bleeps occur when words like 'gay' are used. In many countries a show like Drag Race simply wouldn't be shown, so this is symbolic censorship aimed at engaging with our audience and inspiring them to take action on the GlobalAlly.org site.
How are you making people aware of the symbolic censorship happening?
Logo's social media platforms have been sharing content from the "Day of Disruption" and sharing stories and facts about international LGBT issues. We also engaged LGBT celebrities including Candis Cayne, Trace Lysette, Billy Porter, and Jason Collins, who recorded promos that air during the marathon and inform viewers about the "censored" programming.
What kind of responses have you received so far? What's the reaction?
Contestants who appear during the "RuPaul's Drag Race" marathon and Logo's audience have shared that they are incredibly moved by the stunt. They've also been sharing their own #DayofDisruption messages which have reached over 2.5M people on Instagram today.
What do you hope to gain from this?
On National Coming Out Day and throughout the year it's important to remember the LGBT people here and abroad who can't live openly and proudly. By symbolically censoring LGBT content, we should all be reminded of the important role that LGBT media images play in driving change forward every day.