Life Off the Grid: WGN America's 'Outsiders'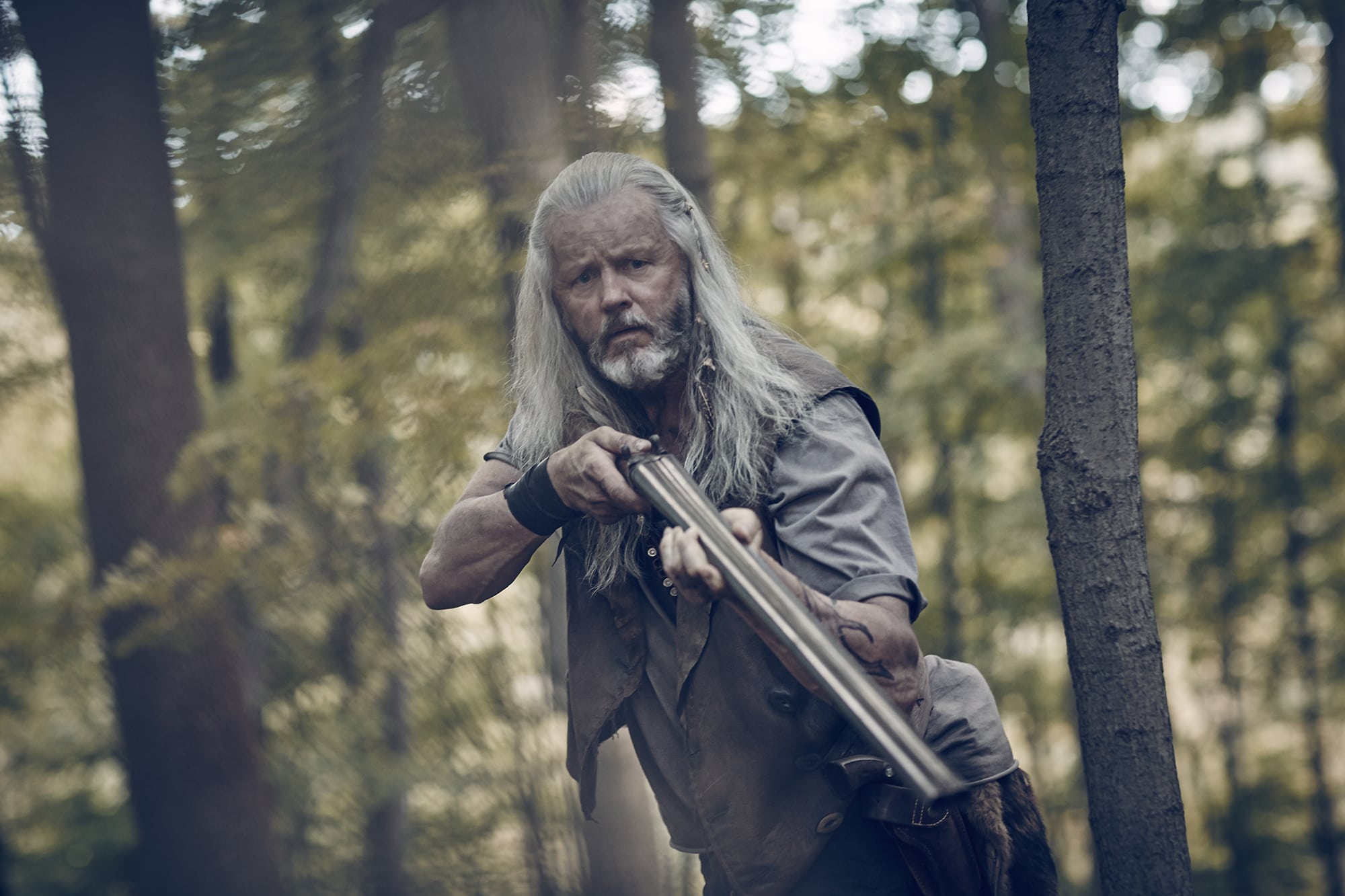 WGN America's new original series "Outsiders" (premieres January 26, 9pm) follows a tight-knit family community that's lived outside of society in the Appalachian mountains of Kentucky for hundreds of years, largely by their own set of rules. But trouble ensues when "a perfect storm" of events occurs, according to executive producer Peter Tolan. We sat down with Tolan and creator/executive producer Peter Mattei to chat about this intricate, invented world following a panel of cast and crew at this January's Television Critics' Association press tour in Los Angeles. Here's part two of the interview; we suggest reading part one first.
Shifting gears a minute: The series premiere on Tuesday will have no commercials. I imagine you're happy about that.
Tolan: Look, when you're creating a world that—let's face it—is a little different, right? I'd rather have it be an immersive experience… look, you could always say, here's this weird world that we're setting up—and now we're selling you something. Which is really what the show is about!
Did you push for that?
Tolan: Here's what happened: When they said, if we air without commercials it can be longer, and we had a lot of material, it was better for this.
Mattei: They really want people to get into it. They want to keep them hooked in the first one… Personally, the thought of watching it and going to a really dark moment, like the death of Elon, and cutting to "Hey, everybody! Let's get a Swiffer mop!"…
Or the Allstate lady.
Mattei: That would be so weird.
You mentioned that the actors really helped shape their own performances and the process was very collaborative. Did you invite them to contribute?
Tolan: Peter invited them to. The reality was, we'd already gone through the situation of creating this strange world, from nothing—from Peter's original script. And it was a challenge for the writers, too. Because half of the people on the show don't understand modern references—and you're really robbed of a lot of different things in storytelling—references, language. There are parts of language that you can't use either, because they won't know it. So it took us a while to figure that out. Now when you bring the actors in, they get to say, now wait a minute. But mostly they ask questions. "Wouldn't I do this," "what if this happened," "what about these things," "what do they say when this happens." We've got to have answers for that. It all has to be created.
David [Morse], in particular… When we were writing the show we had a great time with [his character] Big Foster because we made him this larger than life, sort of a maniac. We had him curdled with his desire for power, that had come too late. So he was this big, big character, and we thought, an actor is just going to make a meal of this—it's going to be fantastic. But David looked at it and said, you know what, I've got to pull back a little bit. I've got to make this guy a little more real, I have to make sure his actions are motivated—even if they're wrong—by his desire to help the family. So he didn't make him this wild man. He made him a little more relatable, which is easier to watch over time. You get tired of a guy who's just bump and go and crazy. His choice was right. We, of course, thought we came up with something great. But the actor's choice had a lot to do with who Big Foster is.
Mattei: In doing something that's this big—making 10 hours of story—you can't just go to an actor and have them fake it for six months in production. They have to live it and embody it, and the character really has to come from them. We get it started, and then we hand it over to them, and then they own it. So at a certain point they know more about that character than the writers do. And that seems to be the way it has to be and the way it should be.
This is one of WGN America's first originals, and they're pushing their original programming. Is that an attractive place to be for you? Any pressure?
Tolan: Again, different world; strange show. Hard to imagine, even though they read Peter's script and said, we're making 13. No pilot, we're just making it. At a certain point they were wondering, "I wonder what we're going to get based on that." I think that there was some nervousness and some doubt—and we were struggling, too, to find the world, the voice of the show and all that. Of course, once they saw stuff that was actually shot then everybody sort of calmed down and said, "ah, this could be very good." The good thing about working at a network like this is they're much less overwhelmed with their other work. So you can get them on the phone; and they're much more able to focus on you. That can be good and bad. Ask Peter the number of times he wrote the first episode.
Mattei: Don't remind me.
Tolan: I can't believe I reminded you… But that's a good thing. I also think that given they're a small network, they don't pull in a huge audience—so we don't have to pull in a huge audience. It would be great if we made a little more noise than usual… but I don't feel pressure. It's been, for the most part, a good experience.