Laybourne Lauds Women Leaders at WICT DC/Baltimore Event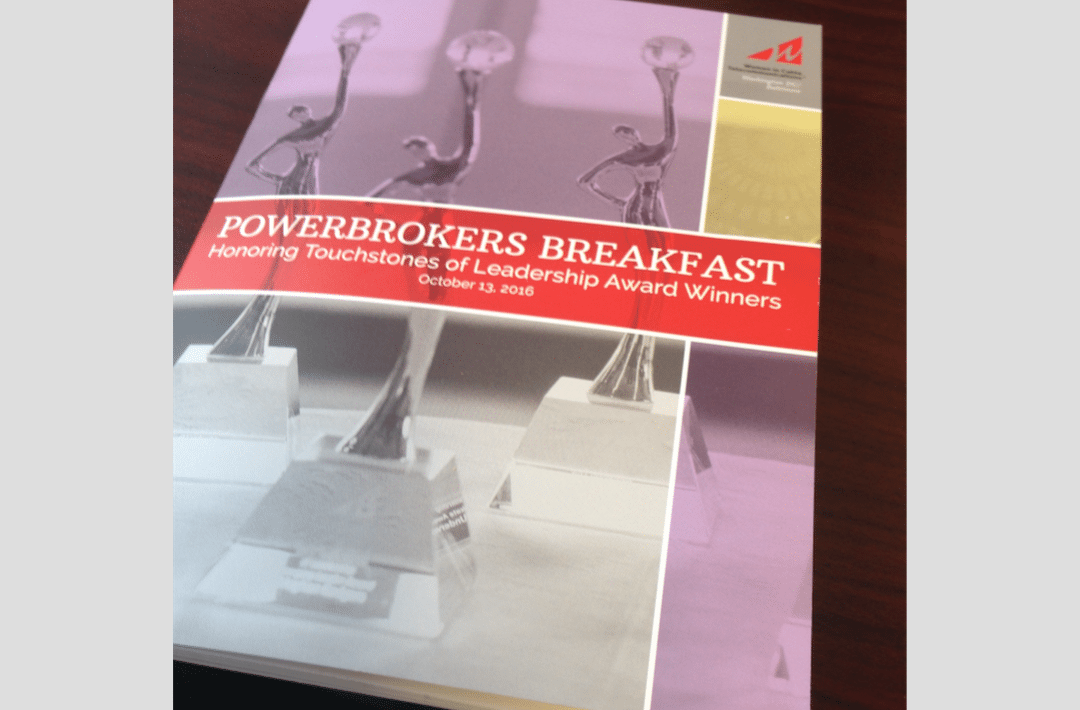 There were no references to the possibility of America's first female president, but the election was front and center at the WICT DC/Baltimore chapter's annual PowerBrokers award breakfast Thursday morning.
"In today's political climate, I can't believe we're back to talking about women as body parts," said event keynote Geraldine Laybourne, media entrepreneur and Oxygen Media co-founder. You can see her latest venture into the world of online gaming at Katapult.
Rather than focus on another body part in the headlines these days, Laybourne rattled off body parts that make women great leaders. She started with the prefrontal cortex—saying that women have the ability to hold multiple conversations at the same time and are great at big picture-thinking, which is why every strategic advisory board needs female representation. Laybourne moved onto women's eyes, not talking about their color or beauty, but how they watch everything. She praised women's ears as vessels for active hearing and their mouths for offering ideas. And lastly, she drew some laughs by lauding the ovaries. "It's like military training—every 30 days you get to see how tough you are," she said. "Our ovaries make us take long-term risks. We don't give birth to raise a toddler."
The breakfast honored 9 women in the industry who embody WICT's Touchstones- Communicate, Listen, Connect, Be a Catalyst, Be Fearless, Know Yourself and Inspire. The chapter has actually named its Fearless Award after Laybourne, who presented it to this year's winner Mary McLaughlin, Comcast Beltway Region svp. McLaughlin said she found it ironic that she was receiving the award as she's afraid of everything—heights, enclosed places, food she's not familiar with, not being a good enough business leader… She said the real strength is not in fearlessness, but it pushing through fears.
NCTA association affairs svp Jadz Janucik received the Inspire Award—something she's done with "a heart of gold encrusted in industrial strength diamonds," according to Cox's Kathryn Falk. Connect Award honoree Tina Pidgeon of GCI also brought up the upcoming presidential election. "Whatever happens in November, there are a lot of people in our country who feel strong about something," she said, encouraging the audience to make sure they listen to their ideas. NCTA svp, industry affairs Barbara York, who said Laybourne has been a role model for her through her career, spoke briefly about the dissolution of INTX as she accepted the Communicate Award. As NCTA moves forward to create a new event, "staying true to form and function" will be imperative.
The morning also honored Discovery's Evelyne Steward with the Know Yourself Award—she joked that she's still trying to figure out what she wants to be when she grows up. Women questioning how they fit into the catalyst award they were receiving was a theme for the day, with Catalyst Award honoree Jennifer Hightower of Cox declaring, "I don't think of myself as a catalyst. I think of myself as a fast-talking person who is nervous." LaTanya Butler, TV One's vp, marketing and partnerships, said she was especially honored to receive the Listen Award as she tries to listen with her heart, not just to what's actually being said but also to what someone wants to say. Rounding out the awards breakfast was BBC svp, operations Mary Pratt-Henaghan who was thoroughly surprised by the Glenn Britt Emerging Leader Award. FTC commish Maureen Ohlhausen received the Public Policy Award, encouraging women in the crowd to push back on the cultural assumption that women are to play support roles: "Be confident. Take risks. Stand out from the crowd to put yourself on the path to leadership."