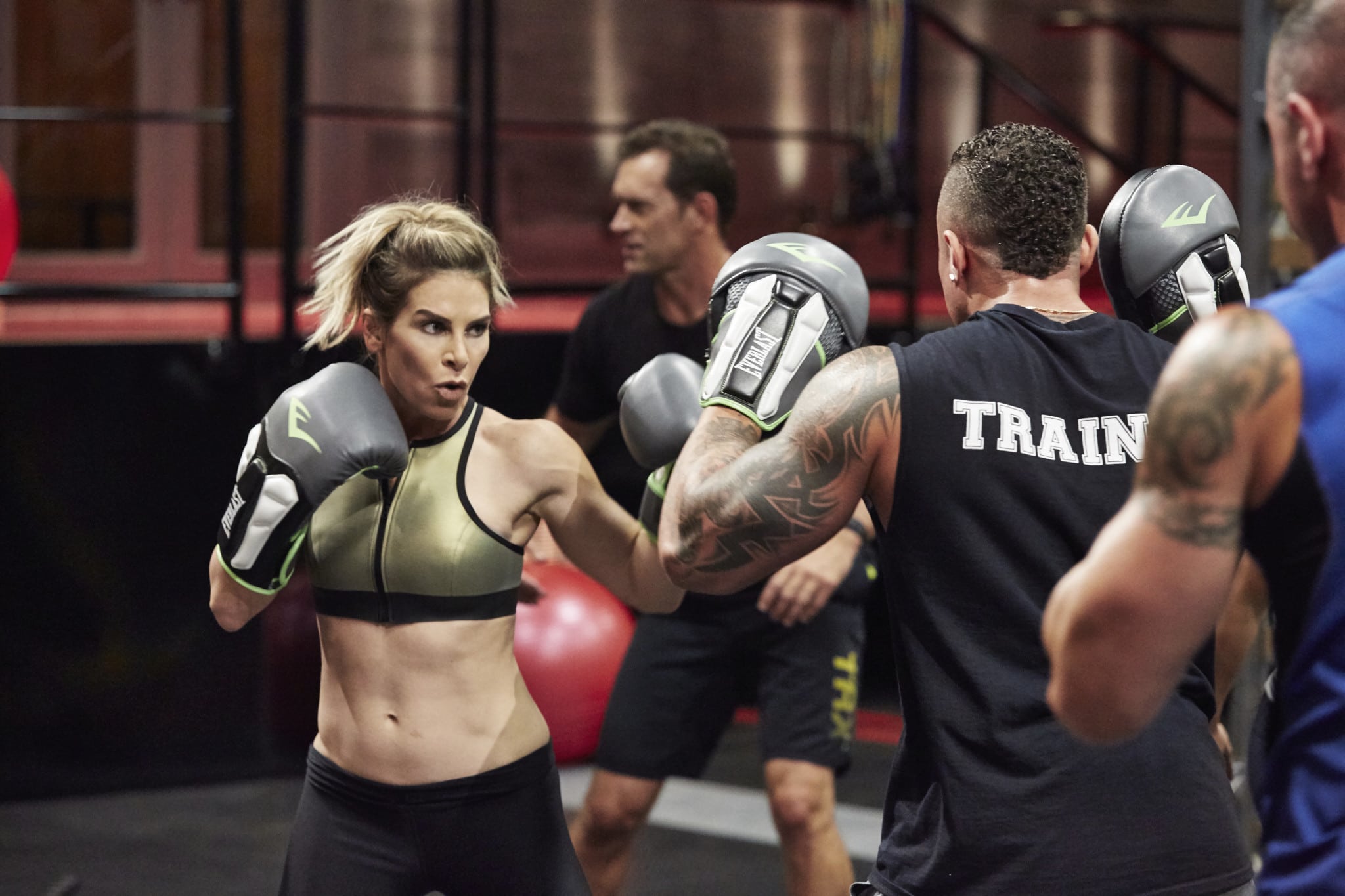 If you're looking to get super fit, your local franchise gym just won't cut it anymore. It's all about boutique box gyms these days—with your CrossFits and your TRXs. That's a fitness trend that 3 Ball Entertainment is seeking to get in front of with its new unscripted competition series on Spike dubbed "Sweat, Inc." (premieres Oct 20 10/9c). Hosted by trainer Jillian Michaels of "The Biggest Loser" fame, TRX founder Randy Hetrick and fitness expert Obi Obadike, the series' goal is to find the next fitness phenomenon. We spoke with executive producer DJ Nurre on the ins and outs of finding that next craze.
You've done a lot of reality TV. Why did you get into fitness?
The company, 3 Ball Entertainment, has kind of a story legacy in the fitness space. We're one of the original creators of "The Biggest Loser." We ran that show for many seasons and obviously we had a great deal of success with it. We've been with Spike for a while—"Bar Rescue," "Hungry Investors" and "Catch a Contractor"—and those shows are rich with drama and tension but also a lot of infotainment—just trying to figure out the underlying reasons why the world kind of works the way it does. We were noticing and hearing about a shift in the trends of fitness. There are a lot of boutique gyms that are popping up, and that wasn't the trend for many years. Everyone would just go to a big box gym. And now you notice a lot more people… go to a Soul Cycle or a Zumba or a CrossFit box, as they call them. We were trying to understand what the trend is, why it's happening, and who are the shot callers who are making these changes—and what ultimately makes it most effective. We thought, we don't have to sit and wait to see what the next CrossFit is. Let's have a show that get's out ahead of it. Let's find the next CrossFit before it happens.
In order to find the best program, did you do the research yourself, or did you let the host trainers weigh in?
This went on for years. Innovation is a hard thing to find. A lot of people claim to have it, but few actually do. We had a casting team on for over a year. We visited a lot of fitness conventions around the nation. We also did our typical outreach. If you feel like you have an innovative new fitness product, please submit it. I am in my office right now by—honestly, a lot of junk… but a couple of gems. Over the many, many months we were able to collaborate with a lot of people with their finger on the pulse of the fitness industry and they would look at these workout programs and they would say, this is new, this is old, this is a gimmick, this has something to it. But ultimately the viewer at home is seeing these products on the screen at the same time as our hosts. They are experiencing it all at the same time—for better or worse.
What do you mean by that?
There are times where we put things in front of these individuals—and you'll see it, and it actually makes for some of the most entertaining portions of the show… fitness is the least exact science I've been around in a while—where we meet 10 people that are convinced that such-and-such device is the new hot one. And we put it in front of our 3 experts in the industry, and they are adamant that it's a piece of junk and never going to work. But that's part of the fun and exploration.
Was the casting process the most challenging part of the show then?
Without a doubt. The credibility of the show would be severely undermined if a show that claims to be finding innovative products didn't in fact find innovative products. I think without a doubt, viewers are going to see things that either they've never seen before or things they've seen before used in ways they wouldn't imagine. Like spin cycle—it's just a stationary bike, but done the right way, it becomes a Soul Cycle. A soccer ball is just a soccer ball, but we have a guy who shows you how to do a workout inspired by training that he had in Brazil as a professional soccer player. But it's doing it in a new way and kicking people's asses into shape in a really innovative way. I don't want it to seem like we've reinvented the wheel in every single episode, but there are new products, new workouts, all with different angles for getting people into shape.
Why did you decide to pick 1 winning contestant each episode and then have them all go to the finale, instead of several contestants at the start, so you'd know them for the entire season arc?
It's something we debated for quite a long time—but there's a significant amount of information for each of these workouts. We really wanted to do a deep dive. Not the traditional house reality or bachelor type format. We have 27 on this show. But let's say we even started with 10 new workouts. The idea of, in the first hour, fully investigating the merits of all 10 of those workouts and then illuminating someone based on that … it's ridiculous, it would never work. We evaluate each workout so thoroughly—everything from its effectiveness to its merits in the business world—will it make money? And simply, how does it make people feel? That takes time. It was about a 5-week process from beginning to end for each workout before they move onto the next round.
At least in the first episode, it seems like the contestants have an issue with the business aspect/business model. Does that continue?
I don't think that that's a pervasive problem. Certainly that comes up periodically throughout the episode. There's this great workout but their business proposal is completely out of whack. But the workout has such merits to it that our judges feel it's worthy to keep them on because the product or workout is so innovative. But as you saw in the episode, typically what they do is identify the problems with their business plan and send them away to not only get the control subjects into shape, but then also come back and say, you have a logo that's offensive. Or you wouldn't know this, but by the way you simply organized your classes, you're going to get 80% women and only 20% men. That will never work if you're going to be sustainable. Just by making a couple of tweaks by introducing more weight lifting into your workout and not just all dance routine… simple changes and you'll increase your appeal. Successful entrepreneurs, as you'll see, are able to take this input, put their pride aside—which is hard to do. People have put years of their life, sometimes all their life savings, all their relatives' life savings, retirement funds… they put everything on the line and here's our 3 judges who know them for a few days and say you've gotta change 60% of what you're doing. Some do and some don't, and they get eliminated.
"The Biggest Loser" appealed to anyone who's been overweight before. Your control subjects here are moderately in shape from the start. Do you think the series will have broad appeal, or is it for fitness nuts?
It's definitely broad appeal. For our show on ABC, "Extreme Weight Loss," we had a year to pull off massive amounts of weight. On this show, we did about 5 weeks, and our mantra was looking for something that would take you from good to great. But each of these workouts has to be scalable. Terrell Owens comes in, Tito Ortiz, Lolo Jones, … these super athletes come in, and it has to work for them. Hetrick is a multimillionaire because he has an MBA from Stanford. He's a businessman. You're not going to become ultra successful and thrive in a big box gym at an Equinox or a Retro Fitness if your class only caters to people who are only 20 pounds overweight. You have to be able to modify it… It has to be scalable to someone who hasn't been to the gym in 20 years.
So your celebrity guests help lend credibility?
I think it gives another perspective. It's not an exact science. If it was, we'd all know the best workout in the world and we'd all be doing that one thing. Bringing in ultra elite professional athletes you get another perspective. Like an ex-NFL player—what do they want in their workout, versus the guy who works a 9-5 at the bank. You have to cater to both of those individuals and those in between.
Social media and fitness is huge—especially Instagram. Any integration there?
Because it's a competition, elimination show, obviously with social media it's pretty hard to time out with the taping of the show. But we do talk a lot about the "esprit de corp" as part of the reason why CrossFit has become a phenomenon. It isn't that you just did you WOD—your workout of the day—it's that you go on to share it and post-workout brag about it. That sort of collective, we're all in this together [attitude]. After sports teams in high school and college there isn't a whole lot of team activity, and CrossFit, through social media, managed to be that… Our judges factor that into the next fitness phenomenon. If you ain't working out with someone, your chances success will be diminished.