How Cable's Top-Rated Shows Use Digital
Social media and mobile apps have made it easy to reach out to a younger community of fans with whom it would otherwise be difficult to connect. They become an extension of your brand where fans can not only interact with one another, but interact with your company as well. And, they enable you to gauge fan reaction to each episode in a series. It is the new word-of-mouth—and no one is spreading the word better than this list of shows, which consistently find themselves at the top of the ratings chart week in and week out.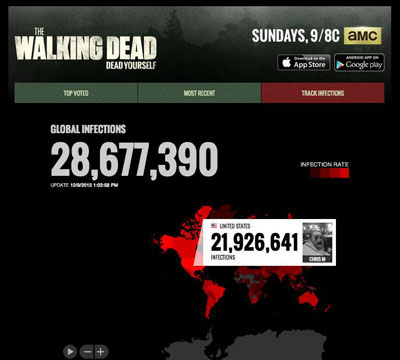 The Walking Dead
Pack your survival kits because the zombie apocalypse has come. Ever since Rick Grimes rode into Atlanta on a horse in 2010, viewers of the show have been smitten by him, hanging on his every word and deed. But what is it about AMC's "The Walking Dead" that makes it so infectious? AMC does a great job at involving its fans in the show experience. "What Kind of Survivor Are You?," a quiz the series introduced to its 21 million Facebook fans and 2 million Twitter followers, gives us an idea of how we would fare in a zombie-infested world. A handful of apps have been developed for the series as well, such as a first-person game that gives fans a chance to make decisions and control the storyline as the game goes along. Another allows fans to turn a picture of themselves into a zombie while AMC tracks the number of "infected" fans across the globe (28 million and counting). There is even a free online class held by professors from the University of California, Irvine, called "Society, Science and Survival: Lessons from The Walking Dead." The buzz surrounding the series has left fans hungry for more.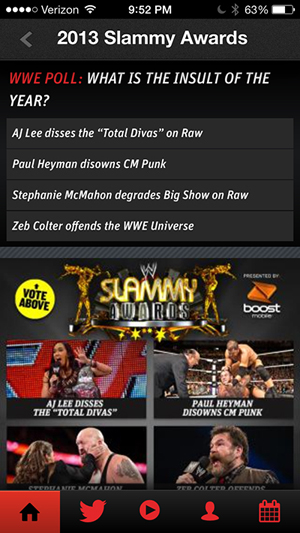 WWE Raw
From Hulk Hogan to the self-proclaimed most electrifying man in sports entertainment, Dwayne 'The Rock' Johnson, WWE's lineup has been its greatest asset throughout the years. It has constantly introduced larger-than-life superstars who have crossed the threshold of wrestler to entertainer. But it is WWE's ability to interact with its fans that has allowed the network to flourish—and its 14 million fans on Facebook and 4 million followers on Twitter are evidence of that. WWE also uses Tout, a real-time video publishing platform that gives fans a backstage pass to every show.
The WWE app allows fans to enter backstage with entertaining videos and photos of their favorite wrestlers, but what makes the app even more groundbreaking is its poll-the-audience function that allows viewers to vote for their favorite match-ups in real-time. Once more, it's a way of handing over the storyline to its fans. WWE's resourcefulness to adapt to its younger viewers has created a huge buzz about WWE Monday Night Raw and its stars.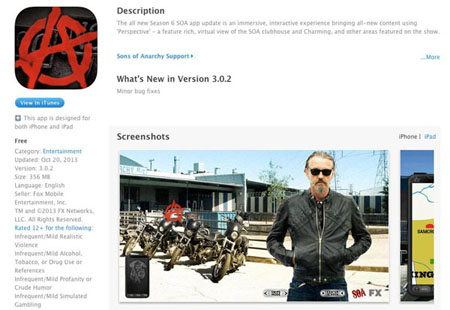 Sons of Anarchy
The Sons have lived life on the road, marching to the beat of their own drum ever since the series debuted in 2008. Jax Teller and his motley crew of misfit motorcycle club members—or MC as they refer to on the show—have navigated their way through the world of illegal arms dealing, drug trafficking and prostitution. And it's all to make ends meet for their families through any means necessary while facing trouble at every turn. But their gritty demeanor and clear disregard for the law aren't the only things that drive our obsession with FX's "Sons of Anarchy." There have been a handful of apps based on the series. One app allows you to purchase merchandise from the show along with goods from other brands. Another allows fans to explore Charming, Diosa International and Stockton State Prison, giving us more detail and insight with episodic content and factoids from each episode. The MC has developed a 6 million-strong following on Facebook after 6 seasons and continues to ride strong.
American Horror Story
A haunted house, a haunted mental asylum and a witch coven have all been the backdrop of FX's "American Horror Story." Season 3, titled Coven, has held its viewers in a trance with its graphic imagery and hair-raising plot twists, making it one of the most viewed shows on cable. With the series' timely premiere in October of every year, its 5 million Facebook fans and 350K Twitter followers have developed into a cult following as they take to Facebook and the Twittersphere with pictures of them adorning their favorite characters costume. The AHS mobile app contains more gut-wrenching horror stories in which fans of the series can relish while the AHS website provides a social web viewing application diplaying comments and posts across all of its social media channels. Horror as of late has been everyone's flavor of the month, and AHS has built a loyal fan base that will likely turn the series into a cult classic. Move over Twilight Zone and Tales from the Crypt.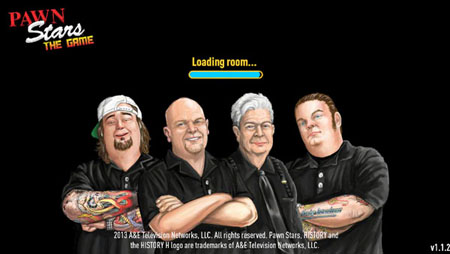 Pawn Stars
Ever since History's "Pawn Stars" premiered in 2009, fans have been obsessed with the reality show, even going so far as to making a trip to Las Vegas to visit the store. The four main stars of the show, Richard "Old Man" Harrison, Rick Harrison, Corey Harrison and Chumlee Russell, have become mini-celebrities in their own right and have all gained a following of their own. In fact, the store's Facebook page, which has a fan base of 3 million, is flooded with pictures and videos of the foursome. There are a couple of apps based off of Pawn Stars. One allows users to buy or sell items and negotiate the price of those items with the four Pawn Stars, while the other allows you to start and build your own pawn empire. Fans are still buzzing about the series after five years, despite that fact that it's lost a little of its novelty over the years with copycats like "Hardcore Pawn" and "Pawn Qweens."