Hallmark Eyes Dual Advertiser-based Blocks, Stronger Upfront Season Expected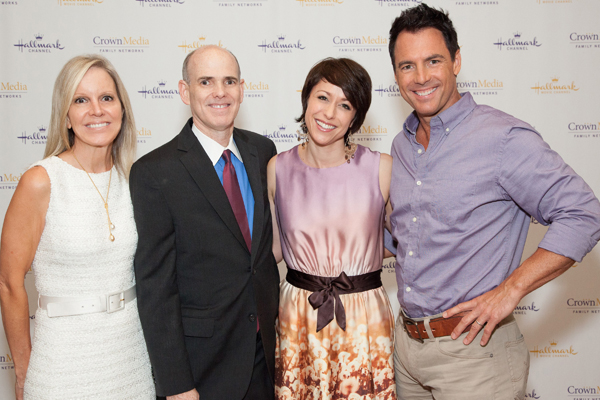 Hallmark Channel's "Walden Family Theater"
From an advertising perspective, Hallmark Channel's "Walden Family Theater," a new Friday night appointment viewing franchise to be launched Mar 15, is unique. Unlike many programming blocks with 1 lead sponsor, the franchise, created in collaboration with family entertainment producer Walden Media, has two lead advertisers: Wal-Mart and P&G, both long-time advertisers for Hallmark. "It's an unusual relationship," Bill Abbott, pres and CEO, Crown Media Family Networks, said in an interview. However, given that both advertisers aren't competitive with each other and their agenda is exactly the same, it's a natural combination, he said. At the end of the day, both companies are family-oriented brands with an appetite for family programming, said Abbott, a long time ad sales exec. It's a win-win situation that not only makes sense for those on both sides of the negotiating table, but for viewers as well, he said.
Though the advertising window for the new programming block limited to Wal-Mart and P&G, the franchise caught the attention of many other potential advertisers, according to Abbott. "They are interested in what the deal is and want to figure out how to work with us," he said. "The interest level in this deal is "something I have never seen before," he said. Moving forward, there will be a lot of interest in creating unique deals and different franchises, he said.
The franchise also marks the first time that the net has worked with Walden Media, which has produced the "Narnia" franchise and "Amazing Grace." To have Hallmark viewers become familiar with Walden, "there's a little bit of viewer education and branding exercise we are working on," Abbott said. Though the "Narnia" series was popular, the company might be a bit under the radar, he said. The family night showcase will debut with the "Return to Nim's Island," followed by a half-dozen original movies like Josh Lucas' "Space Warriors" and content from Hallmark Channel library.

Back to advertising. The net's upfront is coming up (Crown Media Family Networks annual upfront presentation's scheduled on Mar 21). Here's a little preview from Abbott: Expect a relatively weak 4Q as there was a lot of inventory in the market. Events that impacted advertising in the quarter include hurricanes, the Presidential Election, the Olympics and the fiscal cliff. The good news is that 1Q is expected to be better with price increases across the board. "We are optimistic that the upfront market will be relatively strong" as budgets rise and pricing stabilizes, and most importantly, as more and better cable content's being brought to the market, he said.