Hallmark Channel's Hearties Show the Love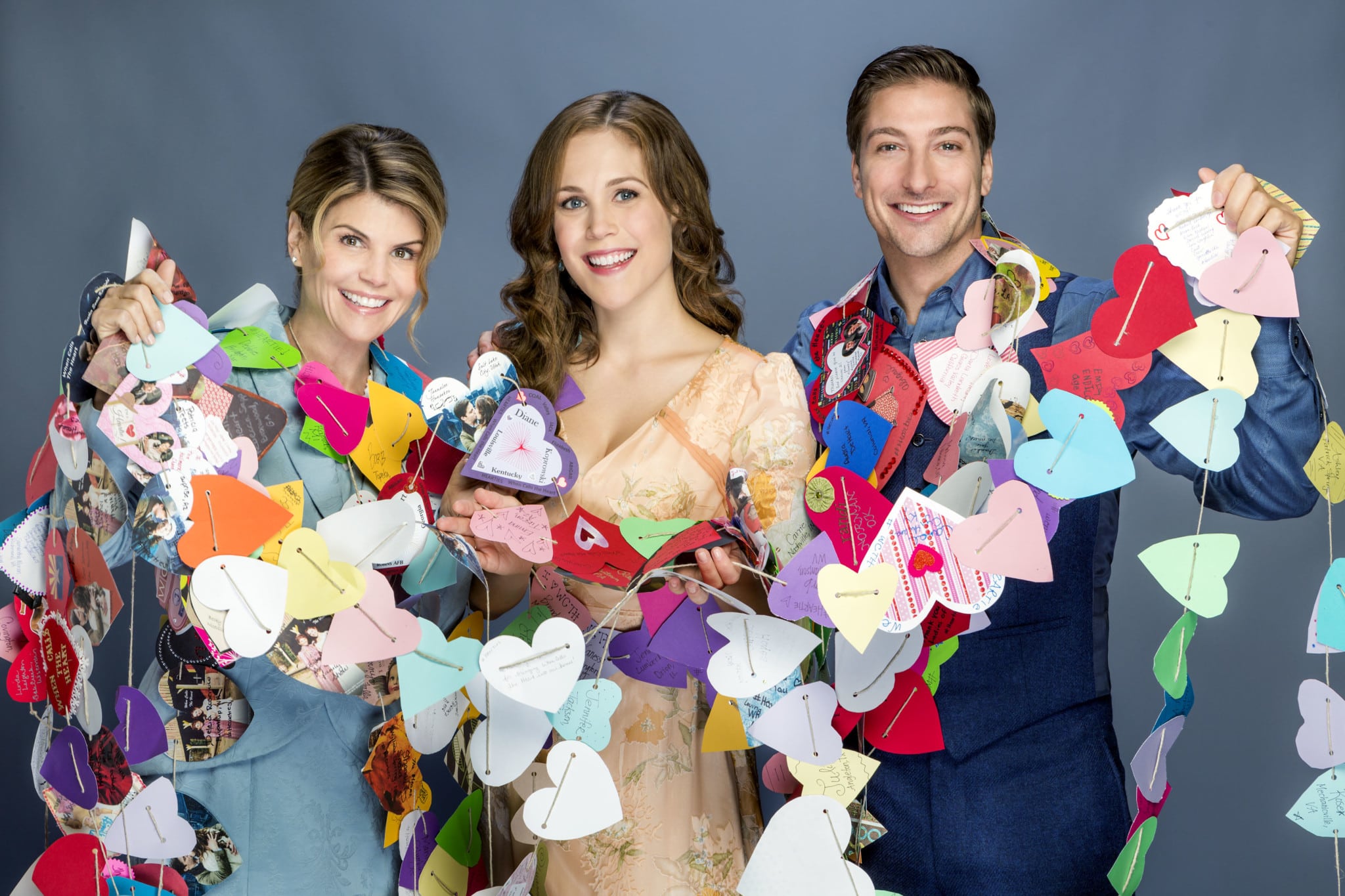 Fan art and passionate tweeting may be associated more with the teen audience of Freeform's "Pretty Little Liars" or AMC's rabid "The Walking Dead" fan base, but women 25-49 are in on the action, too. Just ask Hallmark Channel, whose "When Calls the Heart" series took off in a way the network never expected.
Call them "#Hearties." That's the name the dozen or so hardcore Hearties gave themselves about midway through Season 1 of the series, which revolves around a new teacher in a coal-mining town in Western Canada. An episode of Season 3 this month became the most-social program in network history, garnering the highest Tweets of any series, movie or special premiere on Hallmark Channel. A Hearties Facebook group started during the premiere season now has nearly 33,000 members.
"Once the Hearties defined themselves and started talking to each other and about the show, the percentages week over week were about 300% in average in growth [in social] for Season 1. Once we started seeing that, we started helping them," said Angela Megrey, VP for social media communications and policy at Crown Media Family Nets. At the end of the Season 1 finale, the show had 12,000 tweets, she said. That had grown to 72,000 by the end of Season 2. And partway into Season 3, When Calls the Heart is at 93,000 tweets (up from 66,000 for the premiere of the new season).
If you're a Heartie, you don't just talk about the show. "They create their own Hearties art. They have parties called 'Party Like a Heartie,' where they share photos socially of themselves with friends watching When Calls the Heart," said Pam Slay, Crown's SVP of program publicity and social media content. "The #Hearties are an always-on sort of presentation because if they're not talking about the show, they're talking about friendships with each other, art that they're creating, recipes, getting together to have parties. They put up the most personal things. 'My husband is having surgery. Pray for him.' Or 'Our dog is sick.' … They've reached out to become a community that's almost like extended family."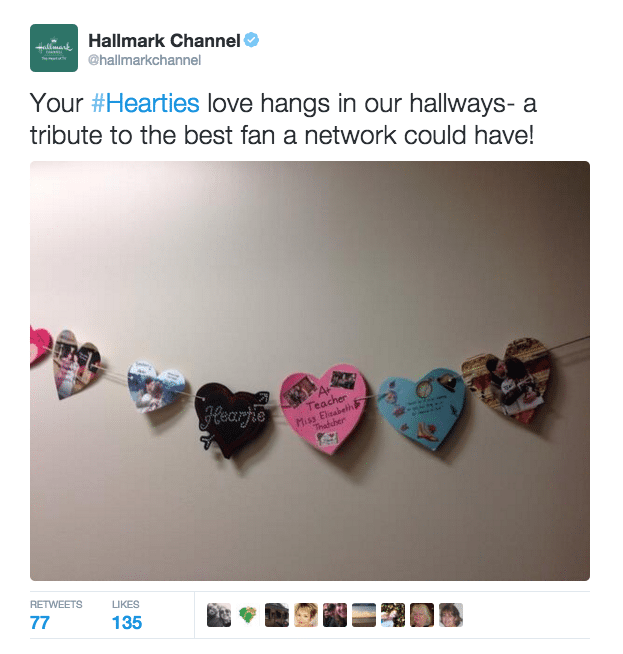 The timing of this fan group's formation turned out to be even more beneficial than execs could have predicted with the premiere of Season 2 of When Calls the Heart delayed about 3 weeks because of bad weather in Vancouver that interfered with production. "These Hearties had been counting on a particular premiere date for Season 2 for a very long time… At that point, the stars of the show took it upon themselves, with our encouragement, to create little videos to let them know they were terribly sorry the show had been pushed," Slay said. The hardcore fan base appreciated the interactions, and it paid off with Season 2 going down as one of the net's highest rated premieres.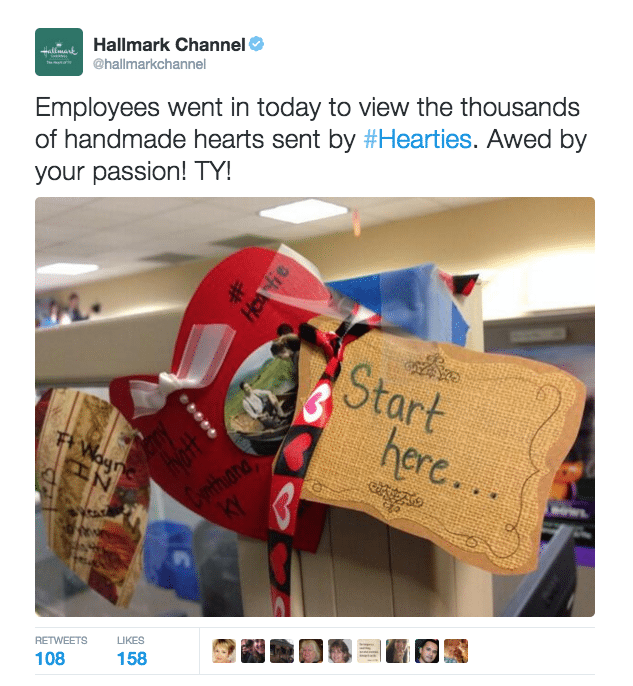 The show's cast is pretty involved with the fans. Not just tweeting, but becoming a part of their group as well. It's a balance to let fans do their thing and support them. This week, the net launched #PartyLikeAHeartie, asking fans to show their viewing parties for a chance to win a Skype call with the cast. This year, before the Feb series started rolling out, there was a Hearties Family Reunion in Vancouver on the set. "The producers really put this together, and we supported it. Over 200 Hearties got to come out on the set and be a part of a weekend where they had a high tea, poster signings, meet the cast and producers. And they really got to talk to each other and hang out with each other," Megrey said. "When they did the sign-up to RSVP, it was sold out within minutes. Over 400 people wanted to go. They just didn't have the room. They didn't realize it was going to be that big. People came from as far away as Asia to participate. Many showed up in full colonial costume." To fuel that, Hallmark gave out USBs of talent greetings as well as special cover photos for Facebook and other initiatives to spread the word ahead of the premiere. And this isn't something Hallmark's throwing down big cash for. "As far as pay vs earned [in social], this is 100% earned," Slay said. "We've never put money into this on any platform."
In fact, it seems it's the Hearties courting the network. After Season 2 ended, the fans showed Hallmark Channel their love for a third season. "There were about 6 executives, including myself, at the network that each got boxes. When we opened them, each one contained handmade hearts from all over this country that had been sewn together. Each box contained a strip of hearts that was about four miles long," Slay said. "It wrapped around the inside of Hallmark Channel from one floor to another."
She couldn't begin to count how many Hallmark execs received fan Valentine's Day cards. And it's not just network brass feeling the love. "They also thank the sponsors. When a commercial airs, they tweet the sponsors and thank them for participating in family value programming," Megrey said.
The old adage seems true in this case… you can't buy love.