The 'Game of Thrones' Evil Olympics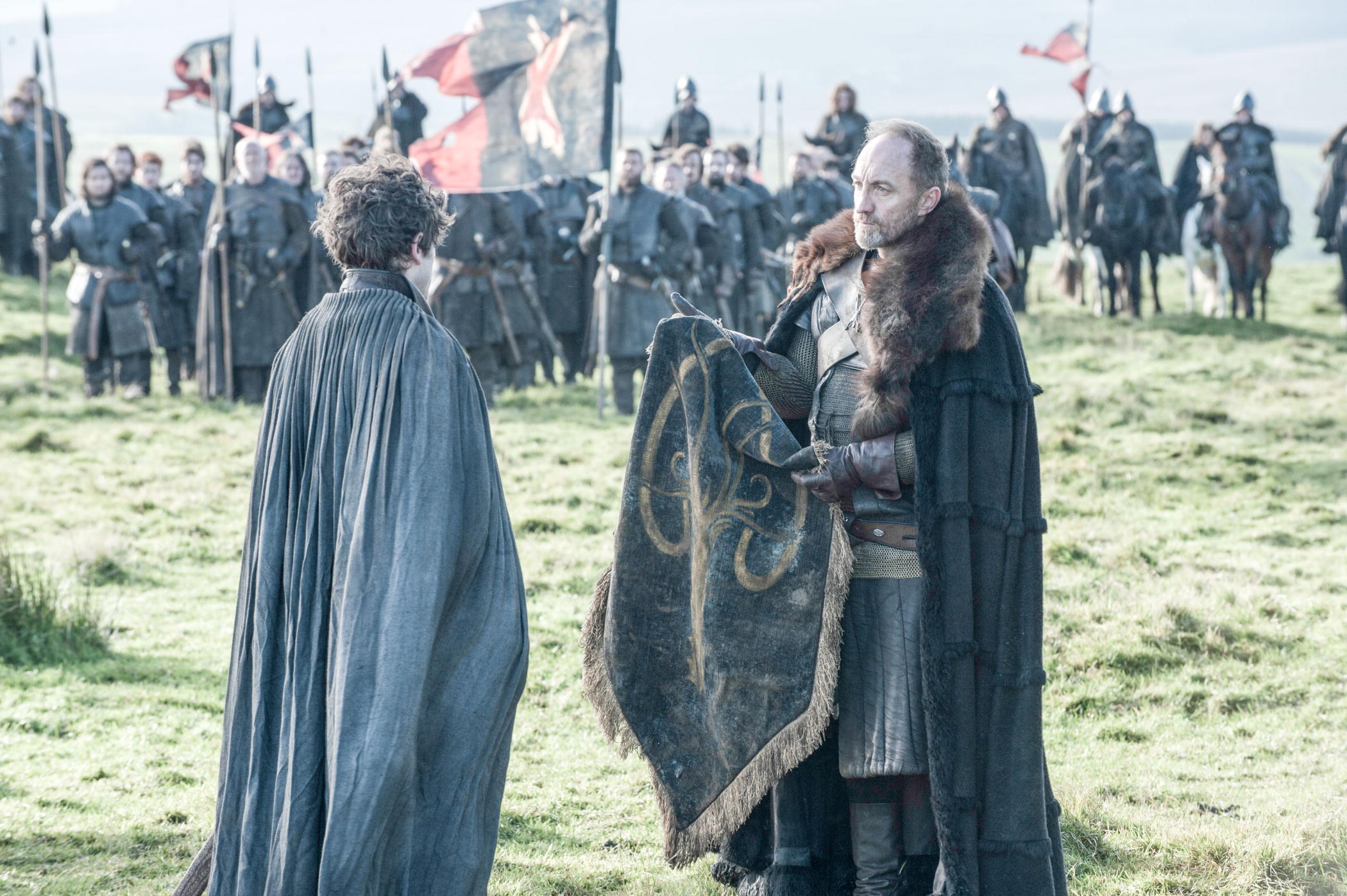 If HBO's "Game of Thrones" does one thing well, it's to showcase evil in all its toxic forms. Westeros is a place so consumed by greed, blood thirst and power mongering that the evildoers seem to outnumber the righteous by 10 to one. Even the "good guys" have their moments: Ned Stark beheading a hapless deserter in the pilot episode, Daenerys crucifying hundreds of slavers (even the ones trying to reform the system), Varys turning on Tyrion Lannister at his moment of need, Arya Stark starting to enjoy killing just a bit too much for comfort.
Yes, being "good" in Westeros really means being less bad. And in George R. R. Martin's excessively cruel world, even a smattering of mercy here and there usually only emboldens evil forces to exploit such weakness. In the end, it seems like no one who deserves to die a horrible death actually does—although GOT fans much appreciated Joffrey's deadly nuptials, even if we wished Arya had done it herself (or at least had been there to cheer it on).
All this evilness begs the question: Who's the worst? In other words, what GOT character is so irredeemably evil that if Westeros held an "Evil Olympics," this person would run away with the Gold and never look back? It's so hard to say, but let's try to pick a winner. Here are the quite worthy qualifiers—all of them well trained and conditioned Athletes of Evil.
Tywin Lannister – He's cold. He's ruthless. He cares little about anyone or anything other than maintaining the Lannister family's position and power. And during his fight against Robb Stark's rebellion, he even had countless men tortured by letting hungry rats eat their way through their torsos. Not a nice dude. Yet he has been surprisingly reasonable on a number of occasions, deftly placating rivals and warring members of his own family with sometimes evil but often ingenious compromises. He's a Machiavellian monster. But Westeros' Most Evil? Not even close…
Roose Bolton – Okay, so he sunk the final knife into Robb Stark and declared that "the Lannisters give their regards." That's pretty gangster. He also seems to condone all forms of torture and treachery as long as it serves his purposes. But he seldom gets involved himself, and he seems more of a politician, realist and technocrat than someone who truly enjoys evil deeds. He's just not sadistic enough to take the Gold. Sorry.
Littlefinger – Yes, he's pretty bad. He served up a loose-lipped prostitute to Joffrey so he could torture to death. He switches alliances with the wind, exhibiting no loyalty to anyone, and was one of the key people who betrayed Ned Stark in season one, leading to all the war, pain and suffering that has followed across Westeros. He cares for no one other than himself. And he even seems to have creepy designs on Sansa, who is finally starting to understand how to play the game herself (After last night's episode, we have to wonder: Is she playing him now?). Littlefinger is a sniveling little insect, to be sure. He's definitely evil. But he's too conniving and pathetic to win this one.
The Walkers – C'mon. They're the living dead. They can't help but be evil. Disqualified…
The Hound – Nah. He may have started out as evil, but he's really not anymore. He's an opportunist, sure. He has no problem stealing the last bit of silver from an old peasant farmer, reasoning that he'll be dead soon and doesn't need it. He kills whoever gets in his way. And technically, he's holding Arya Stark prisoner. But we all know he's got that heart-of-gold thing going on. And considering that his considerably more evil brother held his face to a fire when he was a kid, he's allowed to have some issues. And as for Arya, we all know he loves her like a daughter and would give his life for her, no matter how much he tries to act like her captor. And she knows it too.
Cersei Lannister – It's hard to really get a good take on Cersei. She's evil beyond words on many levels, willing to kill her own brother Tyrion because she blames him for her mother's death during childbirth. Or at least that's the party line. In reality, she's just jealous of his superior intellect and refusal to bow down to her. She's creepily carrying on with her own brother. And she constantly refused to rein in her son Joffrey as he laid waste to everyone around him. Of course, she's incredibly damaged. And in a way, she's trapped within her own evil vortex with no way out. So is she evil? Yes. Is she the most evil? No. Do we still want her to die a horrible death? Definitely.
Joffrey Lannister – If Joffrey could compete from beyond the grave, he'd be quite a contender in the Evil Olympics. Let's review: Needlessly beheaded Ned Stark, igniting a war that practically bankrupted the kingdom and led to hundreds of thousands of deaths? Check. Killed and maimed peasants for minor offenses? Check. Tortured prostitutes for fun? Check. Tormented Sansa Stark, even forcing her to look at her dad's head on a pike and later threatening to unveil her brother's head to her on a serving dish? Check. But while Joffrey may have been Westeros' version of Justin Bieber with unlimited royal power, let's not forget that he was the spawn of an incestuous relationship between Cersei and Jaime Lannister. Can we really blame him for turning out worse than Caligula? Well, perhaps we can. But he's still disqualified under the Incest Clause.
Walder Frey – When it comes to relishing evil for evil's sake, few can match the sheer endurance of Walder Frey. Sure, he's the one responsible for the Red Wedding, murdering Robb Stark and his bride—even instructing his assassins to stab the baby in her womb before finishing off the rest of the family. His evil actions are legendary, and his complete lack of regret or guilt continues to put him in contention for the Gold. But here's the thing: The Starks basically broke an oath to Frey involving the marriage of one of his daughters to Robb. Sure, Frey could have let it go. But this is Westeros. And given the chance to end the war and get rewarded by the Lannisters in the process, Frey did the most selfish thing he could do (the revenge aspect was just icing on the cake). What he did was incredibly evil. But it also served a political purpose, and could even be seen as restoring some kind of honor to his own family. Actually, scratch that. It was just a dick move. But while Frey comes close to Most Evil, he just can't bring it home…
Ramsay Bolton – This sadistic excuse for a human being enjoys torturing everyone from nobility like Theon Greyjoy to random peasant girls who he hunts down and eventually feeds living to vicious dogs. His pastimes also include flaying his enemies alive, usually after promising safe passage. And in keeping with Westeros devotion to always rewarding those who do terrible things, his father Roose Bolton just turned him from a bastard to his heir with one swoop of the pen. Gee, do you think this already emboldened psychopath might now feel even more entitled to torment the countryside? It's hard to find any real reason for Ramsey's sadism other than his own complete lack of empathy for other human beings. His torture of Theon (no angel himself, of course) and brutal brainwashing that has left him "Reek" really served no purpose other than to feed Ramsay's insatiable appetite for senseless human suffering. And letting dogs rip apart innocent peasant girls? It just takes evil to a new level…
So Sorry, other contenders. You're all worthy. But Ramsey Bolton takes the Gold in the GOT Evil Olympics. And that's despite tough competition from Joffrey and Walder, among others. Ramsay is bad. Really bad. And we all want him to die. Horribly. Which in Westeros probably means he'll soon rule the seven kingdoms.
(Michael Grebb is executive editor of CableFAX. You can follow him on Twitter at @michaelgrebb).