Good thing that FX just renewed gm John Landgraf's contract for 3 years, considering his ambitions to turn FX into "one of the largest networks in America." The net's already known for gritty dramas, but it's also looking to add 2 more comedies to its slate, which would put the net at 5 dramas and 7 comedies overall and amount to more than 150 hrs of TV per year. With FX's pick up of freshman series "Wilfred" and sophomore laugher "Louie" for 2nd and 3rd seasons respectively, the net's comedy commitment is clear—not to mention its decision to renew "It's Always Sunny in Philadelphia" for an 8th and 9th season, with an option for a 10th. In all, Sunny's on track to become the longest running basic cable comedy in history.
But it's FX's penchant for gritty dramas that continues to largely set it apart, with "Sons of Anarchy" entering its 4th season and still posting impressive ratings, and Ryan Murphy's eternally creepy "American Horror Story" (premieres Oct 5) on slate to scare the bejesus out of us just in time for Halloween. Critics screened the psycho-sexual thriller at the Fox lot last week, with the show spurring a lot of late-night debate among critics who either thought it was brilliant or far to "out there" for basic cable. Ultimately, audiences will decide. Landgraf said he doesn't want to "clamp down" on showrunners who push the envelope, arguing that FX's "willingness to experiment and try new things" is part of its unique DNA. "They haven't always worked, but I think they've made television a more interesting place to be," he said, noting much optimism that audiences will respond to Horror Story's mysterious, supernatural vibe (There's also plenty of sex and violence, which could help or hurt depending on who you ask).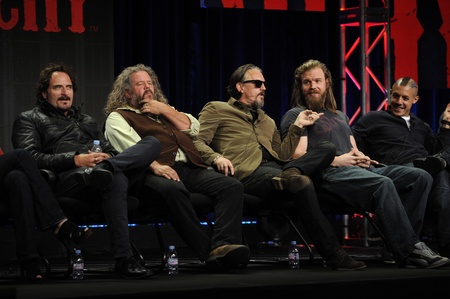 Even star Connie Britton said she generally has no stomach for horror and couldn't even watch Murphy's old FX show "Nip/Tuck… because it was too gory… I'm literally afraid of horror movies… But that's part of the reason I wanted to do it." After some prompting, Murphy also drew parallels between horror and the current U.S. economic strife and "all the American horror stories we're experiencing on a daily basis." Interestingly, he also noted that "I currently live in a house that I believe has a spirit in it." But is that spirit in the writer's union?

Meanwhile, FX also brought out the cast of its most popular show "Sons of Anarchy," with showrunner Kurt Sutter hiring veteran director/producer Paris Barclay, who said he joined because of the show's unique combination of passion, writing and acting. He put Sutter in a league with David Milch and Aaron Sorkin, after which Sutter joked "That's why I hired him." Sutter said the show's 4th season will take a more introspective turn, with the motorcycle club battling internal demons as external threats amp up the drama. "The idea is always to use those external pressures to incubate what's going on inside the club," he said. And as for Katey Segal's much deserved Golden Globes Best Actress nod last year, she said the show's success has more to do with people discovering it online. "More awareness of the show has happened from Netflix than winning the Golden Globe," she said.

Sutter and cast members generally declined to stir up any more Emmy strife after critics egged them on, with Sutter saying he's pretty sure he knows why the Emmys continue to ignore the show. Perhaps it has something to do with his defiant tweets, with a recent one arguing that the Academy is too old to understand the show. Guess Sutter—like the bikers he depicts onscreen—isn't ready to play nice…

And then there's "Rescue Me," a show often nominated but so far left at the Emmy-win altar after 7 seasons and whose series finale comes on Sept 7. The panel was appropriately inappropriate, feeling more like a profane, self-deprecating roast than a presser. At one point, show co-creator/writer Peter Tolan stood up and dropped his pants, revealing blue striped briefs as cast members looked on and critics rolled in the aisles. Asked what was next, several panelists noted that they have projects at USA (For example, Leary is working on a pilot, and Callie Thorne stars in new USA series "Necessary Roughness"). Tolan shrugged, saying he's doing "mild janitorial work" at USA and also considering work as "Jeff Wachtel's fluffer."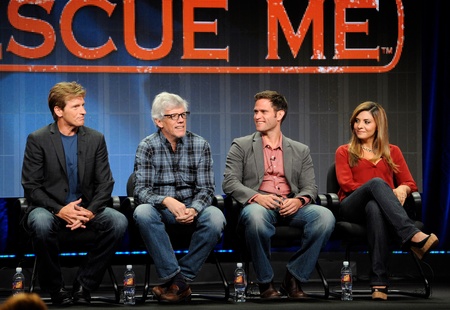 Another asked Leary whether he thinks he'll always be identified with the show's Tommy Gavin character, to which Tolan piped up with "When you're saying Denis will be remembered for this part, I think you're forgetting 'Operation Dumbo Drop'." Said Leary: "I had a f—-ing blast for 7 years." He also credited FX chief John Landgraf for staying so involved in the show. "When he gave us notes, he was almost always right."

With a 2-season pick-up and an option for another one (which would be the 10th season), "It's Always Sunny in Philadelphia" also left critics laughing as they marveled at actor/producer Rob McElhenney's 50-pound weight gain in the latest season (he did it on purpose) and Danny DeVito's long run on the anti-sit com (longer than his 5 years on "Taxi"). "I feel like I'm in one of the greatest spots I've ever been in my entire life," said DeVito. "It's like a gift and something that I never expected at this time in my life." Actor/producer Charlie Day credited creative freedom for part of how the show has grown over 7 seasons. "You have to give credit to FX for letting us work in a bubble," he said.

Meanwhile, the biggest issue for fantasy sports comedy "The League" showrunners this year was the potential for an NFL lock-out, which was just averted. Husband-and-wife team Jeff and Jackie Schaffer said they planned for the contingency and found it helpful. "We had to explore the idea of would these guys still be friends if we didn't have fantasy football," said Jeff. Ultimately, the lack of a lockout means more back-stabbing, taunting fun for the show's characters as they try to one up each other every week. In fact, that transfers to the cast and producers, who actually compete together in a real fantasy football league. Despite the mostly male cast, actor Katie Aselton won the 1st year and Jackie Schaffer won the 2nd. "My greatest shame," joked Jeff.