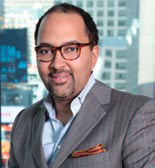 Michael D. Armstrong
A friend once pointed out that as head of BET International, I help shape the world's perception of African Americans. Couple that with my role at NAMIC, and you can bet I think a great deal about the entertainment industry's representation of diversity and how content featuring U.S. ethnic minorities is being created and received globally. Bottom line: more diverse U.S. content is a significant opportunity for the industry and one that we can help influence.
A Sundance panel once examined why Black films not starring Will Smith or Denzel Washington were unsuccessful outside the U.S. The same applied to television. Black actors have long been integrated into U.S. TV shows syndicated internationally, but few featuring predominantly Black casts made the cut. Some successful outliers include "The Cosby Show," "Everybody Hates Chris," "My Wife and Kids" and "Girlfriends." The ubiquity of these shows stand in stark contrast to the reality that today's showrunners and executives face when choosing to produce content with a predominantly Black, Hispanic or Asian cast.
Around the world, viewers fondly know Cliff Huxtable (or Cliff Robinson in Italy — "Huxtable" proved hard to pronounce). More recently, Alle Hassen Chris, a.k.a. Everybody Hates Chris, gave German millennial nerds a relatable heroic figure. Cosby, Nielsen's no. 1 rated show in 5 of its 8 seasons, portrayed an upper middle class, Brooklyn Heights family, which was relatable to a global audience unfamiliar with other aspects of Cosby's otherwise normal Black American cultural lifestyle. Produced against the same 1980s backdrop, Chris presented a different view of the Black cultural experience, focusing on a working class family in the then less affluent Bedford Stuyvesant neighborhood. Chris achieved a Nielsen best rating of 120th in its first of four seasons.
How then do viewers in Belarus, Ecuador and other countries relate to and enjoy Chris? Single camera sitcoms with no laugh tracks are supposedly a no-no for global exports. Also, Chris Rock's narration is often dubbed locally, and the series has no international stars and uses Black music and cultural vernacular of the time. These factors should have doomed it from being greenlit and certainly from making it into a NATPE or MIPCOM sales deck.
However, Chris, like Cosby, is a well-produced, funny series depicting themes of family, love and life lessons. They illustrate common humanity, using Black U.S. families as the vehicle. Behind their resonance in Europe, Asia and Latin America alike were TV executives endeavoring to debunk the myth to convince global buyers to go against convention. Today's swinging pendulum favors taking a chance on diversifying content for international TV and film audiences who represent the majority of global content consumers. Cosby, Chris and, recently, the movie The Fast & The Furious are powerful examples of the rewards of such efforts.
At MIPTV this past April, Kevin Hart joined us to promote the BET hit, "Real Husbands of Hollywood." Unsurprisingly, many global buyers found the show, and Kevin, hilarious, engaging and relatable. Though success is not guaranteed, I believe it will be another step to embracing more shows led by ethnic minorities. Wendy Williams airs weekdays in more than 50 countries on BET's international channel. Shonda Rhimes is redefining the formula for success with "Grey's Anatomy," "Private Practice" and "Scandal." Execs need to take the chance on being indifferent to the color of the cast and more focused on telling great, universal stories. However, these shows will require the same writing, marketing and sales investments afforded their more "mainstream" counterparts. Myths should be tested, and the best way to debunk this particular myth is to put global economics to work. Because in the end, the color that will matter most is green.
(Armstrong is chmn of NAMIC's board and svp/gm, BET International & Paramount Channel).