Fox Sports' EVP of Digital on @TheBuzzer and Net's Digital Strategy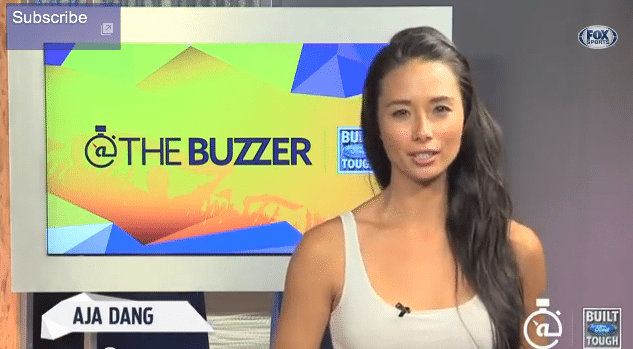 Earlier this summer Fox Sports quietly launched @TheBuzzer, a video-based program featuring short-form snippets of breaking news that can be easily shared on social media. It's designed to appeal to younger audiences and drive traffic to its YouTube channel and FoxSports.com. The network has partnered with YouTube Space LA to create the daily videos, which are now averaging 500,000 views per week, according to Fox Sports. We spoke to EVP of Digital Pete Vlastelica about the project's goals, what's worked and what hasn't and the future of TV Everywhere.
How are you specifically appealing to younger audiences with this?
PV: The entire program is designed to appeal to the sports fan in maybe their late teens, early 20s, starting with the talent that we're using who are speaking a language of the web—much more casual and informal, maybe even a little snarky. And occasionally if we're doing our job well maybe funny, with a little bit of an attitude. I think the format—very short-form, our videos tend to be a minute or so long—they're optimized for that young audience that fragments its attention.
People often talk about how young people have short attention spans. I don't really see it that way. Their attention span is fragmented. They're doing a lot of things at once. So the attention that they might give any one thing is limited, but they're very focused broadly, across the spectrum of many, many things. We've designed this program to be one of those things, because it's short-form, the content works well on mobile devices and it's designed to be shared. We're trying to tap into stories that we believe are about to trend on social media, and so the goal is to be the first with a professionally produced video version of a story that we think people are going to be talking about in the near future.
What's an example of that?
The day before Lebron James announced he was going to Cleveland, we produced multiple versions of the story—one staying in Miami, one saying that he was going to Cleveland. We had them so the minute he announced he was going to Cleveland, we could have the video published. And that became the default version of the story that many people saw and shared. By identifying what's about to happen, and recognizing that young audiences in particular live on social media and that building a video program for those platforms, we think we're getting the attention of some young people.
Does that happen often, creating several versions of a story ahead of time?
We've done it a couple times, yeah. That story was sort of a perfect storm. When we can't pre-can a story we try to be as quick as we can. When Luis Suarez bit one of his opponents during the World Cup, we had a video version of that story with photos of the incident on YouTube 15 minutes after the incident. So we capitalized on all the search traffic globally around that story.
Why did you choose to do a soft rollout of the product?
It's sort of in line with our general product development philosophy, which is to experiment a lot and take risks, and not worry so much about impressing a massive audience out of the gate, but then using the time that we're spending experimenting to sort of figure out what's working and what's not. And once we felt like we had something that was working and that we wanted to talk about, then we did. So my background is, I came to Fox through an acquisition of a startup that Fox bought called Yardbarker, which is a large network of sports blogs, and I think it's sort of a Silicon Valley, startup philosophy that sometimes gets called the "lean" startup philosophy, to release early, fail fast, discover your way to a successful model—and do so without necessarily making a lot of noise until you have something you're ready to talk about.
With this particular property, would you consider going a little bit longer form?
I think that the franchise could certainly lend itself to something longer. As long as we're doing it on social media, the one-minute sweet spot feels pretty good. But in everything that we do—we're pretty strong on social media and digital properties, but we also obviously have a television business that's core to what we do—we're doing it with an eye toward crossing over to the television. There are a lot of different TV formats that I think could work for something like @TheBuzzer.
Any examples of crossover?
I think it's too early to speculate on that.
What's the lifespan and goals of this initiative? Is driving younger audiences to Fox Sports 1 a key goal?
I think that works in both directions. Everything that we're doing on the digital side at Fox Sports we're looking for natural integration points with the television, especially Fox Sports 1. The most natural connective tissue between Fox Sports 1 and something like @TheBuzzer is Fox Sports Live, our flagship news program on Fox Sports 1. Really what @TheBuzzer represents is an opportunity for Fox Sports Live to get their news 24/7, as long as we're producing it online. And not only news from Fox Sports during that three-hour window every evening on Fox Sports Live. I think aligning @TheBuzzer with a show like that makes a lot of sense, both in terms of our ability to drive an audience from digital platforms to Fox Sports Live, but to move the audience in the other direction as well.
It's currently sponsored by Ford Motor Co. Are you exploring other ways to finance the series?
Ford's been a great launch partner. They appear to be interested in continuing their support of @TheBuzzer. They at this point sponsor sort of a subset of @TheBuzzer videos and we would love for the partnership to continue as long as it's working for both of us. I think also we have the ability, now that we're sort of at some scale production wise, to ramp production even more, and to produce segments, or channels within @TheBuzzer that might be focused on a particular sport or particular event, and to do those along with another sponsor.
How much experimentation is happening here? Can you talk about what you've learned throughout the process?
We tried a lot of things before we landed on this sort of simple news update format. And you can go back on our YouTube channel and see the sort of things we tried. There was a while there when we were bringing in guests to do either interviews or skits… videos that were similar format-wise but that tried to capitalize on the reach and popularity of the celebrity guest to drive the distribution of the videos. We learned that was sort of more trouble than it's worth. There were a handful of guests how really drove distribution—Mike Tyson always works for us. But for the most part, spending all day booking guests wasn't worth the lift in audience that the videos got.
We tried some skits that were designed to be funny, using a YouTube talent. And while those sometimes attract a decent audience, we just found that it wasn't a scalable approach. They took longer to write and it was harder to kind of be in the moment and track the news cycle. The videos that did the best for us were really timely, really simple in format, really short and that were designed to give people something to share, based on something that they didn't know was going to trend, shortly. That model doesn't require skits, it doesn't require fun necessarily—so we feel pretty good about where we landed.
As digital rights become a more significant part of deals between networks and distributors, how has your role changed in the past few years?
I think both sides are becoming increasingly focused on making sure that all of our distributors' subscribers have access to all of our content, regardless of what screen they're on or how they're trying to view the content. TV Everywhere has really grown as a mode of consuming premium content. We've have some great success stories in the past year in terms of our audience's willingness to engage with Fox Sports Go, our TV Everywhere product. And I think we're not the only one. Sports seems to be one of the categories of content that is driving the adoption of TV Everywhere. So it think as that trend continues, the question about exactly what the mechanics of access to this content are sort of simplifies the process with distributors.
What's the next step for TV Everywhere?
Our focus is on getting broad distribution for the app as possible, working closely with those distributors… and just improving the product—making video quality as great as it can be, adding features that users are asking for to make it easier for them to get the content whenever they want—not just live, but on demand. And then making it much easier for users to get other content around the live feed themselves, whether that's scores or news that is relevant to what we know they like.