Food for Thought, Food for Fun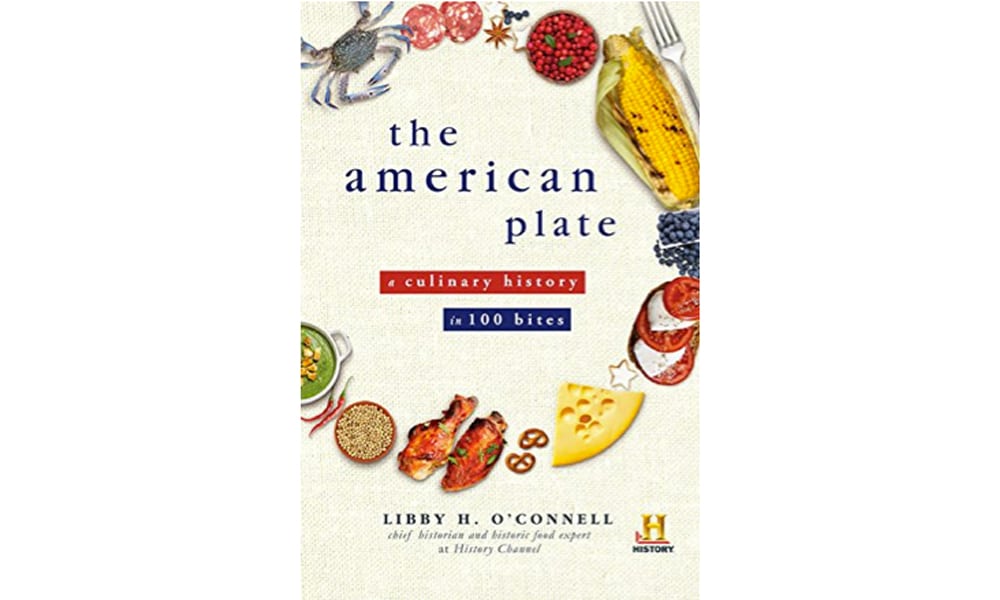 Kale, almonds, blueberries, acai, green tea, seaweed, flax, fish oil, chia, Greek yogurt. A few of the so-called super foods that Americans have turned to as they seek to boost energy, improve sexual performance, stave off old age, prevent heart disease and cancer, all while fighting obesity and other sicknesses.
Many of us would call our obsession with foods that allegedly promote good health a modern-day fad. But as History Channel's chief historian Dr. Libby H. O'Connell points out in her lively new book, "The American Plate: A History of the United States in 100 Bites", food fads are far from a new phenomenon. "Throughout history," O'Connell writes, "humans have lurched from one dietary fad to the next, convinced in one moment that oysters serve as a potent aphrodisiac and in the next that eating whole grain bread will end violence."
Among the more interesting historic foodies she writes about is one of the country's first diet gurus, Sylvester Graham (1794-1851), inventor of the cracker that still bears his surname. A minister by trade, Graham's regimen, espoused in 1829 and embraced by acolytes known as Grahamites, emphasized a bland diet. The staples were a whole grain 'Graham bread' made of flour devoid of chemicals and additives. (Sound familiar?) In addition there were bland biscuits and a plain cereal that Graham called 'granula,' the forerunner of today's granola.
Advocating coarse Graham bread was a major break from the idea of eating white bread, which "symbolized purity and refinement in 19th century America," O'Connell writes. Earlier in history, she notes, only the lower classes ate cheaper, grain-filled, dark bread. Whiter, chlorine-infused bread was more expensive and thus reserved for, ahem, society's upper crust.
Graham did not criticize bread alone. His espousal of a plainer, lighter, purer breakfast also ran smack into normal American fare for the morning meal, which included meats ('Lamb chops for breakfast, anyone?'), eggs, fish ('Pass the cod cakes, please'), oatmeal, cornmeal mush and bread, the whiter the better, of course.
Graham believed simple whole grains and vegetarianism would not only improve Americans' health, it would reduce their nervousness and sexual appetites, decrease the urge to masturbate, which was evil and could lead to blindness, and "make the world a better, healthier place," O'Connell writes.
Several hundred years before cable TV, infomercials and the digital revolution, Graham and other food evangelists spread their views via the "lower cost of…the newly invented mechanized [printing] presses…." The establishment of the railroad also allowed Graham to travel the lecture circuit, spreading his ideas on a national scale.
Change Your Diet, Change Your Life
More proof that everything old is new again—actually, history doesn't repeat itself, O'Connell argues, but "human nature remains the same"— comes a few years later with yet another diet reformer, a doctor from Battle Creek, Michigan, by the name of John Harvey Kellogg (1852-1943). Yes, that Kellogg; well, almost. The chief medical officer of a health center, Dr. Kellogg modified and expanded Graham's ideas, proposing exercise and a "low-meat, mostly vegetable- and whole-grain-based diet," and, ouch, "frequent enemas…" Like Graham, he abhorred Americans' "lustful" lifestyles, including, once again, masturbation. Also taboo were alcohol and caffeine. Yogurt and 'granula' were his choices for breakfast.
Hoping to spread his idea of a simple breakfast beyond Battle Creek, he and his brother William started to form a cereal company in 1897, aimed at producing a product "along the lines of granola but even plainer." Thing is, William, the younger brother, thought adding a touch of sugar to the toasted flakes would attract more customers. For John that was not only a 'cereal' killer but also a deal breaker. The brothers split and it was William's company that eventually produced Kellogg's Toasted Corn Flakes.
More misery for John Kellogg, MD. A patient of his, Charles William Post, liked the doctor's ideas so much he founded a company to produce healthy products, eventually coming out with Post Grape-Nuts and in 1904, his own brand of corn flakes. Post died 10 years later one of the world's richest men, O'Connell writes. John Kellogg lived into his 90s, but always felt Post had stolen his recipe.
The American Plate is much more than stories of early diet reformers, however. In fact, the Kellogg and Post tales are dwarfed by historical facts, engaging trivia, gastronomic sobriquets, photos and illustrations, amusing sidebars and several good recipes contained in 300 very readable pages.
Bitten by Good Writing
Despite her ability to create persistent hunger pangs in readers—definitely avoid an empty stomach while reading this book—the tastiest constant running through this veritable smorgasbord of American culinary chronology is O'Connell's engaging personality, personified in her enjoyable prose style. Like an expert chef, she's deftly mixed ingredients, including solid research, opinion, enthusiasm and humorous anecdotes to create a delicious read. Who knew oysters were America's first fast food? Or that takeout is not an American invention—you could get hot pea soup from vendors in ancient Athens. And don't blame Junior for his sweet tooth, the Dutch and other European settlers are the real culprits.
One of the best things about The American Plate is that the reader never feels O'Connell is lecturing, more like she's speaking to you directly, telling a story infused with history, irony, plain language and a generous dollop of wit. With O'Connell telling the reader, parenthetically, about her favorite bagel, how ludicrous it is that Cheez Whiz no longer contains cheese and the time when a handsome musician so enjoyed her Julia Child-inspired crème caramel that marriage soon followed, the book becomes as much a friendly companion as the serious story of salient events in American history and their relationship to food. No doubt this personable style helped O'Connell in an earlier iteration as VP of Outreach at History and now as SVP of Corporate Responsibility for History and A&E Networks.
An Organized Kitchen
O'Connell has chosen to disseminate her wealth of knowledge about the history of Americans' food choices into 10 chapters made up of 'bites' of 103 foods. Each bite is short, most not longer than 3 pages. The book's organization is tantamount to a buffet, allowing the reader to 'dine' on his/her favorite foods, skipping around the nosh-sized bites.
Perhaps you'd like to begin your meal with a hot dog (Bite 61), originally accompanied by gloves not a bun. Maybe you'd prefer the protein boost of beavertail, a colonial delicacy (Bite 14). There's even a simple beavertail recipe, although it calls for an open fire. But as O'Connell writes with a chuckle, "If you happen to have a beavertail on hand, I am sure an open fire is no problem for you." As it's nearly Thanksgiving, heading straight to turkey (Bite 20) will help you wow your guests this year when you tell them we really should call the bird a 'Portugal.'
Not very hungry? How about munching on popcorn, as the American Indians did well before the advent of microwave popcorn (Bite 91) in the 1970s. Perhaps you're in the mood for a bagel (Bite 58), whose origins are unclear, although O'Connell writes that the boiled bread with a hole in the middle was carried to these shores via Eastern and Central European Jewish immigrants, starting from the late 1800s.
Sprinkled throughout the reader encounters people from history, known more for political power than their prowess in the kitchen. Still, it is pure fun to find out about Eleanor Roosevelt's scrambled eggs—just about the only thing she could cook—the cake that Abraham Lincoln loved (he also enjoyed terrapin stew, oysters, stuffed pheasant and lobster pie), what European Kings and Queens ate at the White House—hot dogs at one point. Then there's Benjamin Franklin, whose corpulent figure indicates he rarely pushed himself away from the table quickly. O'Connell tells us even educated Ben was caught up in a food fad, becoming one of the earliest advocates in the colonies of what was referred to then as 'Tau fu,' which we today call tofu.
Even with information on everything from peanut butter, corn, salsa and lunch pails to Oysters Rockefeller, California Vintage Wine and beef tenderloin, O'Connell's short, tasty bites often make one salivate for more. And then there's the rare occasion when the brevity of the 103 bites allows you to top the master. Discussing Coca-Cola's versatility, O'Connell writes that Elvis liked Coca-Cola salad, which is a mold of black cherry Jell-O, Coke, crushed pineapple, pecans and mini-marshmallows. Yet she fails to mention one important use of the ubiquitous drink that began life as an antidote to opium addiction. Coke cleans acid off a car battery like a champ.