Executive Producer Emile Sherman on Living at Sundance Channel's 'Top of the Lake'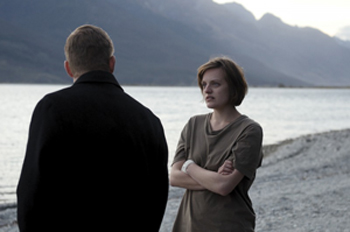 Elisabeth Moss stars in Sundance Channel's "Top of the Lake"
Sundance Channel has been enhancing its programming slate with scripted miniseries of late. And the projects have attracted award-winning talent from both the film and TV worlds. The network's latest is "Top of the Lake" (premiered 3/18), a 7-part series written by Academy Award-winner Jane Campion (writer of the films "The Piano" and "Portrait of a Lady") and Gerard Lee, and executive produced by Emile Sherman, an Academy Award-winning producer for the film "King of Speech."
Set in a rugged New Zealand landscape, the story follows the disappearance of a young pregnant girl, a female detective sent to investigate the crime (played by Elisabeth Moss) and a guru (played by Holly Hunter) at a local sanctuary for troubled women. CableFAX spoke with Emile Sherman about producing a television series for the first time, working with the great Jane Campion and navigating a fantastically remote location in his own part of the world.
What got you interested in this particular project? Who approached whom?
Jane Campion and Gerard Lee had come up with the idea together and I was working with Jane on a feature film that she wanted to make. Iain Canning and myself are [the production company] See-Saw Films. We were just very excited to be working with Jane Campion, to be honest. Jane decided that she wanted to put the feature on the back burner and focus on this TV idea that she'd had.
We read a really short document that she and Gerard had put together and thought wow, you don't often come across great, original ideas, often in the film world, which is the world we've largely been in. Such a lot of material is based on books, or maybe a true life story. To have a genuine original idea by someone like Jane Campion was exciting and to have an idea that was set in Jane's and my end of the world at least (Iain's based in London)—in New Zealand and with Australian characters. But there's something that felt so universal. It felt like this world was such a complete world. It was almost a microcosm for a strange, Jane Campion version of society that takes place at the end of the world. We started to develop it with her and Gerard right from the beginning.
Do you know why Jane Campion went to television with this story?
Well I think she had been, at the time, very inspired by "Deadwood" the TV show and felt, like so many people do now, you just have a far greater tableau to work with in television. And she's a huge reader of novels, and she felt like this was an opportunity to do her version of a novel. When you're working in film you're often forced to follow one very particular strand of a story through, and the minute you diverge it's seen to be digressing from the main plot. But in television, over 6 hours—or 7 45-minute hours—you have the ability to tell a far greater story, to spend some time with a range of characters and really explore a much more complete world— which probably has only got its equivalent to the novel. It's probably even more equivalent to a novel than a movie, to be honest. She was very much attracted to television as the artform right from the beginning. It was never thought of as a film. That's what attracted us to it as well, because we'd never done television before and this was an opportunity to do something really exciting and combine, I guess, the best of television and film in a way—all the heads of department we had, and the whole approach to it was almost like an independent film, but yet played out over these 7 hours, and with the scope and breadth of television.
After having worked with the miniseries format, do you think you'll pursue more projects of this kind?
Yes, definitely. We've brought on a head of television,
Jamie Laurenson,
who was an executive producer for BBC Films for many years. We've got a range of TV series we're working on in addition to film. We feel, as so many people do now, that if you want to tell really sophisticated and engaging dramatic stories, television is the medium to beat at the moment.
Did working on a project in your own part of the world make the experience more personal for you?
It did. I think there are so many great creative people coming from Australia, and New Zealand as well, but often the stories that emanate from these countries are not as international—or it's harder for them to be international. But there's something at the core of "Top of the Lake"—although it was set in New Zealand it really came from the imagination of Jane and Gerard.
The way we set it up was to bring in a whole range of broadcast partners. And the ease and enthusiasm with which everybody came in I think was testament was to how international this feels. It premiered at the Sundance Film Festival and also at the Berlin Festival. We wondered how the people at the Berlin Festival were even going to understand it—there weren't even subtitles there. Would the humor play? But it had a standing ovation at the 800-person theater there, and it was received so well at the Sundance Film Festival. It just seems to have crossed that line between original television and that independent film aesthetic.
I'd add that we brought in Garth Davis as another director. Jane decided very early on that she wasn't going to direct all 6 episodes. It was just too much. Though she was executive producer on it and it very much came from her creative vision, we brought on another director to do 3 of the episodes. Garth comes from a commercials background and brought incredible visual flair to it as well as a great sensitivity to performance. The whole thing was approached as something that was something as cinematic and visual and original rather than any sort of preconceived television ideas.
How exactly was it run like an independent film?
We hadn't made television before, and Jane hadn't really. "An Angel at My Table" was a long time ago. And all the heads of department we brought on were film heads of department—the production designer, the cinematographer, even the line producer. None of us even knew how to make television in terms of even basic things like scheduling it. It was really scheduled and conceived almost as a 6-hour film. But knowing, on the writing side, that each episode—or film I should say—does have to stand up as a unique episode.
For example, Jane and Garth, the 2 directors, were on the entire shoot. We didn't just shoot out Jane's stuff and then Garth comes and does his stuff after. They were on the entire time. On some days, Jane would shoot in the morning and Garth would shoot in the afternoon. It was very unusual to set up television like that. We decided early on we were not going to do what's normally done in television and find one central location to build. We wanted to get out there into the wilderness of New Zealand. That's really the asset we had. That's what inspired Jane to make the series, the landscape there. So a lot of hours went into just shooting on location, often an hour or 2 hours away from anything. That was a very cinematic, filmic approach, rather than let's all bunker down, find one studio location and basically be housed out of that.
How important was Sundance Channel to the project?
Sundance Channel was hugely important for us. Christian Vesper, who oversaw the project creatively, came out to Australia whilst we were in the middle of writing. We had a week workshop where we went through the scripts for the 7 hours and really just workshopped them and tried to make them as good as possible. He's very much a part of that core team. So Sundance has been an incredible partner from close to the beginning. Everyone's been on the same page creatively. They really supported the originality of this project and never put any constraints in terms of casting. They wanted to support the unusualness of it and Jane's vision essentially. We'd definitely be keen to work with them again.
In general, what types of projects are you attracted to?
We're attracted to projects that say something about the world, that are original in some way. Certainly on the film side, and it feels like on the television side with "Top of the Lake," [the projects] have a director who has a vision. Whether it's "The King's Speech" or "Shame" or "Top of the Lake." We're doing a film called "Tracks" at the moment with John Curran, who did a film called "The Painted Veil." [He is] directing with Mia Wasikowska starring.
How important is strong writing?
We have a bunch of writers we try to work with regularly. But even more important than writing is what story is being told here. In television the writer is historically the king, and in film it's the director, but I think with a series like "Top of the Lake" it's very much a hybrid between those. You've got Jane as this writer/director authorial voice, and even though she shares writing with Gerard and directing with Garth, I think there's a sense that it's a cohesive vision and world that's been created. We want to try to maintain that through the other TV series we do.
How did your career change after receiving accolades for "The King's Speech?"
It did what I guess everyone assumed it would do, which is open a number of other doors for us. I think it gives you a confidence as well, in your intuition about what's going to work or not. I mean, hopefully you don't get overconfident… but it gives you the freedom then to go and pursue the projects that you think are meaningful and are going to work, rather than trying to fit into a mild of second guessing audiences all the time. Doing something like "Top of the Lake," which is tonally such a different world from anything we've seen on television, taking risks on projects that are different—doing that in a knowledgeable way is really the key to producing.
What is your dream professional relationship?
Iain executive produced "Hunger," Steve McQueen's first film, and we produced "Shame," and I think that's a really key relationship for See-Saw. We're working on a number of other projects with Steve McQueen and consider him one of the most significant directors—and artists—of our time. As an Australian, it's a dream come true to be able to work with Jane Campion. There are very few directors in the world who really have something significant to say about the human condition, and are not just adapting a story but actually saying something. That's very exciting as a producer to work with a writer/director like that—and I think it's exciting for actors, and that's why she can sort of get any actor she wants, in a sense, because people are drawn to the integrity of her vision. There's another Australian director called Justin Kurzel who directed "The Snowtown Murders" who's one of the most talented up-and-coming directors. We're working on a film with him that we'll be able to announce soon.