Esquire's 'The Agent,' the Real-life 'Jerry Maguire' Show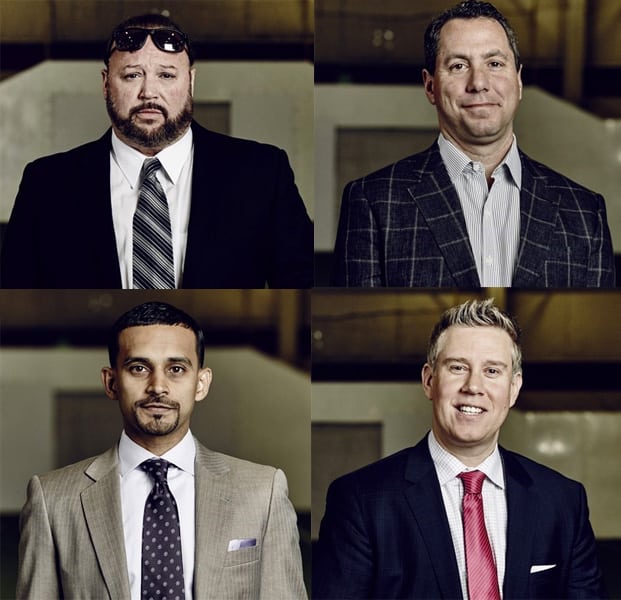 Esquire Network premieres its 10-part series "The Agent" Tuesday night, August 11, at 10/9c. The real-life "Jerry Maguire" show follows four sports agents and chronicles the journey leading up to the 2015 draft. We talked to Matt Hanna, head of original programming at Esquire, about what to expect from the series.
What inspired you to create such a series?
Obviously, professional football is an area of immense passion for our target audience but we wanted to find a unique way into that world. Coming in through the work of sports agents felt like uncharted territory with multiple layers of story. Ultimately, we fell in love with our characters, with the world, and with the drama that unfolds on a very TV-friendly timeline. And it doesn't hurt that our viewers are incredibly knowledgeable about that timeline…from the recruiting and signing of players to the preparation for the combine and pro days and, finally, to draft day. It's an arc that millions of football fans know well.
How did you select the personalities for the series? What are your criteria?
We wanted to find personalities who were highly entertaining. We also wanted to find a range—agents with different levels of experience and expertise and a variety of approaches to the business. Our four agents run the gamut: two of our agents are still working to establish themselves while the other two are already big time. One agent takes a very working class approach to the business, another is more flashy. One of our agents is signing sons of former clients who played professionally, and another is deeply embedded in a community that produces a lot of pro prospects. We wanted diversity so that we weren't telling the same story with each agent.
What should we expect from the series? The good? The bad? And the ugly of being a sports agent?
The show delivers the whole picture. It shows you how mundane, frustrating, and unpredictable the world can be. But it also shows you how that same world can be fun, exciting and sexy. We all have preconceived notions about the life of a sports agent. This show will both confirm some of that and dispel some of that too.
What do you want to accomplish through the series?
We hope we give viewers an honest and revealing look at a world they have never seen before but think they know. We've achieved success with that same approach on "Friday Night Tykes," our series about Texas youth football. It's a worthy goal and we feel like we got that here.
I haven't seen other sports agent shows other than Spike's "Super Agent." What make this show unique other than the fact that it features an under-exposed profession? And what's the appeal for people who don't follow football or sports in general?
You nailed it. Professional football is America's sports obsession but telling a football story through the eyes of the sports agent is under-exposed. We hope that football fans come to the party because we think they'll find it fascinating. As for the broader appeal, what these guys are doing is highly relatable but somewhat extraordinary. They are selling themselves as the solution to the future success of their clients, which we think we all have to do to some extent in our own professional lives. The fact that they have to sell their services to college football players about to turn professional in an extremely competitive environment on a turbo-charged timeline makes it extraordinary and, we hope riveting.