ESPN's "College GameDay" Captures Times Square amid Altice USA Dispute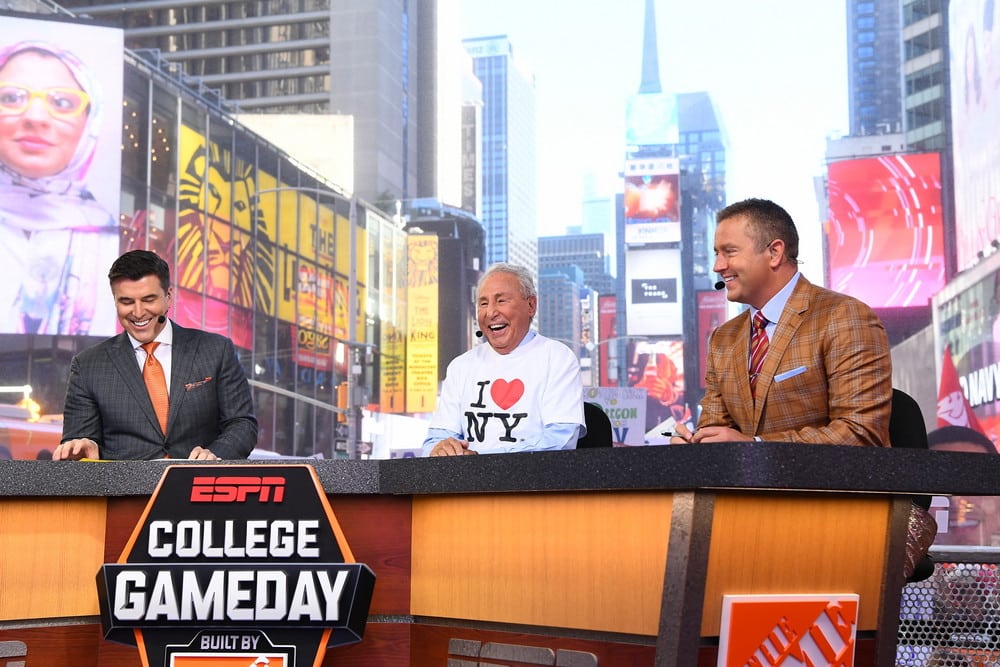 A crowd of more than a thousand college football fans representing a hodgepodge of schools converged on Times Square Saturday morning for a live broadcast of College GameDay, ESPN's long-running traveling roadshow. The timing of GameDay's first-ever trip to the Big Apple couldn't be better for ESPN and its corporate parent.
New York's interest level in college sports could be a key issue in Disney's carriage standoff with Altice USA, which owns area cable provider Optimum. Disney is pushing for Optimum to carry SEC Network and the soon-to-launch ACC Network, according a Bloomberg report confirmed by Cablefax, likely contending the networks carry high-level live sporting events with national appeal. Altice reportedly isn't interested in paying a premium for the nets. The metro area lacks geographic ties to either conference (with the possible exception of Syracuse in the ACC) and is traditionally a pro sports town.
Disney's existing deal with Optimum (signed under the cable operator's prior ownership) is reportedly set to expire Sept 30. Disney escalated tensions Friday evening by warning Optimum customers about possible channel blackouts. A Disney/ABC spokesperson said the company had "a responsibility to make our viewers aware of the potential loss of our programming." Altice quickly fired back, calling Disney's demands "anti-consumer" and insisting viewership of ESPN programming by Optimum customers "has been declining in the double digits for years."
Gameday typically originates from a different college campus or game site each week, so the Sept 14 announcement that the show was headed to New York caught GameDay fans off guard and drew mostly criticism on social media. Members of the show's on-air crew said the idea has been thrown around for years, attributing it to former GameDay host and NYC resident Chris Fowler and his wife Jennifer. Coordinating producer Drew Gallagher said this particular week made sense because there wasn't a singular matchup that demanded GameDay's presence.
An ESPN spokesperson denied any connection between the timing of GameDay's New York excursion and the Altice negotiations. Still, the network can now point to the fervent crowd in Times Square as a bit of proof that New Yorkers do in fact care about college sports. In addition, ESPN aired warnings during commercial breaks to GameDay viewers, the customers most likely to take exception to losing ESPN and to be interested in the addition of the SEC and ACC Networks.
The telecast itself painted New York as a melting pot of passionate fans and alumni. "We've got fans from every school you can imagine," GameDay host Rece Davis proclaimed during Saturday morning's opening segment. The first few minutes also featured a graphic showing the location of each college's designated home bar for viewing parties throughout Manhattan. A later segment featured reporter Tom Rinaldi visiting a number of those spots and fans. In a surprising twist, social media reaction to that segment, and the episode as a whole, was largely positive.
A four-digit crowd in Times Square, of course, isn't indicative of widespread interest in college football among New Yorkers. Still, Sports PR consultant Joe Favorito, a native Brooklynite and former Knicks PR exec, pointed to some of the inroads college conferences have made in recent years. While the Big Ten's addition of Rutgers hasn't captured the region's attention, Favorito noted big college events are drawing crowds.
"You have the Big Ten and the ACC [basketball tournaments] are coming here and selling out arenas," Favorito said. "So I think it's a stretch to say there's no interest. There is interest, the question is at what price [for cable companies]."
In addition to carriage of the two conference nets, Disney is reportedly insisting on price increases for its networks, including ESPN, which is already the most expensive cable net at about $8/subscriber, according to SNL Kagan. In addition, Disney wants to raise the penetration threshold for its nets. Research firm MoffettNathanson in a July research note said such a tactic would allow ESPN "add back some of the 5 to 6 million subscribers who have been spun to non-sports tiers."
Pivotal Research's Jeffrey Wlodarczak and BTIG Research's Rich Greenfield (the latter is a vocal Disney critic) both characterized Disney's approach to negotiations as overly aggressive, noting the company is seeking to offset subscriber losses with higher rates and the carriage of new networks. MoffettNathanson in its July report, however, made a case for Disney having leverage in its upcoming renewals.
Negotiations with Altice are particularly critical for Disney, as the Optimum deal represents the first in a series of upcoming renewals. Disney chmn/CEO Bob Iger recently said the company will have 50% of its cable distribution extended by the end of 2019, and MoffettNathanson reported deals with Verizon, Time Warner Cable (now owned by Charter) and AT&T/DirecTV are set to expire in that timeframe.