Edward Burns on 'Mob City' and Working in Television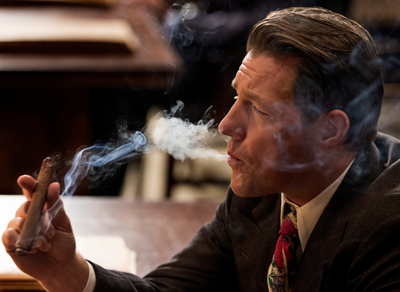 Edward Burns stars as Bugsy Siegel in Frank Darabont's "Mob City" on TNT
—
Edward Burns plays the infamous mobster Bugsy Siegel in Frank Darabont's latest TV venture "Mob City" (premiered Dec 4 on TNT), but he's best known for creating independent films—such as the Grand Jury Prize winner at the 1995 Sundance Film Festival, The Brothers McMullen—in which he acts, writes and directs. Get comfortable, TV world. After working with TNT Burns has decided to give his own show a go: Come February, he'll be shooting the pilot for "Public Morals," a period police drama set in 1967 New York. We spoke with Burns about the shows, working in TV and how the landscape has changed in recent years.
What drew you to Mob City originally? Are you a fan of Film Noir?
I'm a big fan of Film Noir. My mom first turned me onto it because she was a big Cagney fan, and then when I was in film school I studied it and fell further in love with the genre. The reason I ended up on the show was really because of Frank. He offered me the part of Bugsy and it was sort of a no brainer. Frank Darabont wants you to play Bugsy Siegel in his new TV show? You're going to say yes. And that's even before I got to read any of the scripts. He writes such great dialogue. And he then surrounds you with an all-star cast. And that's kind of the dream scenario for any actor. Great words, an A-list director who not only knows what he wants, but recognizes when he gets it—which is pretty rare.
Is there anything that you learned from Frank Darabont that you're applying to the Public Morals pilot?
You know what it was? I'm sitting there while we're shooting, and I'm watching Frank behind the monitor, and there's nobody else behind him, whispering in his ear, asking him to do another take. He was given total creative control. And then on the days the head of network Michael Wright was there, he was nothing but super supportive. I have been watching what's been going on with these great shows on television in the last 12 years. It starts with "The Sopranos." The networks and executives have recognized that if you've got someone that has an individual voice and a specific vision for a show, they're leaving them alone. And they're giving them sort of the room to draw these characters—and we the audience are reaping the rewards of that.
So I'm looking at all that—and I'm a guy who makes independent movies. And I was like, aw man, maybe I should be thinking about television. And Michael Wright said hey, would you ever be interested in doing your own show? Well let me know if you have an idea. Long story short, I wrote a script, gave it to them and they liked it enough that we're going ahead and shooting our pilot in February.
So the experience with Mob City inspired you to create the pilot?
I had been thinking of television, just being a fan of shows like The Sopranos, "Mad Men" and "Breaking Bad," and thinking this is a medium where you're getting to play with character—which is something that happens with less frequency in the movie business. So I'd already started to think maybe I'll think of a show for me, because that's the kind of stuff I like to do. And then just being on the set and seeing Frank given not only creative freedom, but the resources to recreate 1947 Los Angeles. It looked like a filmmaker's fantasy come true.
You're used to very low budget productions in the indie film world. Are you looking forward to having more resources to play with?
The idea that I'm going to be able to recreate 1960s New York City… I'm a lifelong New Yorker and I've always been madly in love with the city and constantly walk around and think about what this block looked like in the '20s, in the '50s, in the '60s. And now I'm going to get an opportunity to recreate some of that. So that's a thrill. Then from a technical standpoint, just having toys to play with as a filmmaker that I haven't gotten to play with in a long time is going to be a blast. You have a different level of resources at your disposal to play with. Filmmakers love toys.
Though Darabont was given a lot of freedom on the set, television is still different than independent film. Are you prepared to lose at least some of your creativity during the process?
I don't know, I don't think you'll get complete free reign, but I can already tell that Michael and the other folks at TNT love the script and what I want to do with the show. And they seem to be there to help me see my vision through, as opposed to maybe if you were at a studio making a film—sometimes it's less about that. TNT is an environment where they want to help me see my vision.
Will it have a Film Noir style as well?
No, it's more like gritty '70s filmmaking. Think Midnight Cowboy, French Connection, Mean Streets. That golden era of late '60s, early '70s filmmaking. And a great deal of it was classic New York stories.
You are typically very active with grassroots distribution for your projects. Will you continue to do so with this as well, even though there is built in marketing from the network?
I enjoy the dialogue I have with my fans. So I have every intention of continuing with that. And even though I'll have a big machine behind me, every little bit helps, and if you're passionate about your work, for me personally, it's never been an issue to get out and sort of pound the pavement and try and sell the thing.
Will you keep making indie films, or does this represent a shift—if even temporary—to working in television?
I have no plans to abandon indie film. That said, having never done a television show before, it will really just come down to, will I have the time? But I've already written a great deal of the next film I would want to make, so depending on when we get picked up… and when we finish that…The film that I'll do next is actually the prequel to McMullen. I'm not giving up that part of my career.
What else about the TV landscape attracts you to it today, compared to ten years ago?
I think a big thing that has changed is the audience and their excitement for this type of storytelling. That's the thing that's kind of blown me away. When you look at these shows, like the success of a show like "House of Cards," they're not concerned with likeable heroes. If the story is well told, the audience shows up. I was at 4th of July barbeque this summer… and everyone was talking about television. "Homeland," Breaking Bad, Mad Men. It's the middle of the summer, it's 4th of July weekend—nobody talked about movies. That was really an eye-opener for me. People aren't talking about movies because, for the most part, movies aren't made for us anymore. They're made for kids—and that's great. But we found our entertainment on television and it is an exciting time. I'm happy that now I'm going to be able to be a part of it, as a storyteller—and not just an actor.
You've given lots of advice to independent filmmakers and screenwriters. Do you have any advice for writers out there looking to get their TV pilots made?
You know I think it would be similar to what I'd tell a screenwriter. Be original. There's such specificity, unlike what you'd see on sitcoms, where it's just a different version of the same thing. I think that's the thing that you're seeing with all of these shows. Very unique worlds that we're getting to peek in—and it's someone who has an intimate knowledge of that time and place.