Disney Partners with Nintendo, Integrates Talent Into Sponsorship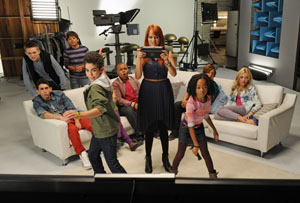 Disney Channel and XD talent Play Nintendo Wii U
Disney Channel and Disney XD kicked off a sponsorship with Nintendo today promoting its new Wii U product, which launches November 18. Disney has worked with the gamer on sponsorships for a couple of years, but this the first time the net has integrated talent into the campaign.
The campaign continues through the month and into December and features
interstitials with the cast of Disney Channel's "Jessie" and Disney XD's "Kickin' It"
competing against each other while playing Nintendo Wii U games. The spots, which air on Disney XD, instruct viewers on how to play the game and its interactive features. A sweepstakes component called "How U Will Play Next Sweepstakes" lets fans log on to Disney.com/PlayNext for trivia, polls and the chance to play the game in person with Disney stars Debby Ryan and Leo Howard. Families also can test out the Wii systems at Radio Disney events that are open to the public.
This isn't the first time Disney has used talent to promote a sweepstakes, according to Rita Ferro, Executive Vice President, Disney Media Sales and Marketing. For instance, Disney darling Selena Gomez has worked with Xbox Kinect. "It's not something we're actively out there promoting, but when it makes sense to tie into the product and there's a sweepstakes" it works, said Ferro. But it is the first time the entire cast was used, she said. "It just fit so naturally with this product."
The tight turnaround for the campaign was a challenge. Disney began talking to Nintendo during E3 in June and then continued to do so during CES in July, at which point the games for the campaign were determined. "They had to choose the right games for us," said Ferro, which required matching the game to the Disney cast members and choosing what would work best for the holiday season. Then storyboards needed to be approved. A concern on both sides was that the talent and the game would be presented organically. The Nintendo
Ferro's one concern for the next campaign is topping this one. "When you have something that is such a benchmark, how do you make it better next time?" Having an array of platforms is an advantage, she said, and allows Disney to create solutions depending on the need. "Some things on digital you can't do on TV," she said. "We're looking to do more. They just may not always include all the pieces… We have radio, television and digital to play with."