Discovery, WICT Play Prom Fairy Godmother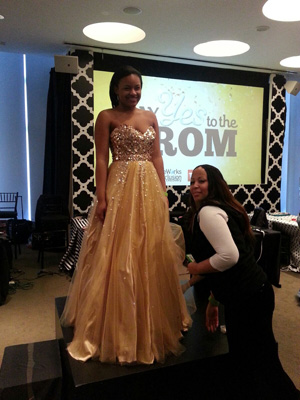 Discovery's Jamillah Hutchinson helps Magruder high
school senior Corrine Harley get ready for prom night
It was supposed to be about the gowns they were wearing, but it was the smiles that were the most dazzling.
Discovery Communications employees and WICT members donated dresses—800 to be exact—so that 40 Montgomery County, Maryland, high school girls would have something special to wear on prom night. Forty girls, 800 dresses. You do the math. While the odds were in the teens' favor, it still sounded much like Filene's Running of the Brides—that famous mad dash for discounted designer wedding gowns. Some girls grabbed armfuls in their search for the perfect dress, but they needn't worry. There were sizes and styles for all, with the cable industry not just donating hand-me-downs but some people buying new gowns for the initiative.
Evening wear was just one part of Discovery's 2
nd
annual "Say Yes to the Prom" event, hosted at its headquarters in Silver Spring, Maryland, Tues. Monte Durham, fashion director and star of TLC's "Say Yes to the Dress: Atlanta," hosted the day, talking to the girls about confidence as well as clothes. Vendors volunteered hair, makeup and alterations. Discovery fit the bill for shoes and undergarments. And each girl was paired with a Discovery employee, who served as coach, personal shopper and style assistant throughout the day. "She was so good at supporting me and boosting my confidence. I am hoping she can come to my prom," said Corrine Harley, a senior at Magruder High School in Rockville. Her mentor Jamillah Hutchinson nodded her head in the affirmative. "Definitely." Harley said their pairing was meant to be, but the bond is not unusual. Several of the girls who participated in last year's inaugural event are still in touch with their mentors, said Adria Alpert Romm, Discovery sr evp, HR and global diversity.
The day of beauty ended appropriately enough with a fashion show, which Durham helped emcee. The girls didn't just walk the runway, but strutted, twirled and hollered for one another. A live DJ spun Bruno Mars and other tunes. Discovery employees popped out of their offices to watch the festivities, with one remarking that prom probably couldn't live up to the day. It did sort of resemble the red carpet for the Emmys.
Plans are already in the works for next year. WICT members added more than 200 dresses to the total. Discovery is hoping it becomes an event the entire cable industry can rally behind. "It's an open invitation for as many groups as we can get," Romm said.
What about the 760-some dresses that didn't get picked? Another 50 teens will "shop" later in the week and then they'll be donated to DonateMyDress.org. "These dresses have many events ahead of them," Romm assured us. What were the most popular styles of the day? Lots of purple. Metallics and sparkles were also well represented, along with high-low dress (short in the front, long in the back).
"It was fun to just try on dresses and shoes. Also the fact that Discovery just opened their arms to us," said Harley, who plans to double major in business and pre-law. But most of all, she talked about how great it was to spend time with girls from her school that she doesn't often get to connect with. Again, it's more than the dress.