Discovering a Curiosity for Science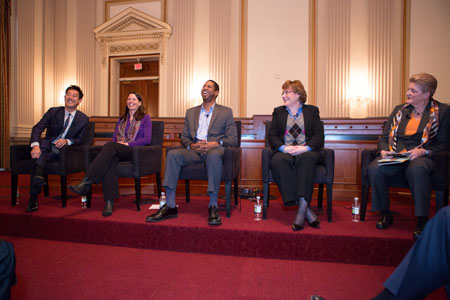 At the Capitol Hill Symposium on Diversity in STEM Education, panelists included
Grant Imahara from Discovery Channel's "Mythbusters," NASA's Dr. Jennifer Eigenbrode,
Hakeem Oluseyi of Science Channel's "Outrageous Acts of Science," E. Anne Sandel of
U.S. Department of Defense and Cindy Moss, Director, STEM Initiatives, Discovery Education
—
Discovery Comm held its first-ever STEM Diversity Symposium Wed morning, with a group of rapt children from Greenbelt (MD) Middle School sitting in the first two rows.
Science is "an excuse to blow things up and crash cars," said electrical engineer and Discovery Channel's "Mythbusters" personality, Grant Imahara. That certainly got the kids' attention. Imahara played with a lot of Legos as a child, discovering his passion for building things. He was seven when Star Wars came out, explaining his other passion, robots.
Hakeem Oluseyi, astrophysicist and host of Science Channel's "Outrageous Acts of Science", also described a fascination for science at a young age. "Science television played a huge role," he said. He spent his youth discovering oceanography by watching Jacques Cousteau; exploring the wild lands of North America on the documentary "Wild America"; and even reading the World Book Encyclopedia–front to back.
The Discovery event, held in partnership with STEMConnector, brought together a group of experts from all scientific walks of life to discuss the accomplishments and the continued success of women and minorities in STEM fields (science, technology, engineering and math). It took place on the Hill and was held in conjunction with members of the Congressional Asian Pacific American Caucus, Congressional Black Caucus, Congressional Caucus for Women's Issues, and the Congressional Hispanic Caucus. It was part of Discovery's ongoing effort to inspire the next generation of innovators, problem solvers and game changers.
While Imahara may seem like a science natural on TV, that wasn't always the case. When he reached college, he often fell asleep in class due to boredom and eventually stepped away from engineering for a brief time. "There was a disconnect between my studies and the robots," he jokingly explained. But all it took Imahara was finding his mentor, inventor of the Lucasfilm THX sound system, Tomlinson Holman, who helped Imahara connect the link between his education and what he wanted to be doing. "We need rock stars," Imahara said, much like the astronauts who inspired him while he was growing up.
Imahara might not realize it, but it looked like he was well on his way to rock star status based on the never-ending series of questions from the middle schoolers in the audience. The panelists could relate. As children, they had their own need to satisfy their own curiosities and find answers to questions.
"My job is to follow my curiosity," said Oluseyi–an easy enough task for any child.