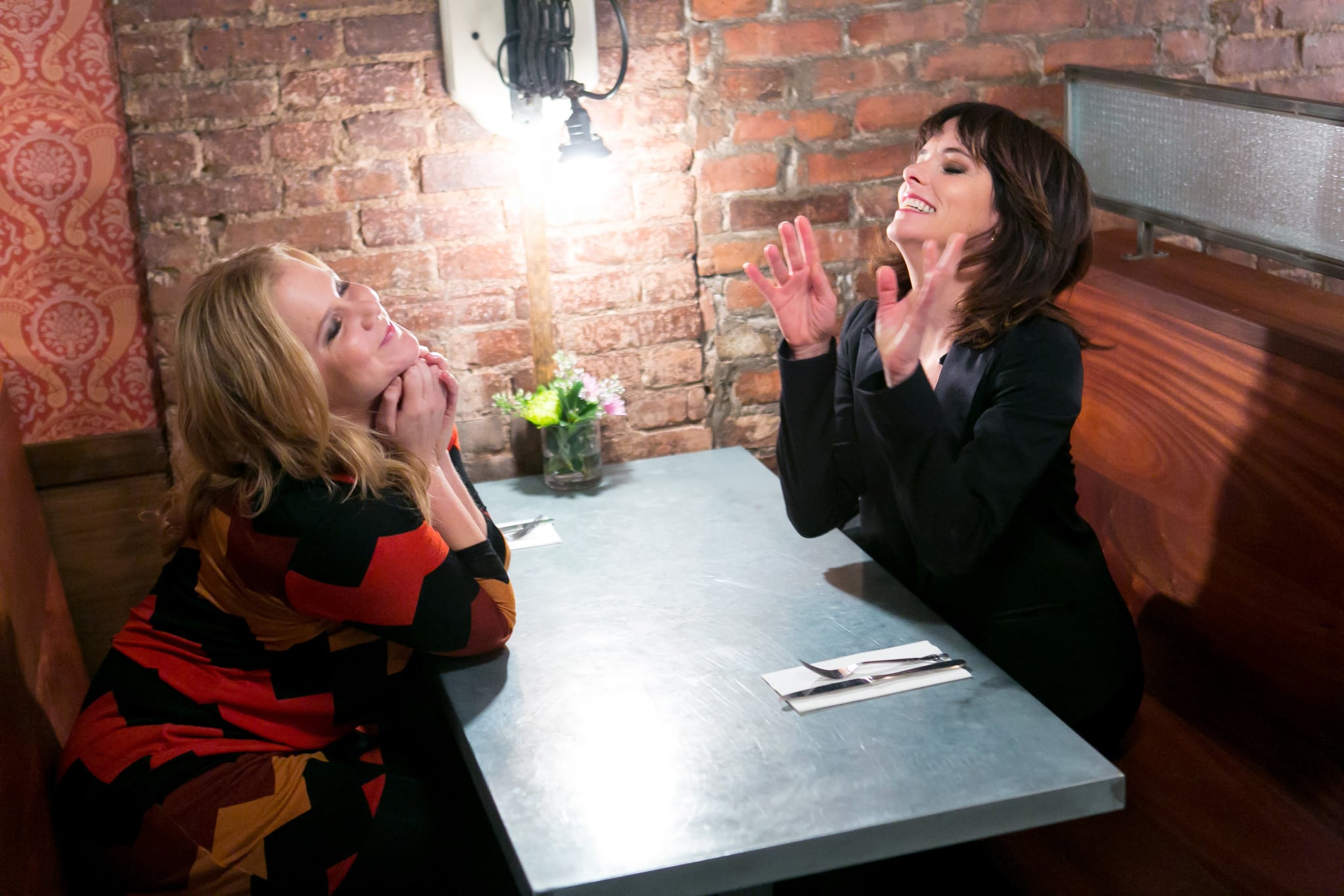 Ahead of Comedy Central's "Inside Amy Schumer" premiering Tues, April 1 (10:30pm), we caught up with executive producer and showrunner Dan Powell to discuss the show's format, production challenges and women in comedy today.
For the most part, Season 2 had a single director, Ryan McFaul. But you and Amy both direct a couple of scenes. What compelled you to do so?
The one that Amy directed in particular was very personal to her experience. The two I worked on were ones I felt very close to in terms of the writing process. We both had very specific visions on how we wanted to shoot them. Ryan was very cool about taking a step back and letting us direct those. Ryan had an absolute beast of a job. We had 50 sketches to shoot and 7 weeks to shoot them, and since we're a modestly budgeted show, unless a sketch takes place in a single location (some of them do, but a lot of them have multiple locations), we're working backwards on the locations. We don't shoot them in chronological order. So just the amount of stuff he had to keep track of and making sure that everything was going to come together—it was almost as if shooting a movie actually. Frankly, it was like shooting 2 movies—200-some-odd pages of material.
Is that one of the greatest challenges with this show in particular? Or is it specifically a directing challenge?
It's primarily a directing challenge… In terms of keeping everything organized. We don't really consider production parameters too much when we're writing. The goal is to get the funniest material, that speaks most to Amy's voice and point of view, and things that Amy and Jesse [Klein] find interesting and funny and want to talk about. And then when we get to pre-production and the realities of production start to set in, there are certain changes we have to make, if there's a venue we can't get or something like that. But the idea is to keep the spirit of the jokes the same. It can be difficult.
Was there an occasion where it didn't work out?
Jesse wrote a sketch that took place on a plane. It was kind of a parody of Virgin Airlines. We had no idea how expensive and nearly impossible it is to shoot on a plane in New York City, until we started exploring that. I guess in LA they have sound stages that are available that look like planes. But here in NY they don't really have that at any sort of reasonable cost, so unfortunately that was something we had to set aside. For the most part, the comedy comes first and then the job of production.
Amy directs the first scene in Season 2, where a gaggle of guys in a focus group rate her level of hotness at any given moment. Is this based at all on reality?
Actually, that's something I have very specific experience with. I used to be a development executive at Comedy Central. I was director of development for a handful of years. That's actually how I met Amy. Focus testing has changed in the past couple of years. They might do it from home now, and watch stuff on their computer and fill out a form. But when I worked there, we would do it very much the way it was in the sketch. We'd show the show to a roomful of guys who were in the demo, they'd have a little dial they would turn to the left or the right, depending on if they liked something else or not, and afterward the moderator would ask them a bunch of specific questions about the show they just saw. Typically, those focus groups were done in between pilot and series to gauge the audience's reaction, but mostly to answer questions about development.
Comedy Central never really let a focus test decide whether or not they picked something up to series. But it would be, "Is this idea confusing? Does the audience like this character?"… It was really for sort of answering questions. Now I think they have actually started focus testing for season series, because when we went in for our creative kickoff for Season 2, they did have a handful of notes that had come from focus testing our first season. To be honest, in terms of that specific sketch, a lot of the things that are coming out of the mouths of the people in the focus group are sort of filtered through things Amy has had to put up with on Twitter and on YouTube comments, and things like that.
At TCA this past January Amy Poehler, speaking about "Broad City," which she executive produces, said it's a great time for female comics, particularly at Comedy Central. Do you agree?
I think first of all, the box office doesn't lie. Look at what a huge hit "Bridesmaids" was, and "The Heat." Ultimately, maybe there are just more opportunities that are being given, which is probably that TV executives are finally coming around and giving the opportunities that they should have been giving for years now. I don't think necessarily that female comics have gotten any funnier. They've always been funny and interesting and always had something to say. Now TV networks are recognizing that the audience is there and they should be giving these opportunities.
Comedy Central is a very male-skewing network, and for years, when I was there as an executive, there was this sort of terror about how… to utilize female comedians for a network that does skew so male. And I think ultimately the answer is that it has very little to do with gender. It has a lot to do with tone. Even our show, which I think has a tremendous amount to say about feminism. Amy is unapologetically female. She's not a comic that tries to be one of the guys. In fact we have a sketch that makes fun of that. But at the same time, the tone of her comedy does appeal a great deal to men.
What's the demo of Inside Amy Schumer?
It is basically your typical Comedy Central show. It's 65-70% male. But that doesn't mean we're only catering to that audience and ignoring the other 30-35%. It's very important to Amy that we appeal both to men and to the women who are watching. And it's very important to her that she maintain her voice and that her voice hasn't been altered to sort of pander to a specific part of the demo.
Do you have to censor Amy much? Or do you let her go for it and then bleep everything later?
The latter. We try to just say what we want to say, and say it in the funniest way. Even before we start shooting we send the scripts to Comedy Central. It's a conversation about what we can get away with and what we're allowed to put on air. Very few sketches that we do are us being vulgar for the sake of being vulgar. I'd say none of them are. There's always a certain point to it, a satirical message. So with Comedy Central, to them it's like, How do we help your get your point across? We don't want to filter down your message. But also, they're a business and have sponsors. It's always a very polite conversation with them. Fortunately, we air on the network of "South Park" and "Tosh.O.," so that does help.
Can you talk about the writing process? How much does Amy contribute?
Amy contributes a great deal. No writing is ever done without Amy in the room. The show has to come from her point of view. There are lots of ideas where they'd be pitched, and [we'd say] you know what that's a great idea, but probably better for Saturday Night Live. It has to feel like it's coming from Amy's perspective. Typically, the writers go around and pitch ideas, including Amy, and then Amy, Jesse and I would convene separately and go through all the ideas, deciding which ones we want to move forward with. Then the writers would take those to a first draft. We would read the drafts, and if we decide we want to move forward with a sketch we give a round of notes. They'd do a second pass themselves. At that point the sketches would come into the writers' room. We'd put them up on the screen, we'd read through them with the writers performing all the different roles and see how it plays out when read out loud. Then we'd go through line by line and the writers would pitch in joke ideas. We'd do that several more times before we shop the sketch. By the end, it's been a completely collaborative process.
Are there situations where improv comes into play on set?
Certainly sometimes. Janeane Garofalo did a scene with us this season and she came with a ton of alternate jokes. And tons of them ended up in the sketch. There are some actors who have improv experience and they would kind of riff with Amy. That doesn't happen as much as I wish it could, because we are so under the gun time-wise to get our shots. We have to shoot on average 6 and ¼ pages a day, sometimes with a couple company moves in a single day.
The show uses a mixture of standup, skits and Amy on the street. What inspired this particular format? Did "Louie" or "Kroll Show" have any influence?
Louie was certainly one of many things we were looking at when developing the show's format. It's really hard to define that show. He doesn't play different characters. For us, having Amy do the standup was the same reasoning behind her do man-on-the-street—which is, it's a skill set she has that she's very good at. It's also the way the audience knew her—from the Roasts. We actually use standup pretty sparingly. In this season we use it to bookend the episodes. It's a way in and a way to have Amy as herself at various points throughout the episode. She's always Amy in every sketch. Even though it's not the same Amy (sometimes the victim and sometimes she's a monster), it's all coming from Amy's point of view.
So she's a bit of a caricature.
I'd say she's different embodiments of her comedic point of view. But she's certainly not the same Amy in every sketch. There are versions that are more insecure and vulnerable, and then there are versions of Amy that are a lot more aggressive, where she's like a caricature of her own celebrity. It's heightened and abstract versions of different aspects of her personality. Ultimately, the show was built around Amy's skill sets.
I will say that one thing we were cognizant about was that Kroll Show had already been picked up on the network. So we didn't want to do a sketch show where Amy was playing characters, or wearing wigs or doing broader characters, because that's something Kroll is already doing and he's so good at it. It just felt like, the network already has that. Even "Key & Peele," which is one of my favorite shows on TV right now, their style, their comedic tone is definitely different than ours. They do a lot of sketches that are out of the UCB thing, like finding a game and heightening it… A lot of our sketches are more scenes—it's like taking a really absurd concept but then playing it out almost realistically. Even though there are 2 other incredibly well done sketches on Comedy Central, I feel like there's room for us because we're as different as a sketch show as Amy as a comedian is different from Nick Kroll and from Key and Peele.